I never thought I would say this, but the US government should lift the ban on exports of domestic crude oil. Why? Because America owes a lot to the shale oil companies who brought this country back to life with cheap and plentiful natural gas and millions of barrels a day of light-sweet crude production. Job growth in the energy sector has been one of the few bright spots in an economy that has, for years, had trouble gaining traction. Currently, the crude oil export ban has the potential to penalize these companies due to their own success at doing what the country needed most: increasing production of oil and gas.
As my previous article reported, US light-sweet refining capacity has hit a wall. To accommodate light-sweet oil production from the Eagle Ford, Bakken and Permian Basin, imports of light-sweet crude from Nigeria have dropped from ~1 million bpd in 2010 to only 136,000 bpd in the latest report. There's not much more light-sweet crude to cut out of the import slate. Meantime, a new plug-n-perf completion technique, combined with downspacing and array fracking, is going to lead to another wave of production increases from the Eagle Ford and Bakken. EOG Resources (NYSE:EOG), the #1 producer in the Eagle Ford and a force to be reckoned with in the Bakken as well, recently reported it is seeing a 30% improvement in 120 day production rates in the EF just over the last year. Average IP rates are up 20%: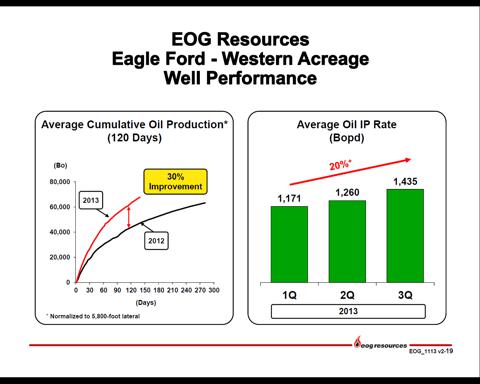 Whiting Petroleum (NYSE:WLL) has announced similar productivity gains as have companies like Continental Resources (NYSE:CLR), Kodiak Oil & Gas (KOG) and Oasis Petroleum (NYSE:OAS).
Where is this new wave of production going to go if the domestic light-sweet crude capacity to process it is maxed out?
Buyers Market
So the US government's ban on crude exports is potentially going to create huge dislocations in the domestic crude oil market. Benzinga reported Monday that highly respected Deutsche Bank oil analyst Paul Sankey said the following in an upgrade of Phillips 66 (NYSE:PSX):
Since our "Diamond Age" (Oct 2010) refining upgrade, and subsequent "Future of US Oil" series, broadly speaking our roadmap of market development has been followed, but faster than we anticipated. First phase, the stunning production growth in natural gas and light sweet oil, giving US refiners a huge competitive advantage and oil product export growth. That is a long-term secular bull story. The second, interim phase of infrastructure bottlenecks and de-bottlenecking added super-super normal profit and volatility. We are in the third phase, of outright over-supply of light sweet crude and the limitation of the crude export ban. Target $30/bbl Brent-WTI. Upgrade PSX, VLO, DK, ALJ.
(Note: the emphasis was added by me).
So Sankey predicted a $30/barrel spread between Brent and WTI given an export ban. Not only will WTI be much cheaper than Brent but it is a superior crude in terms of refining yield. I explained the advantage of Bakken crude in the article of one year ago: Bakken Crude: The Refiners' Top Choice. (Note the chart of PSX in that article: it was around $50 one year ago and is over $70 now.) The yield chart in the article was courtesy of CLR: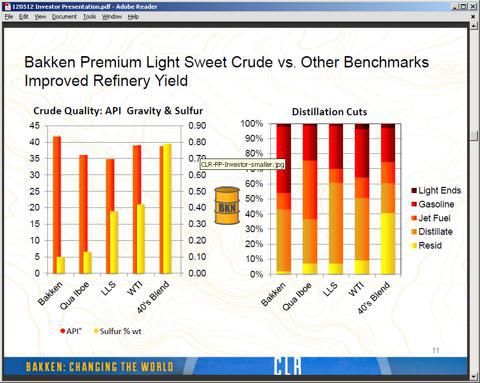 Historical Pricing Turned Upside Down
A Platts article suggests the recent LLS discount to Brent could be permanent. Historically, the price of LLS has been more closely connected to the international price of Brent and usually traded at a slight premium to Brent. No longer. As a wave of mid-continent light-sweet shale oil production from the Bakken, Permian and Eagle Ford made its way to the Gulf Coast refineries, LLS is now selling at a substantial discount to Brent (see below). I expect LLS will remain at a substantial discount to Brent as long as the US ban on crude exports remains in place.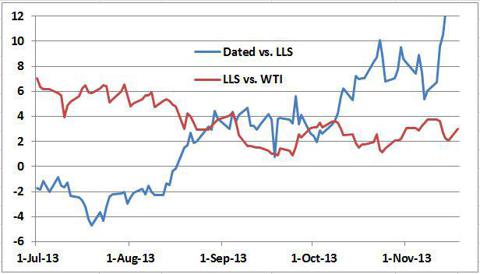 Will Refiners Adjust Their Configurations?
Many people believe the refiners will simply adjust their configurations to accept more light sweet crude. I don't think this will be the case. Before the shale revolution, US refineries spent huge sums to expand capacity to handle heavy crude from Canada, Venezuela and Saudi Arabia. Why would they turn around and spend huge sums of cap-ex to reconfigure these refineries to absorb more domestic light-sweet crude? Canadian heavy is selling at a deep discount to WTI, and domestic refiners are sitting on top of a very desirable buyer's market for feedstock. They have no motivation to change the situation. Besides, it would be a big risk on their part to spend hundreds of millions on reconfiguration only to be potentially whipsawed by a Presidential decree allowing light-sweet crude to be exported. Then the refiners would wish they were back on a heavy slate.
The Case for Lifting The Export Ban
Just like the government's ethanol mandates created huge dislocations in the food and refining sector, the export ban is doing the same in the domestic crude oil market. Not many years ago, the thought of exporting crude oil would have made me cringe. However, US energy policymakers need to take a pragmatic look at the current situation and react accordingly. Otherwise, shale oil producers that have helped the country to shave hundreds of billions of dollars off the US trade deficit, and have given consumers lower natural gas and gasoline bills, could get hurt. They could get hurt badly. So, it's time for the Obama Administration to take action just like they did to give refiners (and the country...) relief from the ridiculous ethanol mandates. It is time to allow crude exports from more than just the Cook Inlet in Alaska and to Canada: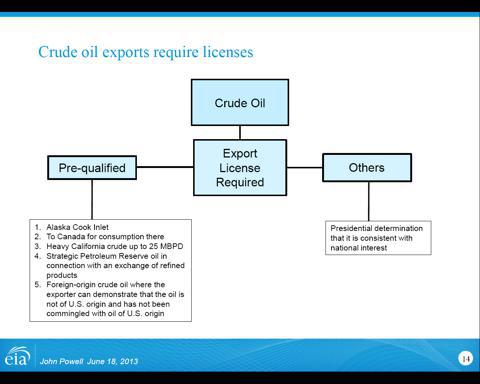 As Ryan Lance, CEO of ConocoPhillips, said back in March, the US should be allowed to export light-sweet crude to refineries in Mexico, South America and Europe that are designed to process it. That would be good for American oil companies, good for growth in the Americas, and ultimately good for the world economy and for all Americans. But there is a caveat: natural gas transportation. Let me explain.
In The National Interest
Notice that it is up to the President to approve a crude oil export license if it is determined to be in the "national interest." I believe it is in the national interest to keep our shale oil companies strong. It is in the national interest not to have artificial dislocations in the cost of crude and for American companies to receive a premium for high quality shale crude as opposed to being discounted to a product like Saudi heavy. At the same time, any crude export approval should be part of an overall energy policy with an eye toward the future.
Natural Gas Transportation
It would be a big mistake for the US to export shale crude oil while at the same time not making a strategic energy transition to adopt natural gas transportation in the ordinary American car and truck fleet. Otherwise, in 20 years (or whenever...) when shale production starts to either peter out or become very expensive to produce, the US will be right back where it was 5 years ago: heavily dependent on foreign oil imports to provide gasoline to power our cars and trucks. Big mistake. Huge. The US should do as the EU, China, Brazil and Russia have already done: enact strong energy policies that put a priority on using cheap, clean and domestic natural gas in the transportation sector in order to reduce America's economic dependence on oil.
Summary And Conclusion
If President Obama does not remove the crude oil export ban, or at least issue some licenses to export meaningful volumes of crude oil, there is the distinct possibility that domestic light-sweet crude supplies will simply swamp the domestic refining industry's ability to process it. That would lead to a huge discount in WTI to Brent and severe pain for domestic shale producers. At the same time, the shale producers' pain will be the domestic refiners' gain.
Disclosure: I am long PSX. I wrote this article myself, and it expresses my own opinions. I am not receiving compensation for it (other than from Seeking Alpha). I have no business relationship with any company whose stock is mentioned in this article.
Additional disclosure: I am an engineer, not a CFA. The information and data presented in this article was obtained from company documents and/or sources believed to be reliable, but has not been independently verified. Therefore, the author cannot guarantee its accuracy. Please do your own research and contact a qualified investment advisor. I am not responsible for investment decisions you make. Thanks for reading and good luck!