General Electric (NYSE:GE) announced last month it intends to rid itself of its retail finance business, spinning off up to 20% of the finance arm in a 2014 GE Capital IPO, and returning the rest of its capital to shareholders in 2015. GE's stock, in recent years, has severely lagged competitors that have much smaller financing divisions. Will this move return GE to a level playing field?
Risk Profile:
In 2009, GE cut its dividend and lost its AAA credit rating due in large part to massive losses sustained in the GE Capital division. GE's stock tanked, its share price dropping to just over $7 in March of '09, an 83% decline from its high in October of 2007. Of course, this plummet isn't completely attributable to GE Capital, but because the division only supplies about 30% of GE's bottom line profits, its risk/reward profile was not a positive one.
Currently, GE Capital would rank as one of the largest individual banks in the United States: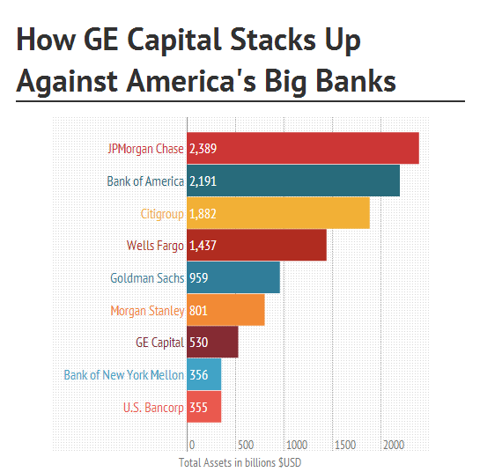 (Thanks to Isaacpino and infogram for the chart)
GE's large finance business has proved to be an encumbrance over the last 10 years, and particularly since the '08-'09 financial crisis. A quick price chart of GE and its competitors reveals the drastic difference in results: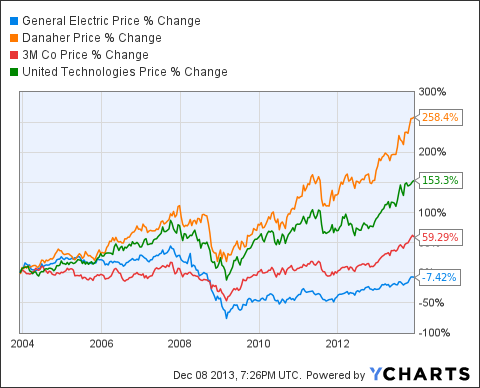 However, simultaneous to GE's attempts to pare down its banking division this year, GE stock has risen over 28%. Further curtailing dependence on finance could yield even stronger results. GE seems wise to eliminate this division, particularly with many bears calling for a market correction to occur soon.
Strategy Realignment:
Spinning off this risky segment makes a lot of strategic sense for GE as it allows the company to focus on core operations. The company operates in aviation, energy, technology infrastructure, manufacturing, medical equipment and several other sectors. While such a broad portfolio has allowed GE to reach many customers and become an international powerhouse, it also has led to difficult corporate management, as Ivan Feinseth, chief investment officer of Tigress Financial Partners, explains:
"If you have five activists going after GE and put them in the same room, I'm sure you'd have at least 20 different recommendations. There are so many moving parts. Which division would you tackle first? GE has 300,000 workers in 160 different countries."
Commuting the division to another company also makes the conglomerate more nimble. Instead of keeping tabs on J.C. Penney, Wal-Mart, healthcare costs, and even car loans, GE will be enabled to focus on the fundamentals of its business, its industrial core.
To put it in simpler terms, a Barclays analyst wrote:
"Post-spin, we think GE stock could look like one of the higher-quality (and now much cleaner) ways to play the industrial infrastructure cycle."
Short-Term Risk:
Should the market have another correction in the coming years, especially in the financials sector, GE will be somewhat more shielded from the crash, and should see its stock price fall less significantly.
However, GE is releasing about 30% of its net profit, which could lead to difficulty in growing profits into the future. Nick Heymann, an analyst for William Blair & Co., says:
"The company's net earnings growth is likely to be more challenging over the next couple of years until 2016."
Investors could also see this as a defensive move, painting management as unaggressive and unwilling to take action to increase the share price. Management is giving up profits in order to reduce risk, and although the risk/reward profile was detailed to be negative, shareholders don't often like profit declines. Forward P/E ratios for GE and its competitors reveal this market sentiment: GE trades at a 14 forward P/E, while 3M and Danaher, close competitors of GE, have forward P/E ratios of 17.3 and 20, respectively.
What It Means for Shareholders:
In 2015, GE has said it will give its shareholders chances to swap its current stock for shares of the new company. Current investors may want to consider this move as the profit margin of the new company will be significantly higher than GE's profit margin. The new GE Capital stock could be valued around $20 billion, which will put it in competition with stocks such as American Express Company (NYSE:AXP), Capital One Financial (COF) and Discover Financial Services (NYSE:DFS).
Additionally, if GE sells the remaining shares, it could return this capital to shareholders, and investors could be in for a big payda - a special dividend. Dividend growth investors should take this into account when analyzing the stock as it would most likely culminate in a significant sum.
Conclusion:
In the short run, this spinoff eliminates a lot of risk, but also drops profits significantly. Because GE has been lowering its exposure to its financial division, it may have experienced a lesser share price decline in a future market crash anyway. In the short term, this move makes sense, but could prove difficult for shareholders to stomach.
However, GE's shares outstanding are projected to decrease - from about 10.12 billion to just over 9 billion - which means EPS will not decrease by the complete 30% of profit that GE Capital creates. In addition, the company will become better streamlined and able to focus on its manufacturing and industry, which should help restore profits into the future.
It remains to be seen whether or not net impact will be positive, but personally, I'm bullish, and think that in the long-term, GE will be happy it completed this move. Hopefully, it can catch up to its competitors again.
My fourth article. Leave feedback on how I can improve! Have confidence.
Disclosure: I have no positions in any stocks mentioned, and no plans to initiate any positions within the next 72 hours. I wrote this article myself, and it expresses my own opinions. I am not receiving compensation for it (other than from Seeking Alpha). I have no business relationship with any company whose stock is mentioned in this article.