By Carl Howe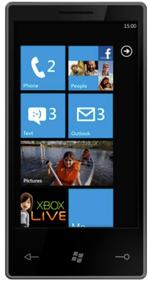 Microsoft (NASDAQ:
MSFT
)
announced a new take
on its Windows Mobile OS Monday at the Mobile World Congress, christened the Windows Phone 7 Series (I'll abbreviate it WP7S for convenience;
see a demo here
, Microsoft Silverlight required). Despite my enjoyment of my present iPhone, I'm really pleased and excited to see this.
[Windows Phone 7 Series home screen pictured right]
Why? Because with this product, Microsoft broke with its past and:
Focused on the consumer. For the first time in Windows Mobile history, the home screen focuses on the consumer, not Microsoft branding. In fact, only the Windows flags button at the bottom remains as a vestige of Windows Mobile past. Microsoft SVP Andy Lees described the new phone experience as one that attempts to keep up with "life in motion" with simple but beautiful graphics and consumer-centric, customizable tiles.
Differentiated its offering. No one is going to mistake this interface for an attempt to out-iPhone the iPhone. Microsoft dared to completely rethink its approach to the phone, and love it or hate it, it will be easy to identify as WP7S, no matter who builds the hardware. Every visual feature from the oversized labels to the giant blocks of color ensures that no one is going to mistake the software DNA powering the device.
Gave up legacy code that was holding it back. Microsoft finally came to the conclusion that the mobile phone wasn't a PC, and ditched PC-centric features like the Start menu and Windows Media Player. Instead, WP7S borrows more of its DNA from the XBox 360 and Zune, providing more fluid and mobile-centric interactions.
Microsoft left many questions unanswered in its announcement, ranging from how and when third-party apps will be available to how much variation will be allowed in hardware systems. Further, the launch of WP7S (boy is that hard to remember) devices in October means that Microsoft will be in the phone market with version 1 of WP7S long after Apple (NASDAQ:AAPL) has released version 4 of iPhone. WP7S phones won't do cut-and-paste out of the gate, nor will they support Adobe (NASDAQ:ADBE) Flash. And with this announcement, Microsoft will have to endure 9 months of feature critiques and creeps before shipment, all of which are more likely to make those shipments later, not better.
For now, though, I have to give Microsoft an A for ambition to build a new and unique smartphone vision. Its final grade, though, will have to wait until we see how well its execution matches that vision.