In June this year the World Gold Council released its guidance on non-GAAP cost metrics describing the procedure to compute All-In Sustaining Costs for precious metal miners. In our view, this guidance has provided some long-needed standardization for cost reporting.
Two quarterly reporting seasons later numerous gold mining companies have adopted this new reporting metric and we have summarized All-In Sustaining Costs, or AISC, for gold miners here and here.
Silver mining companies have been reluctant to report AISC so far. To the best of our knowledge Avino Silver (NYSEMKT:ASM) was the only company reporting this metric in its June quarterly report, and come the reporting season for the September quarter only four other silver miners have joined the ranks: Endeavour Silver (NYSE:EXK), Excellon Resources (OTCPK:EXLLF), PanAmerican Silver (NASDAQ:PAAS) and Silvercrest Mines (NYSEMKT:SVLC).
We felt that this group of companies was just enough to provide the present summary report on AISC for silver miners, in the hope that an increasing number of companies will see the benefits of reporting AISC in coming quarters. We would appreciate information on other companies reporting AISC to be included in our data base for future summaries.
The table below shows some salient data as reported by the companies listed above in their respective Q3 reports.
From left to right the columns list the company name, the ticker and the quarterly production in million ounces. Column "AISC" shows the all-in sustaining costs, column "TCC" shows the older cost metric used by the companies (often termed total cash cost in the respective reports) and column "RSP" gives the realized sales price. The rightmost column titled "sust. Margin" is the difference between the AISC and the RSP column.
N.B. No realized sales price was given in Avino Silver's report. We assumed a value of $22/oz in line with other reports for this quarter.

All together these five companies accounted for production of 9.4M ounces of silver in the 2013 September quarter, at an average cash cost of $9.11/oz and an average AISC of $14.95/oz.
PanAmerican Silver was the only senior miner reporting AISC and produced the lion share of this tally. The average costs are therefore heavily skewed towards PanAmerican Silver's results. The following diagrams will help to put the individual company achievements into perspective.
First up is a diagram showing AISC and cash costs for the five companies, sorted by AISC from left to right. Interestingly, and confirming earlier observations made with the gold miners, there is very little correlation between cash costs and AISC. Comparatively low cash costs do not automatically indicate low AISC, and vice versa. We also note that the smaller producers seem to be able to mine silver at much lower cost than the senior producer.
Silvercrest Mines reported the lowest AISC in the September quarter owing to simple operations and high gold credits at its Santa Elena Mine. Excellon Resources is not far behind at all thanks to very high grades. Avino Silver is a very recent producer and has impressed us for a while ramping up production again at its Durango property.
Endeavour Silver reports AISC that puts this company fourth in our ranking. However, Endeavour's costs are not far off the previously mentioned companies, and a long way ahead of PanAmerican Silver which brings up the rear.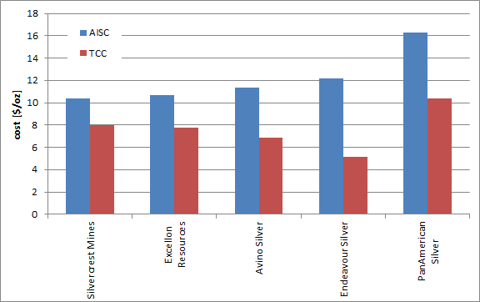 The final diagram below visualizes what we call the "sustaining margin". In principal this diagram mirrors the AISC for each company, but it also reflects differences in the realized silver price. As can be seen in the table above, there was a spread greater than 10% noted for achieved silver prices by the five companies in the September quarter, bearing testimony to the volatility in the silver spot market.
We note Silvercrest again who seems to be making the most out of each ounce dug up at its mine. And we also note that PanAmerican Silver only operates at about a third of the margin of the other entries in our data base.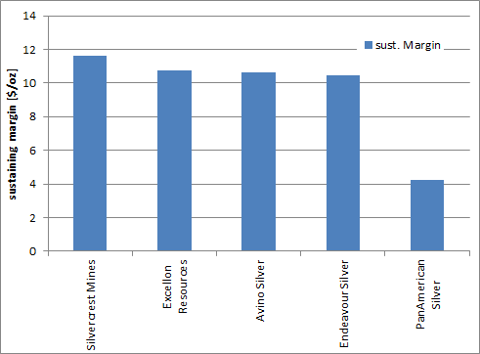 As a concluding remark we would like to emphasize that AISC include certain one-time effects and one quarter does not paint a sufficient picture to evaluate costs. We are therefore looking forward to the annual reports where we are hoping to find annualized AISC. Watch this space for an update in due time.
Disclosure: I am long ASM, EXK, SVLC. I wrote this article myself, and it expresses my own opinions. I am not receiving compensation for it (other than from Seeking Alpha). I have no business relationship with any company whose stock is mentioned in this article.