Linn Energy (LINE) has most certainly had a rough second half of 2013. The stock has been hammered on several fronts, including but not limited to concerns over its accounting of hedges, weak operational performance on acquired assets, and a worsening distribution coverage ratio. However, there now seems to be light at the end of the tunnel. Linn Energy's updated guidance for Q4 2013 points towards a solid quarter, with quarterly production likely breaking all-time highs. In addition, Linn Energy has made strong progress with its proposed merger with Berry Petroleum (BRY). After some hassles, including an informal SEC inquiry, Linn Energy and Berry have now filed the necessary paperwork needed for the shareholder vote to commence. The company's shareholder meeting is now slated for Monday, December 16, 2013.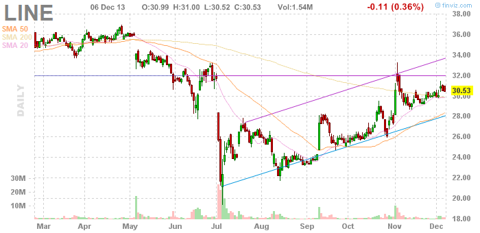 Updated guidance: Record quarterly production
On December 3, Linn Energy announced an update to its Q4 2013 guidance. The most noteworthy item in the release was that the company was adjusting its total production guidance to between 840 MMCFE/D and 860 MMCFE/D, right in line with its previous estimate of 850 MMCFE/D. Linn Energy noted that severe winter weather in the Permian and Mid-Continent operating regions was impacting its results.
The new guidance also noted that Linn Energy's "excess of net cash" would exceed its current distribution by about 5 to 10%, up from the previous guidance of zero percent. This implies a 1.05x to 1.10x coverage ratio for Q4, which is the more conventional metric for upstream MLPs. Do note that this estimate does not include any of the potential impact for the Berry merger.
It is interesting that Linn Energy's production is basically inline yet its distributable cash flow, or DCF, is slated to increase in Q4. This is especially so considering the weakness seen in WTI prices for the quarter. However, the company did note that it is seeing improved pricing for NGLs. As I have mentioned in earlier articles, Linn Energy's NGL production is mostly unhedged, compared to its natural gas and oil production, and any increase or decrease in its price would have an outsized impact on DCF.
Is Linn Energy overpaying for Berry Petroleum?
Before I open up a potential can of worms, let me preface this by saying that Linn Energy is making history by buying Berry. This transaction represents the first ever purchase of a public C-Corp by an upstream LLC or MLP. This would greatly increase the potential acquisition targets for the other companies in the sector. As a unitholder in other upstream MLPs, I view this as a big positive.
However, this does not mean that Linn Energy is getting a good price for Berry's assets. Plain and simply, Linn Energy appears to be paying an arm and a leg.
Shares of LinnCo (LNCO) are to be the currency for the transaction. For the curious, LinnCo technically owns no assets other than units of Linn Energy. When the merger was first announced, Berry stockholders were to receive 1.25 shares of LinnCo for each share of Berry they own. However, due to both a weakening share price for LinnCo and increasing share price for Berry, Linn Energy was forced to increase the exchange ratio to 1.68X. Considering Berry has about 54.5M shares outstanding, about 91M LinnCo shares are to be created, or an increase of 280% from the current 34.8M LinnCo shares. Needless to say, the transaction will be greatly dilutive.
Basically, Linn Energy had to sweeten the deal even more than initially planned. As shown in its recent shareholder presentation, this would represent a 14% premium to Berry's closing price on November 1, and a massive 45% premium to Berry's closing price on February 20, 2013, one day prior to the initial merger announcement.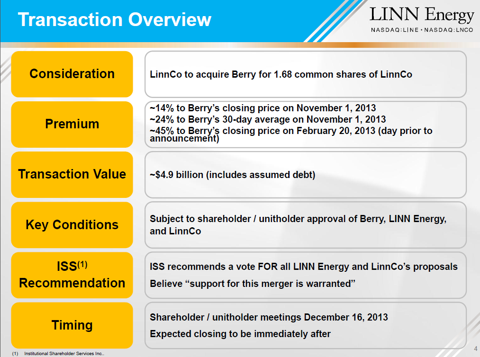 Including debt, the price tag for the transaction is now nearly $5B. Berry would increase Linn Energy's production by over 30%, with much of the increase coming from Brent priced California oil production. Total reserves would increase 33% to 1,100 MMBOE, while Linn Energy's production mix would shift to more liquids at about 54% from the current 47%.
The Berry merger is likely to be accretive to DCF per unit for Linn Energy. However, due to the increase in the exchange ratio, it is difficult to say to what extent. In the initial merger announcement, Linn Energy noted that it would recommend to its board an increase to its distribution/dividend to $3.08 annually once the transaction closed. It is also unclear if this increase is still planned.
Final Thoughts and Conclusion
I view Linn Energy's updated guidance as a mild positive for the stock. Besides NGLs, natural gas prices are also on the rise, recently reaching over $4.00 per MCF for the first time in many months. This may indicate that there is further upside to Linn Energy's DCF metrics for Q4.
Linn Energy is paying quite a bit for Berry. It is also clear that Linn Energy needs Berry more than Berry needs Linn Energy. That being said, a resolution to the matter is greatly needed. Linn Energy's stock has been very volatile YTD in part due to uncertainty related to the merger. Linn Energy should finish the year strong once the Berry merger is finally closed. However, if for some reason shareholders reject the deal, Linn Energy will likely see a sharp decline.
Disclaimer: The opinions in this article are for informational purposes only and should not be construed as a recommendation to buy or sell the stocks mentioned. Please do your own due diligence before making any investment decision.
Disclosure: I have no positions in any stocks mentioned, and no plans to initiate any positions within the next 72 hours. I wrote this article myself, and it expresses my own opinions. I am not receiving compensation for it (other than from Seeking Alpha). I have no business relationship with any company whose stock is mentioned in this article.