No, I have not switched to the dark side. I am not by any means calling for the death of Apple (NASDAQ:AAPL), or arguing that you should go out and short massive quantities of it. Apple shares have done extremely well lately, and there are still a number of positives that could extend this rally. However, Apple is not as strong a buy as it was in recent months, so investors do need to temper their expectations. Today, I'll detail why.
Recapping the recent rally:
It's been a great eight months for shares of Apple. After hitting a 52-week low of $385.10, Apple shares rallied into May before falling back. However, as you can see in the chart below, the real rally started at the end of June. It's been up, up, and away since then.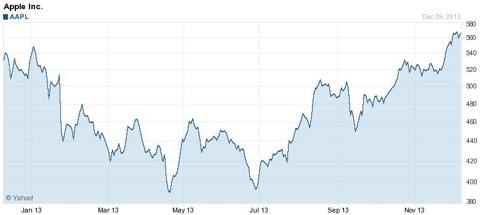 (Source: Yahoo! Finance)
Apple shares are now up 47.09% from the 52-week low, and that does not include the dividend payments shareholders have received. Apple jumped after both the Q3 and Q4 results, both of which showed a turnaround into 2014. Apple is up nearly $100 in the past two months, which has made the bear crowd really desperate. However, investors that have loved the 30%, 40%, close to 50% rally in Apple shares in the past 6-9 months should realize it will not repeat over the next 6-9 months. As positive as I am on Apple, I do not see this stock going to $825-$850 anytime soon. So that's where one expectation has to be tempered, and yes, this is a very obvious one.
Is a China Mobile (NYSE:CHL) deal priced in?
It has been a couple of weeks now since I reported in an Apple article that Goldman Sachs said a China Mobile deal was imminent. At that point, Apple shares were trading under $520, so they are up about $50 (nearly 10%) since then. There has been a lot of positive commentary from analysts lately regarding Apple and China Mobile, and that has helped to push Apple shares to new year to date highs.
We haven't seen a tremendous change in analyst estimates yet, because there isn't a definite deal with China Mobile in place just yet. However, with a $50 move in the stock, some of the China Mobile energy has been pushed into the stock. I've said in the past that a China Mobile deal was worth 10% or so to Apple shares, and we've seen a rally of that size. At $520, you may be buying Apple for the China Mobile potential, but at $570 the scenario changes a bit.
Additionally, the China Mobile impact may not be as large as a year ago says Piper's Gene Munster. Munster does make a few good points, but just think logically. Apple sold 150 million iPhones in fiscal 2013 but 125 million in the year before that (unadjusted for extra week). Apple's revenues increased from $156.5 billion in fiscal 2012 to $170.9 billion in fiscal 2013. Yes, any deal with China Mobile will help, but not as much as it would have a year or two ago.
Estimates on the rise:
Although Apple and China Mobile have not come to a definite deal, Apple's estimates have been on the rise over the past few months. The following table shows a history of Q1 estimates for Apple. Should a deal start sales in the next couple of weeks, we probably will see estimates going even higher. Remember, we have about five to seven weeks before Apple will report fiscal Q1. Closing prices below are not dividend adjusted.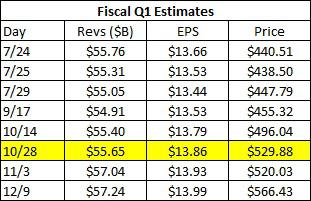 Apple's Q1 revenue estimate average is up more than $2.3 billion since the middle of September. Since Apple gave Q1 guidance (the yellow line in the table), estimates are up $1.6 billion. I still expect Apple to have a very good quarter, and I do believe Apple will beat estimates. However, watch these estimates going forward. Because estimates are going higher, Apple's potential beat will not be as large as some thought a few months ago. Also, with such a large rally for Apple, a beat will almost certainly be priced in. Apple reported a great Q4 but the stock still sold off afterwards. That could easily happen again in January when Apple reports.
Additionally, investors need to watch how Q2 and full year estimates change by January. Currently for Q2, estimates call for revenues of $45.47 billion and earnings per share of $10.76. If those numbers get to say $47 billion and $11 plus by Apple's January report, be extra careful. This could certainly happen if a China Mobile deal is struck. Even though Apple isn't sandbagging like it used to, the company has been a little conservative with guidance. If expectations are too high, guidance could miss and the bear camp will be throwing a huge party.
The Fed will eventually taper:
Whether it is today, next week, next month, or next year, the taper is coming. The Federal Reserve will pull back a bit, and that will have an impact on the overall market. Apple, being the largest name, will certainly be hurt. Since its low on April 19th (the day Apple bottomed), the S&P 500 is up 17.5%. The Federal Reserve has been a big helper to the rally, but this tailwind won't last forever. I don't expect Apple shares to be crushed by the taper, but it won't provide an additional boost that investors are seeing currently.
Reaching many price targets:
Apple sure did look a lot better at $400 or even $500, and that is rather obvious. But at that point, when the average analyst price target was $550 and then jumped to $575, there still was considerable upside according to analysts. Currently, the average price target is $585 and the median price target is $597. Apple is less than $20 from the average and about $30 from the median.
That still does provide some upside according to analysts. Also, once a China Mobile deal is in place, we could see more price target hikes. But even if we get the average price target to say $625 in the next month or two, you're talking about $60 of upside, a little more than 10%. That's not as much upside as a $450 stock with a $550 or $575 target average. Apple is getting close to a point where you might see some analysts issue neutral ratings on valuation.
Apple has also gotten much closer to my price target, which I am updating in this article. Back in late September, I previewed Apple's fiscal 2014. In that article, I stated that my Apple target based on my multiple and analyst estimates was $567. The previous trading day's close for Apple was $482.75. I had about $84 of upside in my Apple target, which represented a 17.5% increase in share price.
I have adjusted my price target multiple a little, and my new price target is $603 for Apple. With Apple closing Monday at $566, that leaves $37 of upside, or 6.5%. Obviously, 6.5% is a lot less than 17.5%. Apple has rallied close to many price targets, including my own, which is just another reason to temper your expectations.
Final thoughts:
In the end, I still believe Apple is a great name to be in. I am not changing my overall view on the stock, which I still recommend as a buy (although a pullback would be nice). However, over the last couple of months, Apple maybe was a 7-9 on the 1-10 buy scale. Currently, I see Apple as a 5-7. Apple shares have risen nicely, but so have expectations, and a China Mobile deal now seems just days away. But Apple is not a $400 or $500 stock anymore, and investors need to realize that. I'm still bullish on Apple but at $566 investors do need to temper their expectations just a little.
Disclosure: I have no positions in any stocks mentioned, and no plans to initiate any positions within the next 72 hours. I wrote this article myself, and it expresses my own opinions. I am not receiving compensation for it (other than from Seeking Alpha). I have no business relationship with any company whose stock is mentioned in this article.
Additional disclosure: Investors are always reminded that before making any investment, you should do your own proper due diligence on any name directly or indirectly mentioned in this article. Investors should also consider seeking advice from a broker or financial adviser before making any investment decisions. Any material in this article should be considered general information, and not relied on as a formal investment recommendation.