In today's Oxen Group recap, we will be looking at Google (NASDAQ:GOOG) in our daily deeper look. We want to update our GOOG 12-month price target as the year ends and 2014 is starting to take shape. The Oxen Group covers both companies year round, and we want to update our current pricing to reflect recent occurrences. In our Company News section, we will delve into what was moving Twitter (NYSE:TWTR) and discuss this hot stock. Additionally, as always, we will do our typical market overview, important news breakdown, and give our perspective on what's moving the market.
Market Overview
The market has a light week with very little economic data, earnings, and major news expected to break. The key for the market is speculation around Fed taper as well as any retail data that will be released about how spending is going so far this holiday season. Today, we got three Fed speeches from regional presidents. St. Louis Fed President James Bullard, Dallas' Richard Fisher, and Jeffrey Lacker from Richmond all spoke today. The three all said similar comments that taper was on the table for next week, and the dovish of them all, Bullard, noted that a small taper in December makes sense. That news kept upside in check and will likely be the leading speculation for the week. The S&P (NYSEARCA:SPY) and Dow Jones (NYSEARCA:DIA) rose slightly.
Deeper Look
Google
Overview
Today, we are taking a look at Google. We have had a Sell-rating on Google for much of the year, and thus far, we have been wrong about the movement of GOOG. For much of the year, the stock had been held in check, but the stock gapped up on it latest earnings report and moved higher from there.
Coming into today, we had a Sell-rating with a $756 price tag. Today, we want to update our model with the latest news and changes in the market.
Industry Trends
The industry (tablets, mobile phones, and notebooks), which Google in many ways needs to be at the center of to benefit their advertising revenue, has been shifting considerably over the past five years as many of us know. The shift to mobile phones and tablets away from PCs is one of the biggest reasons that we have worried about GOOG. The company did not dominate the mobile category, and then we worried about their success in monetizing mobile with ad revenue.
Here are some statistics on this migration and ad revenue's shift:
- Tablet sales are expected to grow 22% in 2014 to 270.5M units.
- Notebook sales are expected to drop 7-8% in 2014
- By Q2 of 2014, tablets will likely outsell PCs with potentially 67-68M units
- Mobile phones will grow in shipments by 5% in 2014.
- Mobile phones will push to 1.9B units and over 2B in 2015
- Digital ad revenue will be 22% of all ad spend in 2013, up from 19% in 2012
- Mobile ad revenue was only 4% of spend but it is expected to be 6% by 2015 with Internet at 28%
Major Catalyst
Over the past twelve months, our main argument against Google has been that we have worried about the company's continually dwindling return on assets. The company continued to bring in more assets to the balance sheet, but it was making less money over time. That trend was not, for us, a signal that the company was developing lines for the future, but rather, the company was playing defense against specialty sites that were doing well and taking market share from Google - Yelp (NYSE:YELP), Facebook (NASDAQ:FB), and Apple (NASDAQ:AAPL) Maps.
Here are comments from our June article:
Return on assets continues to decline. In 2007, the company's ROA was 19%. At the end of 2012, ROA was 12.9%. In the Q1 of 2013, ROA had come down another 3 basis points. The issues for GOOG is that they continue to grow business, grow assets, acquire companies to compete for advertising revenue dollars. The company has built platforms like Google +, Google Offers, and acquired companies to enhance current offerings. The Waze deal, while positive, furthers this notion. Total assets grow with this acquisition of Waze but does it actually increase net income? We're unsure of exactly how GOOG uses Waze, and we are sure they will try to monetize it further. Yet, the company will get integrated into Google Maps as they do with other acquisitions. It is a concern that makes us weary of Google moving forward.
In the latest quarter, return on assets came in at 11.8%, showing yet another drop. The assets that are rising for the company are short-term investments, property and plants, and non-current assets. This issue is still not resolved, and for us, it will start to have an impact on share prices sooner or later.
Further, in the latest earnings report, the company beat earnings and revenue expectations. The big boost was from paid clicks where the company saw a 26% increase year/year and 8% sequentially. The cost-per-click, though, did decrease 8% year/year. So, the company is seeing higher volumes of clicks, but it is making less on each click. Google properties were the big winners with 22% increase in revenue versus only 1% for their network segment. Additionally, it was important to see TAC as % of advertising revenue drop to 23.7% from 25% in the prior quarter. The company spent less on its increasing volume. These results definitely do challenge our earlier notions. In our defense, this is the first quarter that we have seen these results. Revenue had been flat for three straight quarters with high TAC, and thus, the stock moved tremendously.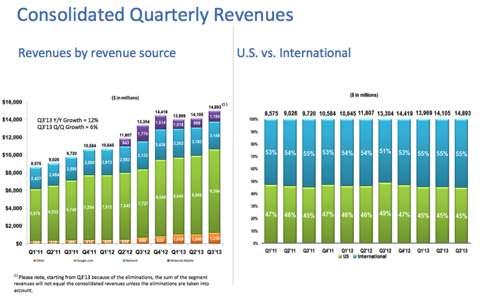 One snag is that Motorola is still struggling. Even with the Moto X phone, Moto saw revenues drop from $1.8B to $1.2B and only make up 8% of revenue.
So, what is coming in 2014 and how will this impact our model?
Mobile still scares us overall. The way people use mobile is different than desktops and notebooks. Clicking on ads and getting ads onto mobile continues to be a challenge for Google, and we are worried about how this affects ad revenue. In the latest quarter, the company noted that 40% of YouTube traffic is now on mobile, up 6% from two years prior. Here were more comments from the company about mobile:
Talking about mobile, we've also launched cross device measurement tools and analytics. There are three observations here. First, mobile is driving higher online conversion. American Apparels found that mobile ads were actually driving 16% more conversions than they initially thought and as a result they're now investing more to drive more sales. Second, mobile drives more phone calls. On average there are more than 40 million calls driven by Google ads every month, this is twice as much as it was a year ago. Third, mobile drives in-store traffic.
The company's 2014 success will very much be defined by how successful the company could remain in mobile. On the mobile side, we are expecting to see new Nexus models at the end of 2014, which will likely help the company regain market share they will lose in the first half of the year as Apple launches the iPhone 7 sometime in mid-year. The company needs to see that they do not lose ad revenue with mobile, and the latest quarter showed the company could be successful here, which is a big win.
Other potential developments for 2014 are Google Glass, but we see this as more of a marketing gimmick over major revenue driver for 2014, but wearables definitely have a ton of potential as they develop into more consistent models in 2015 and beyond.
Dr. Peter J Meyers at Moz has done a great job of laying out some potential developments in 2014. Some of the most important ones as far as advertising revenue goes is the changing of the screen to this: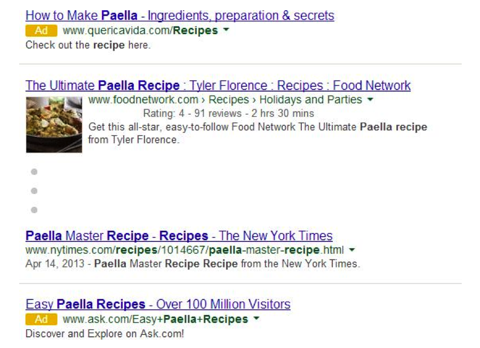 That move is big because it makes the ads look almost identical to search results, and it could push the total ad revenue up. He has a lot of ideas that are all pushing for advertising efficiency and making more by doing about the same in TAC.
Pricing/Valuation
Revenue - The company is projected by analysts to make around $69B in 2014 with a 16% jump in revenue. The main drivers are continuing growth in mobile revenue, Google sites developing further like Google Now and Google+. Our projections are a bit lighter at $68B as we still are cautious given the major shift in how people are searching. So far, the results have exceeded our projections.
The question from here becomes what type of margin can the company maintain. For operating margin, we want to look at operating expenses will develop in 2014. Operating margins have been held in check by Motorola that costs a lot but has not brought in a lot of income. At the same time, it is a sunk cost that the company eats to help attract more ad revenue. In the TTM, operating margins have dropped to their lowest levels since 2004. The operating margin compression harks back to our argument about the company's asset growth that is not profitable. Yet, TAC is coming down as well to balance some of that out. That trend looks likely to continue, so we should expect a bounce back in operating margins to about 25%.
The company maintains an incredibly low 15-16% tax rate, and we will continue with that level for our model. CapEx should come back to around 8-10% of revenue over the next several years, but with high competition, the company will have to continue to develop as well as push internationally. The 15% rate in 2013 is an outlier.
With this updated model, we came up with a price target of $990 for 2014. We are using a fairly aggressive cap rate of 3% to account for high growth, but we are still not seeing the value at 20.5 future PE and 6.2 price/sales for a company that has priced in a lot of future potential, has diminishing margins and ROA, and has questions. We are definitely less critical than we were at the beginning of the year, and so far, GOOG has kicked our butt. Yet, we are not seeing any way to model for more upside without putting in unrealistic future potential growth.
Company News
Twitter was up over 9% on Monday, pushing over $49. There was not a ton of news on the day, and it appears to be a momentum push higher as there is not really a short following for the name. The question is how much is the stock worth. Can TWTR monetize their gigantic business effectively? Is this a long-term holding you want in your portfolio?
Twitter is definitely at the core of the conversation of portfolio formation about "fundamentals" versus "fundamentals mixed with sentiment." Many tech stocks take on lofty valuations due to strong sentiment for these names. Many people are familiar with the product, they like the product, and they believe it is the "hot" stock. Yet, that is not a reason at all to invest into a company or is it?
In the end, if Twitter cannot make money, it won't be worth much. Investors buying now should be in the belief that Twitter is powerful software that can attract advertising dollars and can become a similar powerhouse to Facebook that attracts lots of mobile ad dollars as well as is an integral part of people's everyday life. Opponents will note that the company does not make money, has not been able to monetize the business significantly yet, and may not be able to in the future. Further, with the stock already pricing at 44x sales and 73x cash, the company is definitely quite expensive.
Here are the negatives for the stock that have developed so far. A survey done by Tpoll found that Twitter's reputation among executives, those that will be paying for ad space, had dropped 61% from 2012 to 2013. The company also saw a 40% drop in those that thought the brand was respected in that same period. The company still has very few international users at this point, and this survey above was for European executives…not a good sign for growth there. Early reports for the holidays noted that TWTR was having a lot of trouble being able to attract advertisers during the key holiday shopping season.
On the positive side, the company has its place. It has now become the best source for quick news. Wonder what's happening in a certain event or if everyone else's Netflix (NASDAQ:NFLX) isn't working? Twitter is the best place to go. Further, the company has 215M active users. The company made $254M in revenue in the first half of 2013. Estimates are that the company will have $1B in revenue in 2014, putting its price/sales at 23. The company can easily double that by 2016 again.
Yet, by 2016, we are finally seeing price/sales at 11.5? (which is still quite high)
For now, we believe the best route is to wait. The company's first earnings report should be a major moment for the stock. FB dropped hard on their first report, and it would not be surprising to see a lot of traders unload before their first report. Additionally, it will give investors a conference call to see what execs are saying as well as more detailed financial information. For now, let's wait and see with TWTR. Let's not bash this thing to a bloody pulp because it is a business that a lot of people use and enjoy. At the same time, we have to be careful with our money, and the risk is too high for now.
Tuesday's Outlook
The market does not get much more exciting on Tuesday with little economic data - wholesale inventories and JOLTS - Job Openings. The two reports, though, are not tremendously important. Job openings could give a clearer image of employment for October, which will give fuel to the taper conversations. Look for most to focus on comments from the Fed members today, but it is hard to imagine an overly aggressive up or down day without something unexpected developing.
Disclosure: I have no positions in any stocks mentioned, and no plans to initiate any positions within the next 72 hours.
Business relationship disclosure: I have no business relationship with any company whose stock is mentioned in this article. The Oxen Group is a team of analysts. This article was written by David Ristau, one of our writers. We did not receive compensation for this article (other than from Seeking Alpha), and we have no business relationship with any company whose stock is mentioned in this article.