Centene Corporation (NYSE:CNC), the Medicaid managed care company, reported Q3 EPS of $0.87 vs. the consensus estimate of $0.84 on October 22nd. During the same quarter in 2012 CNC reported $0.07 in EPS. This marked the third consecutive quarter of topping analyst EPS estimates. Premium and services revenue grew 23.6%, or $521.68M, to $2.734B. Total revenue rose 14.5% year over year to $2.804B. Another positive from the quarter was the Health Benefits Ratio dropping to 87.7%, compared to 93.3% in Q3 2012. Centene generated positive free cash flow of $114.41M, bringing the 2013 total to $165.292M. Quarter-end at risk managed care membership was 2,612,500, an addition of 109,500 members, which was a 4% YOY gain. One negative from the quarter was the General and Administrative expense ratio rising to 9.3%, compared to 8.2% in 2012.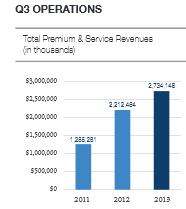 Centene stock is up 39% year to date, which is in-line with the 38% return in the S&P 500 Healthcare Index. Given the projected 8.15% 2014 EPS growth for the index vs. Centene's expected 2014 EPS growth of 27.60%, look for Centene shares to outperform in 2014.
CNC trades at 15.88x 2014 earnings, compared to UnitedHealth Group's (NYSE:UNH) forward P/E of 13.09. From this metric alone you might thing CNC is overvalued when compared to the much larger UNH, but Centene is expected to grow EPS 48.9% this year and 27.6% for 2014. UNH is growing at a much slower rate, 4% for 2013 and only 2.6% for 2014. Looking at the PEG ratio (P/E divided by EPS growth), CNC trades at a forward PEG ratio of 0.58 vs. the forward PEG ratio of 5.04 for UNH. Revenue for CNC is expected to grow 24.5% for 2014 vs. UnitedHealth Group's expected 7.7% revenue growth. We also have to take into consideration the trend in which these forward estimates have been in the last quarter. In the last three months the FY14 EPS estimate has gone from $3.56 to $3.61 for CNC, compared to the FY14 estimate dropping in that same time period from $5.84 to $5.63 for UNH.
Given the growth of Centene you might expect a highly leveraged balance sheet, but the D/E ratio (long-term debt divided by total shareholder equity) is only 0.44 vs. UnitedHealth Group's D/E ratio of 0.52. At the end of the 2012, the D/E ratio was modestly higher at 0.57 for CNC. The decrease in the previous three quarters was predominantly the result of accretion to shareholder equity.
If you're looking for a stable, low growth value play in the healthcare space with a 1.50% dividend yield, UNH could be suitable for your portfolio, but CNC offers significant growth in the current and coming years. Given the growth, CNC could trade up to $72 and be at a forward P/E ratio of 20x. This would only bring the forward PEG ratio to 0.72, or 25.61% above the current share price. UNH will likely see share price appreciation in 2014 too, but less than that of CNC. Applying a 15x forward P/E ratio, UNH would trade at $84 in 2014, or 13.94% above the current share price.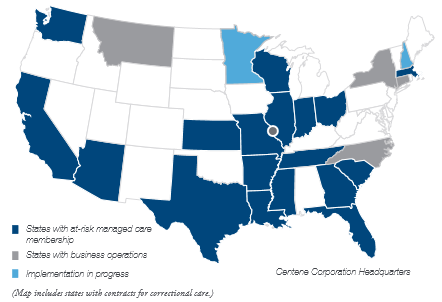 Centene will continue to perform well as more states transition their Medicaid recipients to managed care. The Congressional Budget Office is predicting 7 million people would qualify for expanded Medicaid in 2014 and 11 million in 2020. CNC currently only has at-risk managed care memberships in 18 states, but is expected to commence services for Minnesota Medicaid beneficiaries in 2014. Increased industry fees won't materially harm the profitability, as the company adds new services and the aforementioned expansion across the country. The mean price target of 16 analysts is $69.25, or 15% above the current share price. On Friday, December 13th, Centene will have their 2014 guidance and investor meeting in New York City at 8:30 A.M.
The Technical Take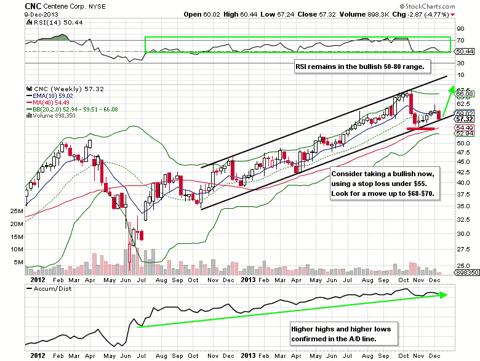 Since the October 2012 low of $34.73, CNC shares have been trading in a well-defined ascending channel. This October the stock experienced a rare 19% correction from the 52-week high of $67.84 down to the channel support of $55. This test proved to be successful and the uptrend has since resumed. Consider taking a bullish position, using a stop loss under $55. Look for a move up to $68-$70 in the next 3-4 months. At current levels, the reward/risk ratio is better than 2:1.
Disclosure: I am long CNC. I wrote this article myself, and it expresses my own opinions. I am not receiving compensation for it (other than from Seeking Alpha). I have no business relationship with any company whose stock is mentioned in this article.