"He (Arthur Miller) wouldn't have married me if I had been nothing but a dumb blonde."- Marilyn Monroe
In the health care REIT sector there are three major players, which are HCP, Inc. (NYSE:HCP), Ventas, Inc. (NYSE:VTR) and Health Care REIT, Inc. (NYSE:HCN). All three companies have similar market capitalizations, which range from $15.92 to $16.69 billion as of December 6, 2013.
All three companies are diversified well within health-care subsectors that include senior living, medical office buildings, skilled nursing facilities, hospitals and life science buildings.
On October 21, 2013 (after market close) I published The U.S. REIT Market: IYR Ripe For A Pullback, which stated the thesis that rising rates, specifically that of the 10-year U.S. Treasury bond, as well as tax-loss selling would have an immediate adverse impact on REITs in general.
Since the closing price on the next available trading day (October 22, 2013), HCP, VTR and HCN each saw their shares come under heavy pressure, resulting in the collective loss of 13.85%, or $7.91 billion, in market capitalization. Adjusting for dividends paid, the trio shrank from $57.09 to $49.18 billion in value.

In terms of current price relative to an actual October 22 cost-basis, shares held between the close of October 22, 2013 and December 6, 2013 resulted in an average loss of 14.6%.
A falling market capitalization, in conjunction with stable long-term debt, will command a natural increase in the company long-term debt to market cap ratio. The debt to market cap ratio is an important REIT financial metric to determine financial flexibility and future growth prospects.
The debt to market ratios specifically showcase a REITs ability to take on additional debt to finance growth. In general terms, a ratio of 35% is very conservative, which equates to a strong REIT ability to grow by taking on additional debt. A ratio between 45% and 50% may be seen as efficient or "ideal" in this sector, while a ratio over 50% showcases limited ability to take on debt.
With the recent REIT share price compression, the debt levels of these select health care REITs all currently exceed 50% of their respective market capitalizations.
To fall back to a desirable 50% ratio, each stock must advance in share price and/or reduce debt. Leaving this up to market forces, the following price increases would be required to attain such the 50% ratio.
As noted by the chart above, HCN would need a huge price run-up in the stock to lower debt to an efficient level. By holding such debt at constant levels, HCN has financed growth at a level that reduces financial flexibility.
While a dividend reduction at HCN is unlikely, such debt may limit future dividend increases, limit the ability to sell debt and reduce short-term growth prospects. Another risk to owning HCN at this debt level would be a company debt reduction through a secondary offering. This would dilute share count and relieve the current price in an effort to compel investors to purchase the secondary.
With such negative risks associated with the current debt to market cap ratio of HCN, this company may be seen as a weak competitor with limited threat to HCP and VTR.
The Real Mid-Cap Health Care REIT Contenders: HCP & VTR
At current levels, HCP and VTR are very similar and further analysis must be completed to determine which company would be a more attractive investment.
Property Diversification
As noted above, both companies are well-diversified between the subsectors in the health care industry. According to their respective websites, the current allocations per sector are as follows.
Using these metrics, it can be noted that VTR is less diversified than HCP, as the company holds over 50% of the portfolio in senior housing and does not hold any life science buildings.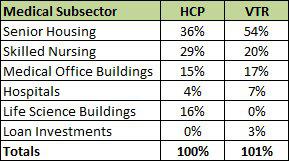 Although it must be a simple oversight due to rounding errors, the fact that VTR is worth over $15 billion but cannot divide their portfolio to an even 100% level may caution the investor that the company may overlook larger problems as well.
Fundamentals
In the following fundamental graphs, if there is an advantage in metrics between one company and the other, the more desirable metric will be represented by a blue bar and the least desirable metric will be measured in red.
Regarding market size, both HCP and VTR are very similar as noted above.
HCP does return more cash to shareholders in the form of dividends however, with a yield 98 basis points above VTR.
While HCP has a higher yield, VTR has a higher 2013-2014 one-year FFO growth rate. In this regard, the trade-off between HCP and VTR would appear to be dividend yield and growth.
Forward-Looking P/FFO Valuations
As REIT investors use price to FFO to measure company valuation in place of the P/E ratio, the following chart measures current price to 2013 and 2014 FFO estimates.
If the growth rates continue at 2013-2014 levels, VTR investors would be trading off a lighter yield but would find a more attractive cost-basis to current FFO in 2017 (assuming no dividend reinvestment).
FFO growth rates cannot assume to be held constant and as such, investors much predict FFO growth. Such growth predictions may be based on analyst projections, historical performance, the ability to take on debt and company leadership.
FFO Growth Considerations
1. Analyst Projections
As noted by the 2013-2014 FFO growth projections, both companies are expected to observe FFO growth however VTR is expected to advance at faster rate.
2. Historical Performance
Over the last ten years, Ventas has outperformed HCP considerably.
Both companies are positive on the ten-year performance chart, however VTR has a dividend and split adjusted compound annual growth rate of 16.34%, versus 10.45% at HCP.
3. Debt Levels
As noted earlier, with a contraction in share price both the HCP and VTR debt to capitalization levels are above 50%. At the end of the third quarter, HCP sat at 51.3% and VTR was at 56.8%. In this regard, HCP has more financial flexibility to grow versus VTR.
4. Leadership
The CEO of Ventas is Debra Cafaro, who has been CEO since 1999 and Chairwoman of the Board since 2003. In this regard, Cafaro has presided over the last ten years of growth in both leadership positions and may be credited with the remarkable growth associated with that tenure.
In early October 2013, HCP ousted CEO James Flaherty and brought in Lauralee Martin, who was the chief executive of the America's division at Jones Lang LaSalle Inc. (NYSE:JLL). Flaherty had been the CEO at HCP since 2003.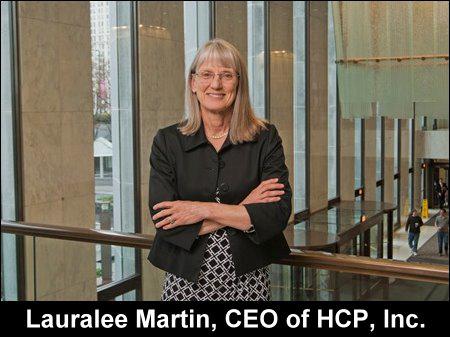 Analysis of FFO Growth Considerations
Both HCP and VTR have short-term FFO growth projections, however from 2013 to 2014 analysts have given VTR higher growth estimates. With a CEO and chairwoman that has presided over remarkable growth over the last 10 years, investors may expect more of the same.
HCP should be seen at a disadvantage due to the leadership differences, argues REIT author Brad Thomas. When Martin was announced as the new CEO, in an October 7, 2013 article I'm Dumping Shares of HCP and Investing In Debra Instead, Thomas stated (edited for grammar)
"HCP's new CEO is not an established 'deal maker,' based on her track record she is a people-oriented leader with no experience at sourcing health care deals. In addition, I see little connection between managing a brokerage network (Jones Lang LaSalle) and running an $18 billion diversified health care REIT."
About Lauralee Martin
Jones Lang LaSalle is a $4.41 billion integrated real estate investment management and services firm based in Chicago, Illinois (as is Ventas). The company engages in all facets of real estate and also indirectly invests in publicly-traded REITs. Ms. Martin oversaw the Americas division of the company as chief executive, while also serving as a board member to HCP.
According to JLL, the company's wide range of real estate services include
"agency leasing, investment management, tenant representation, real estate investment banking/merchant banking, property management, corporate finance, facilities management/outsourcing, hotel/hospitality advisory, project and development management/construction, energy and sustainability services, valuations, value recovery and receivership services, consulting, logistics and supply chain management, and capital markets."
In addition to these services, the property types the company works with include
"offices, multi-family residential and military housing, hotels, critical environments and data centers, industrial properties, sports facilities, retail properties, cultural facilities, health care and laboratory facilities, transportation centers, government facilities and educational facilities"
Ms. Martin oversaw the entire domestic services segment of the company which included all types of property type deals, including health care and laboratory facilities. As a board member of HCP, Martin also had further privy to the health care REIT sector beyond JLL.
While Thomas may be correct in that managing JLL may be quite different than running a diversified health care REIT, it must be noted that JLL does have a hand in health care property investments as they function within all aspects of the real estate market rather than a limited segment.
With Martin's diversified experience, running HCP may be akin to asking a master chef to upgrade and manage a salad bar. Give Gordon Ramsey $5.25 million in HCP stock tomorrow and he would likely develop the best salad bar any hospital has ever seen. There is no reason to expect anything less of Ms. Lauralee Martin.
Why Join HCP?
As the U.S. REIT market has been under serious pressure this year, Martin must have seen incredible value to jump ship at the end of the third quarter to join HCP. Executive compensation and ego may have helped her decision to move to Long Beach, California as HCP's new CEO, however it should be noted that JLL is growing fast and in November the company released blowout Q3 2013 earnings that rocketed the share price over 10%.
In other words, Martin likely saw great long-term value in a losing sector in order to leave a comfortable post as a chief executive at a winning company in a winning sector.
Conclusion
The health care REIT segment of the U.S. economy is largely represented by HCP, Ventas, Inc. and Health Care REIT, Inc. With a debt to market capitalization level above 65%, Health Care REIT may be seen to have less financial flexibility and therefore limited dividend and FFO growth prospects.
The two largest health care REITs, HCP and VTR, are the remaining health care REIT leaders. Both are nearly identical in size and currently run by leading women in the U.S. real estate market.
Investors may argue that VTR has a stronger history and a current CEO who has a more relative track record and as such, the company arguably may be valued higher than HCP. VTR has higher 2014 FFO growth estimates and as such, the company is trading as 12.81 times 2014 FFO, while HCP is trading lower at 11.8 times 2014 FFO.
For investors looking for value, HCP clearly is priced less than VTR. Income investors also may note that the company is more diversified within the health care subsectors. Also, the dividend at HCP is much higher than VTR, which currently is 5.74% versus 4.76%.
These yields are at the higher-end of their respective 2010-2013 yield ranges and also very comparable with pre-Great Recession yield levels, as noted by the 10-year yield chart above.
Pick Your Cup Of Tea Or Make An Arnold Palmer
For investors who are looking for a better value, more financial flexibility, a higher yield and are eager to place a bet that Lauralee Martin brings extraordinary new talent to the field, HCP may be viewed as a better current investment. For investors who believe VTR will continue to outpace HCP in growth, VTR may be seen as a better long-term investment.
As both companies are trading at attractive valuations and offer excellent exposure to real estate ownership in a sector with a strong secular-growth trend, an investment in either HCP or VTR may prove extremely rewarding over time. As such, many investors looking for leadership, income, value and growth in the health care REIT space may prefer a blended HCP/VTR Arnold Palmer versus a splendid, one-company cup of tea.
To learn more about HCP and the secular growth trend facing U.S. health care today, please read 7 Secular Growth REITs To Generate Income Now, published June 14, 2013.
Disclosure: I have no positions in any stocks mentioned, and no plans to initiate any positions within the next 72 hours. I wrote this article myself, and it expresses my own opinions. I am not receiving compensation for it (other than from Seeking Alpha). I have no business relationship with any company whose stock is mentioned in this article.