Alcatel-Lucent (ALU) is planning to sell its enterprise segment consisting of switches and communication gear. This is the second time in the span of three years that the company is trying to sell its enterprise unit. In 2011, the company tried to sell its enterprise unit but succeeded in selling call center unit, Genesys, for $1.5 billion. The reason the company wasn't able to sell its enterprise unit was the heavy cost requirement to restructure the unit, as it involves the labor union and associated pension obligations. Apart from pension obligations, the company's service offerings under the enterprise unit are outdated. Alcatel-Lucent's competitors, such as RingCentral and 8x8, provide an upgraded version of cloud based phone services. The company is planning to divest around $1.36 billion worth of assets and dispose non-core assets in order to increase its investment in IP networking. It plans to increase its investment in IP networking and ultra-broadband services to 85% of its total R&D investment by 2015. By 2017 data traffic on metropolitan access and aggregation networks may increase to 75% from the current 57%. The growth in data traffic provides Alcatel-Lucent with a great opportunity. Alcatel-Lucent recently entered into a partnership with Qualcomm (NASDAQ:QCOM) to develop small cells for ultra-broadband wireless access.
In the third quarter, revenue from IP routing, terrestrial optics, and ultra-broadband access solutions increased 7% to $777.95 million. I expect the revenue from IP networking and ultra-broadband will increase in 2014 due to growing data traffic.
Expanding 4G network
Alcatel-Lucent is also looking to expand its reach in the 4G LTE network. The company signed a deal with YooMee in November to deploy an end-to-end TDD LTE solution including wireless backhaul and evolved packet core, or EPC, in Africa. YooMee plans to deploy TDD LTE over the span of six months. Alcatel-Lucent will provide network planning, network integration, and startup assistance. Though financial details of the deal aren't yet disclosed, I believe the deal with YooMee will provide Alcatel-Lucent with an opportunity to expand in Africa, because it is expected to build around 35 to 50 sites per capital city. Alcatel-Lucent currently has around 40 LTE and 55 small cell networks globally. The LTE penetration rate stands at less than 0.003% in Africa, providing Alcatel-Lucent with a big market opportunity.
Alcatel-Lucent is focusing its investment in LTE by reducing its investment in 2G and 3G. The LTE network is expanding globally, and it is expected that more than 18 countries will have LTE networks by the end of 2013. Also, the global LTE iinfrastructure market is expected to grow at the compounded rate of around 15.98 from 2014 to 2018, and I believe the company's LTE initiative can help it generate more revenue.
China Mobile Limited (NYSE:CHL) announced that Alcatel-Lucent will provide its IP EPC portfolio to rollout the 4G LTE network, and Ericsson (NASDAQ:ERIC) will provide LTE technology in order to launch 4G and to upgrade 2G and 3G services in China. China Mobile is expected to launch its 4G network in China on December 18, 2013, which makes it the first company in China to launch 4G services in China. China Mobile has around 759 million users, covering around 62% of China's total mobile subscribers. Being the first company to launch 4G services in China, I believe China Mobile can become a market leader in the 4G network service too.
Alcatel-Lucent's EPC is a high-capacity IP solution consisting of data, mobility, and policy. China Mobile has awarded Alcatel-Lucent with 24% of its overall EPC network, making Alcatel-Lucent the primary EPC supplier. On the other hand, Ericsson will be deploying radio access network, EPC network, and upgrading and expanding the installed base of networks. Ericsson is awarded 20% share in EPC, making it the second biggest supplier of EPC after Alcatel-Lucent. Ericsson is the biggest LTE provider in the world with 50% of the world's LTE smartphone traffic, and I believe a deal with China Mobile can help both Ericsson and Alcatel-Lucent expand their reach in the world's biggest mobile market, China.
Conclusion
Based on Alcatel-Lucent's increasing initiatives towards LTE, IP networking, and ultra-broadband, I believe its stock price will rise in the long run. Over the last year, the company's stock price has increased and is trading at around $4.50.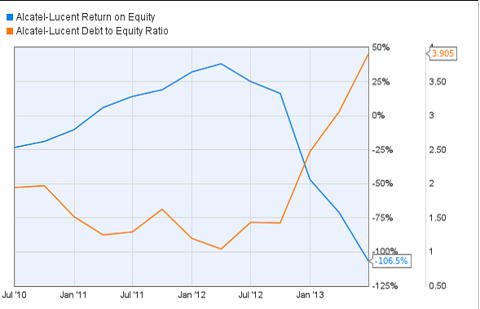 Alcatel-Lucent's current return on equity is (106)% and debt to equity ratio is 3.99 due to its huge debt burden and continuous losses year over year. By analyzing Alcatel-Lucent's initiative to sell its non-core assets, I believe the company's revenue will improve in the longer run. I recommend to hold investment in this stock until the company sells its enterprise segment, and keep an eye on positive outcomes for making new position.
Disclosure: I have no positions in any stocks mentioned, and no plans to initiate any positions within the next 72 hours. I wrote this article myself, and it expresses my own opinions. I am not receiving compensation for it (other than from Seeking Alpha). I have no business relationship with any company whose stock is mentioned in this article.