The gaming sector is one I have found myself attracted to over the last year. With the proliferation of smart-phones and the rollout of new consoles a new cycle upswing appears to be starting. I have previously looked at Zynga Inc (NASDAQ:ZNGA) as in investment candidate in my article "The Zynga Turnaround Has Begun - Why It Is Time To Buy". Today I am going to look at Glu Mobile Inc (NASDAQ:GLUU) and make the case for why I believe it is a must own stock for investors seeking exposure in the mobile gaming sector.
Background:
GLUU develops and publishes a portfolio of action/adventure and casual games for the users of smartphones and tablet devices. The company was formerly known as Sorrent, Inc. and changed its name to Glu Mobile Inc. in May 2005. GLUU relies on Freemium games as they have come to be called. These are games that are released for free across all platforms and rely on ads for revenue as well as in game purchases. This is a similar model that is used by ZNGA. As you can see from the GLUU website, the company has an expansive line-up of games. Deer Hunter has put GLUU back in the spotlight. On April 1, 2012, the company acquired the Deer Hunter trademark and associated domain names from Atariits for a total consideration of $5m in cash.
Financials:
On October 30 GLUU reported what I view as a very strong earnings report. Key highlights from the report were as follows:
GAAP revenues of $21.7 million; non-GAAP revenues of $22.6 million exceed guidance
Cash balance of $27.7 million and no debt as of September 30, 2013
Deer Hunter 2014 sets new Glu Mobile download, DAU and single-day revenue records
Q4 non-GAAP smartphone revenue guidance increased; expect to achieve Q4 adjusted EBITDA profitability
Non-GAAP revenues are expected to be between $31.5 million and $32.5 million and non-GAAP smartphone revenues are expected to be between $30.8 million and $31.8 million.
In the report GLUU stated it expects to post a profit in the fourth quarter on record quarterly revenue for the company. Unfortunately, the stock dropped sharply over the following days as traders expressed their disappointment on news of game delays. Lofty revenue expectations from the Deer Hunter rollout did not help either. As an investor, I view near term disappointments like this as long term opportunities for accumulation. In the last quarterly report GLUU announced the delay of a number of games in the upcoming quarter. These games were expected to be big revenue generators. The company had projected that Eternity Warriors 3, Frontline Commando 2, and Motocross Meltdown would be released during the fourth quarter. Only Eternity Warriors 3 will be released before year end. One positive that investors should note is that the company is pushing up the release of Robocop to January from February to coincide with the theatrical release of Robocop. As the Deer Hunter game proved in the last quarter, well known brand name games can generate large revenue. The upcoming release of Robocop, timed with the movie, should be another major hit. As an investor I am used to seeing near term stock price drops and like to take advantage of those drops, especially when the longer term outlook looks great. That scenario is very present with GLUU. Another reason for the drop after the last report was unrealistic expectations for Deer Hunter. The game performed great on a revenue perspective. Trader expectations were simply too high. Also, the company did state that the lessons learned from its mega hit Deer Hunter were the reason for the slippage in the launches of its other games. GLUU is using what it learned from Deer Hunter to make its upcoming hits stronger. As an investor this is something I very much approve of.
As of this last week GLUU trades with a market cap of $266m with annual revenue now approaching the $100m mark. Cash stands at $27m with an average quarterly cash burn rate of $5m over the last year. At current burn rates, not taking into account the expected profitability in the coming quarter, GLUU appears to be well funded for the next year.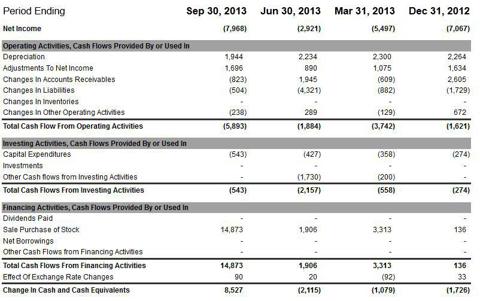 Projections:
Deer Hunter 2014 was only globally launched on September 17, 2013, and thus it had only had a limited amount of time to impact the quarter. GLUU expects revenue to increase to $31.5 million for the fourth quarter with no additional game launches. Using the numbers supplied by the company I estimate that Deer Hunter will generate $10m in revenue for the quarter.

GLUU manages its smartphone business by tracking various non-financial operating metrics that give insight into user behavior in their free-to-play and premium smartphone games. The three metrics that they use most frequently are Daily Active Users (DAU), Monthly Active Users (MAU), and Average Revenue Per Daily Active User (ARPDAU). Looking at the information provided in the last earnings report we see that the average daily uses increased almost 50% in the quarter. This increase was solely from the Deer Hunter game for a TWO WEEK period. With Robocop expected to launch in January and the movie the following month, GLUU could be in store for a very large Q1 2014 revenue number and a $10m PROFIT.
My Assumptions:
Deer Hunter $10m flat for Q1
All other games Flat $20m
Robocop $10m
New Games $5m
Total Q1 revenue $45m
Below is my assumption for the first quarter of 2014:

The numbers for the first quarter in 2014 are back-engineered from the guidance we obtained from GLUU in September. I assumed that cost of revenue for GLUU would increase 20% for the 1st quarter to be conservative. Investors should note that GLUU is reporting a 15% DROP in COR for the 4th quarter with a 50% gain in revenues. I also assumed a 10% increase in total operation expenses even though this number has been flat in the past
Potential:
A possible game changer for GLUU mobile and other mobile gamer developers is the expansion of the android gaming consoles. I detailed this new shift in gaming in my article "Android Mini-Consoles - This Year's Holiday Hit"
and detailed the upcoming offering of MadCatz Inc (NYSEMKT:MCZ) and its MOJO android console, which launches today. These cheaper android consoles serve one main purpose, allowing owners of mobile games to play those games on their TV's. If these new android consoles gain a foothold it could increase the gaming time for mobile games offered by GLUU and therefore increase the revenue potential for ads and in-game purchases. More time spent playing games will translate into more ads being served and more revenue generated. Mobile game companies should be cheering from the sidelines for the success of android consoles such as the one offered by MadCatz as they will be the big winners on success.
GLUU obtains almost all its revenue from mobile. Mobile is the buzz word for investors these days. The gaming sector is entering a new age where free games drive revenues. GLUU is at the forefront of this new revenue model and recent game successes and record revenue shows the company knows what it is doing. Deer Hunter is a franchise that could continue to produce record revenues for the company. Robocop has the potential to be an even bigger hit in the coming months. The recent drop in price for GLUU should be viewed as a great opportunity for investors. The upcoming slate of games along with my prediction of record Q1 revenues means now is the time to consider an investment in GLUU.
Disclosure: I am long MCZ, ZNGA. I wrote this article myself, and it expresses my own opinions. I am not receiving compensation for it (other than from Seeking Alpha). I have no business relationship with any company whose stock is mentioned in this article.