For the dividend growth investor in the distribution stage of investing today's yield is very important. I am an income-oriented investor seeking high but safe equity yields, ever mindful that dividend growth will preserve long-term buying power.
Where can one get growing dividends from Blue Chip stocks that yield 4% and higher today? This article proposes to provide some answers to that question.
Some Market History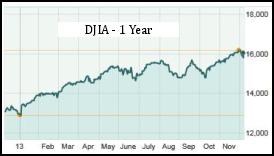 A year ago 10 of my 20 core Dividend Growth stocks yielded 4% or higher. These great companies have grown and prospered and are now paying even higher dividends. However, it is hard to find 4% or more in today's market. Most of the reason is price appreciation. The Dow Jones Industrial Average rose from about 13,000 a year ago to 16,000 today. Let us illustrate this dynamic with a hypothetical stock.
Our hypothetical stock, "High Yield Blue Chip", HYBC, that sold for $100 a year ago and appreciated at the rate of the DJIA, is now valued at $123, up 23%. It was paying a $4 annual dividend a year ago and yielding 4%. If it increased its dividend 12 cents this year, a 3% increase, it is now paying a dividend of $4.12. Its yield is now 3.35%, which pales in comparison to its former 4% yield. However, because the company increased its dividend the shareholder is getting more cash in their pocket. The reduced yield is because of the appreciated price of the stock. (Yield = Dividend/Price)
Let us continue to look at our hypothetical stock, which had a P/E of 17 one year ago, and now has a P/E of 20. This is roughly the behavior of the Dow over that same period. Earnings were $5.88 a share for HYBC one year ago, and earnings are $6.15 now. We may also calculate that since the stock increased its dividend by 3% and its earnings increased by 4.6%, the dividend payout ratio is almost the same as it was before. (Payout = Dividend/Earnings)

A Concept of Core Holdings
My core holdings are established companies, powerful engines of capitalism and some have been creating wealth for over a century. Many of these stocks are on David Fish's spreadsheet of dividend Champions, Contenders and Challengers. These large cap companies have good credit ratings and economic moats protect their strong positions in their industries.
(Click to enlarge)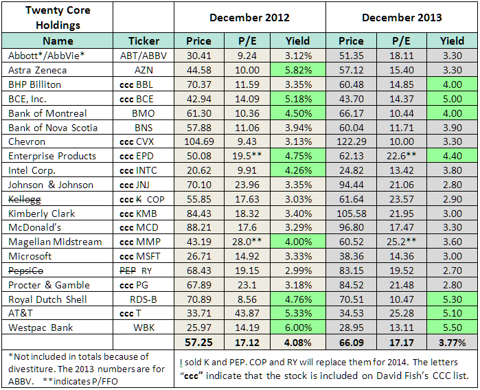 This collection of stocks, by my definition Blue Chips, increased 15.4% in price YTD in 2013. Interestingly, the P/E remained the same. This steady multiple of 17 indicates that these stocks had earnings increases in proportion to their price, unlike the Dow, which traded at a multiple of 17 one year ago in December of 2012 and now trades at 20 times earnings. That is to say the Dow's price rose faster than its earnings making it comparatively overvalued compared to these stocks. Stated another way, if a stock is selling at a lower multiple than the market, that company's stock is relatively undervalued.
I am quite pleased that by year-end I will have received an estimated 6.7% increase in dividend income this year. Price appreciation and potential capital gains are not goals for my Dividend Growth Portfolio. Inflation beating dividend growth is god, and I am very satisfied with the results.
My Blue Chip Stocks Yielding Over 4% Today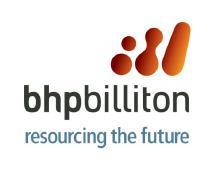 BHP Billiton plc (NYSE:BBL) is the world's largest miner with a market capitalization of $160 Billion.
The company strategy is to own and operate large, long-life, low-cost, expandable, upstream assets diversified by commodity, geography and market. The strategy has remained unchanged for over a decade and has enabled BPH Billiton to deliver superior margins throughout economic and commodity cycles for many years. The firm is a leading producer of copper, iron ore, metallurgical coal, Aluminum, Nickel, Potash and Petroleum Products.
Earlier this month, the UK version of the Motley Fool selected this firm as the FTSE 100 Blue Chip Income Buy of the Week. "The group's assets are predominantly in safer geographical locations, notably Australia and North America; sector-leading return on equity testifies to the quality of the assets and operations; and a history of annually increasing dividends - even through the recent recession - is unparalleled among its peers." An in-depth look at BHP Billiton is at this link.
The yield is high and the valuation is attractive.
Find more about the company at its web site.
BCE, Inc. (NYSE:BCE) is Canada's largest telecommunications company with a market cap of $34 Billion.
More than a phone company, Bell is making significant investments in developing and delivering the most innovative communications and media services to Canadians across any screen they choose: television, smartphone, tablet and computer.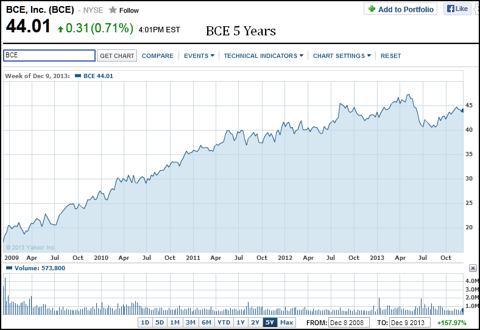 Since the fourth quarter of 2008, the dividend has grown 9 times, 60% overall. In addition, during the same period, total return to stockholders increased 112%. Bell Canada has continually decreased the cost of its wire-line services while building out its fiber cable TV network to 3 million households and accelerating its cell phone implementation of 4G LTE. Unique among telecoms, BCE owns a large share of a hockey team, the Montreal Canadiens, as part of its mission to be a leading sports content provider.
Read an overview of Canadian telecoms at this Seeking Alpha article.
A little out of favor since May, this might be an opportune time to take a position in this Blue Chip.
Find out more at the company website.
Bank of Montreal (NYSE:BMO) provides retail banking at over 1,500 branches in Canada and the US. The bank offers wealth management and investment banking products and services, including economic research, in North America and internationally.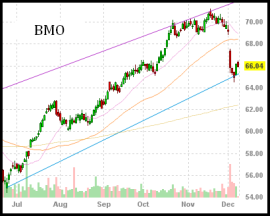 The bank is a dividend leader among the 5 large Canadian banks. As part of a profitable oligopoly the perfect environment exists for this $42 billion market cap multinational to prosper, and prosper it does. The bank set a new profit record this year, with $425 Billion realized. Of this, an appropriate 47% was paid out to shareholders, assuring funding for future growth and continuing dividend increases, a modest one just announced this month.
Go here for an overview of Canadian banking.
Does the recent dip in the stock's price create a buying opportunity?
A link to the company website is here.
Enterprise Products Partners, LP (NYSE:EPD), with a market cap of $57 billion, is one of the largest publicly-traded energy partnerships and a leading North American provider of midstream energy services. To summarize the scope of its operations, we list some of its $38 billion of assets.
Pipelines: 50,000 miles of natural gas, NGL crude oil, refined products and petrochemical pipelines
Storage (Salt Dome) 200 million barrels (MMBbls) of NGL, refined products and crude oil storage capacity; 14 billion cubic feet of natural gas storage capacity
Natural Gas Processing: 24 natural gas processing plants
Marine Services: 64 tow boats; 131 barges
Fractionation: 21 NGL and propylene fractionators
Platforms: 6 offshore hub platforms
NGL Import/Export Terminals: Houston Ship Channel Import Terminal capacity - 14 MBbls/hr; Houston Ship Channel Export Terminal capacity - 14 MBbls/hr
Most of the revenue of midstream pipeline operators comes from long-term contracts during which the customer pays per unit (MBbls, MCuFt) for the transport of gas or liquids. The company functions like a toll road operator collecting as each unit passes. Thus, pipeline companies are largely immune to the fluctuations of commodity prices. The growth and profitability of this company is indicated in the steady record of dividend increases, shown below.

Fairly valued as illustrated by the F.A.S.T. Graph, I believe this stock is ideal for a retiree.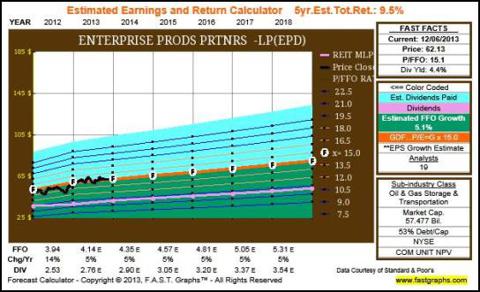 Here is a link to EPD's company website.
Royal Dutch Shell plc (NYSE:RDS.A) (NYSE:RDS.B) has a market cap of $57 billion and produces 3.9 million barrels oil equivalent per day. It has been down about 8% for the past two years while the market and other large oil companies have thrived. The reason is apparent.
The UK Motley Fool observes, "Shell has struggled because it has spent so much on exploration lately, with costs likely to hit $45 billion this year, up from $30 billion in 2012. Next year (2014) should see the beginning of a return on that massive investment." The pace of investment will slow and some asset disposals are scheduled making Shell's numbers look better.
In addition to its high yield, Shell has an aggressive stock buyback program. Excelling with its dividend, Shell stacks up closely with its peers when it comes to other important measurements, as illustrated by this table from Morningstar.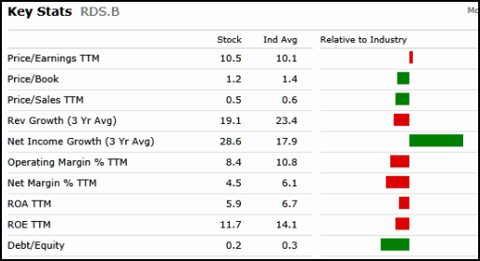 Fairly priced, Shell is poised to have very successful years in 2014 and 2015.
Shell's global website is here.
AT&T (NYSE:T) is a worldwide telecom giant with a market cap of $182 billion. It is a Dow 30 component.
The company offers one of the world's most advanced and powerful global backbone networks, carrying 49 petabytes of data traffic on an average business day to nearly every country. Wireline service covers 22 US states. A wireless network serves 107.9 million wireless subscribers and enables them to communicate seamlessly worldwide as AT&T offers voice coverage and data roaming in over 200 countries.
In addition, AT&T manages the nation's largest Wi-Fi network with 32,000 AT&T Wi-Fi Hot Spots at popular restaurants, hotels, bookstores and retailers in the US, and provides roaming access to more than 461,000 hotspots globally.
Future profitability will come from the wireless business, which already contributes over half the firm's sales. Investing heavily in this area, AT&T is gaining share. Morningstar comments,
"AT&T and Verizon Wireless have taken all of the growth in the postpaid market and then some since the end of 2007, as both Sprint and T-Mobile has struggled to retain customers. At the same time, AT&T's wireless EBITDA margin has expanded from the mid-30s to around 40%, despite the cost of subsidizing the iPhone."
I am confident AT&T will continue its slow growth and its 5% dividend with small annual increases for the foreseeable future.
This AT&T Newsroom site provides all the latest on the firm.
Westpac Bank (NYSE:WBK) is one on the four leading Australian banks with a $90 billion market cap and an annual profit close to $7 billion.
It is the only Australian bank available as an ADR traded on the NYSE. The dividends are "fully franked" which means no foreign taxes are deducted from them. Like their Canadian cousins, Australia's banks form a very profitable oligopoly.

Westpac has an extensive retail branch network in Australia and New Zealand. It offers the complete spectrum of financial services and serves small business, corporate and institutional sectors, as well as having a large wealth management business.
The bank has a high credit rating, S&P AA, and top global safety ratings. There is some concern about a weakening housing market. The soft mining industry is the culprit, and repercussions from the downside of the basic materials sector business cycle ripple through the country's economy. Westpac is conservative in its loan management, and should fare well regardless.
Strengthening its offerings and assets, Westpac has just acquired the AUD 8.4 billion loan portfolio from Lloyds Banking Group Australia. That adds to the bank's core strengths, providing additional assurance of future earnings and dividend growth.
Morningstar rates this bank with 4 stars, an undervalued buy at $28, and with a fair value of $35.
This links to the bank's website.
Summary
There is 4% yield available today, and from some of the best companies in the world. These stocks move me toward my portfolio goals of high and steady income that increases faster than inflation.

The average P/E of 16, well below the Dow's P/E of 20, indicates to me there are some good values available here.
I hope information this enables you to put a little more money in your pocket next year.
Disclosure: I am long BCE, BBL, EPD, WBK, T, BMO, RDS.B. I wrote this article myself, and it expresses my own opinions. I am not receiving compensation for it (other than from Seeking Alpha). I have no business relationship with any company whose stock is mentioned in this article.