Unilever is a dual-listed company, consisting of Unilever N.V. (NYSE:UN) based in Rotterdam, Netherlands, and Unilever PLC (NYSE:UL) based in London, United Kingdom. Both companies have the same directors and they operate as a single business. Unilever is not a high-dividend yielder but it is a quality company that offers income investors a safe and predictable income stream for the foreseeable future. Currently, it offers a dividend yield of about 3.7%, which for a mature and resilient company like Unilever is attractive. Unilever has a market capitalization of about $120 billion, and is traded on the New York Stock Exchange as American Depositary Receipts (ADRs).
Company Overview
Unilever is an Anglo-Dutch multinational consumer goods company based in Holland and in the United Kingdom. Unilever was founded in 1930 by the merger of the British soapmaker Lever Brothers and the Dutch margarine producer Margarine Unie. Its products include foods, beverages, cleaning agents and personal care products. It is among the world's largest consumer goods companies after Procter & Gamble (NYSE:PG) and Nestle (OTCPK:NSRGY), and is the world's largest manufacturer of ice cream. It currently has operations in more than 100 countries and a portfolio of more than 400 products. Its 25 largest brands account for about 70% of its revenues, with 15 brands having more than $1.3 billion in sales annually including Dove, Rexona, Knorr, Hellmann's, beyond others.
Unilever is organized into four main global divisions: Foods, Home Care, Refreshments and Personal Care. Its revenues are diversified between its four divisions, but Personal Care is the largest with a 35% weight on revenues. Foods is the second-largest accounting for about 28% of revenues, with Refreshments and Home Care having similar weights on revenues.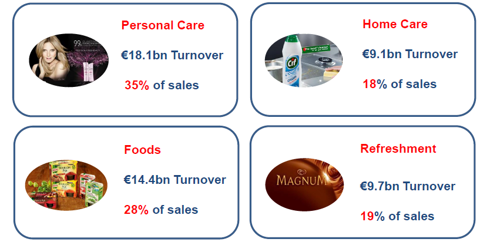 Unilever has a very good geographical diversification with 55% of its revenues coming from emerging markets, the highest weight of group sales from emerging markets of its closest peers. Its products are sold in more than 190 countries, showing its global presence. No emerging market represents more than 7% of its sales, and it has leadership or second place positions in the majority of its product portfolio. By geography, Asia/Africa/RUB accounted for 40% of its sales during the past year, followed by Americas with a 33% weight on sales, and Europe was responsible for 27%. Unilever expects emerging markets to remain its growth engine over the coming years, and aims to reach about 70% of its overall sales in the medium to long term.
Regarding its financial performance, Unilever has achieved good growth rates over the past few years. In 2012, its sales increased by 10.5% to about $69.3 billion, with all geographies and business units posting underlying sales growth despite the challenging economic environment faced by the company, especially in Europe. Underlying sales growth stood at 6.9%, which do not reflect the currency effect. Therefore, Unilever's pricing power is clearly strong given that it has been able to increase prices across its product portfolio and increase volumes at the same time.

However, during the first nine months of 2013, Unilever's growth has slowed across its markets with emerging markets still posting revenue growth but developed markets performing poorly. Unilever's underlying sales growth was 4.4%, with emerging markets up 8.8%. Underlying volume growth was 2.4% and pricing was up by 1.9%. In North America, sales were particularly weak, tumbling by 1.9% in the third quarter due to strong competition and weaker pricing than in the past few quarters.
Regarding its profitability, Unilever has achieved an operating profit of $9.4 billion in 2012, or an operating margin of 13.6%. This is below the majority of its peers and shows that Unilever still has some room to improve its efficiency and achieve higher margins. For instance, Nestle achieved an operating margin above 15% in 2012, even though its exposure to emerging markets is lower at about 35% of its sales. Unilever is working to narrow its profitability gap, and gross margin improvement has been the company's priority over the past few quarters. Furthermore, the company has a cost cutting program ongoing targeting about $1.3 billion annual savings, which should boost operating margins over the next few years.
Dividends
Regarding its dividends, Unilever has a very good history given that it has delivered a growing dividend for the past three decades, posting a CAGR of 8% from 1979 to 2012, which is very good. Unilever has changed its dividend distribution policy in 2010, moving to quarterly dividend instead of annual dividends. In 2012, its annual dividend per share (DPS) was $1.25, but for 2013, it should increase to about $1.45 or an increase of 16%. The dividend is determined in euro, so the ADR dividend changes quarterly due to the forex effect. Its dividend payout ratio was 63% in 2012, an acceptable level for a diversified and safe company like Unilever.
Unilever has a very good cash flow generation capacity, which amply covers its investments and dividends outflows. Over the past few years, the company's cash flow from operating activities has been always above its capital expenditures (capex) and dividend payments, resulting in a very sustainable dividend. In 2012, its cash flow from operations amounted to $11.5 billion, which fully financed capex at $2.9 billion and dividends of $2.7 billion. Therefore, based on cash flows Unilever has a lot of flexibility to increase shareholder remuneration or perform share buybacks due to its excellent free cash flow after dividend generation capacity.
Unilever's dividend is also supported by its strong balance sheet, which gives the company flexibility to increase both its shareholder remuneration and perform mid-size acquisitions. Unilever's net debt was only $13.3 billion as of 30 June, 2013, representing a net debt-to-EBITDA ratio of 1.2x. In the past eight years, Unilever's leverage ratio has been in a tight 0.9x-1.2x range, showing how conservative its management is.
Conclusion
Unilever has a stable business supported by its expansive global distribution platform and diversified portfolio of essential products, proving good visibility for its future financial performance. Currently it offers a dividend yield above 3%, which is not among the highest in the stock market but seems to be sustainable and should continue to grow over the coming years. Moreover, Unilever is trading at 17.5x estimated 2014 earnings, which is not cheap but justified taking into account its long-term growth prospects namely in emerging markets, making it attractive to both growth and income investors.
Disclosure: I am long OTCPK:NSRGY. I wrote this article myself, and it expresses my own opinions. I am not receiving compensation for it (other than from Seeking Alpha). I have no business relationship with any company whose stock is mentioned in this article.