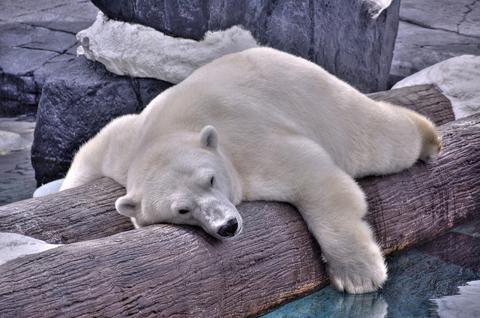 I work long, intense hours originating investment ideas, testing investment hypotheses, and sizing portfolio positions. But what would I do if I did not have the time or interest to do this kind of work myself, but still wanted hedge fund exposure? I would become a limited partner with one of my best competitors. What would I do were I not a qualified investor, able to invest as a partner in hedge funds? I am always sorry when we have to turn away people interested in investing with us due to regulatory reasons. Here are some things that I would have done and that they could have done instead.
Spin-offs
My first stop would be an allocation to spin-offs. Spin-offs durably, significantly outperform other equities over time as described best in Joel Greenblatt's You Can Be A Stock Market Genius. Could I improve upon their average by picking the best ones within the category? Hopefully. However, even passive exposure to spin-offs via the Guggenheim Spin-Off ETF (NYSEARCA:CSD) can capture some of their outperformance. Here is how the idea has worked so far this year: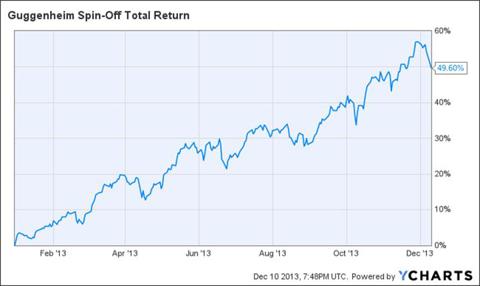 You can also track individual holdings for further analysis. Currently, their top five holdings include FENG, LMOS, FRGI, HII, and SXC. CSD's other holdings are worth analyzing in detail. Several notable holdings - including STRZA and AMCX - are potential takeover candidates and could be considered as part of a basket of "pre-arbitrage" opportunities.
Merger Arbitrage
Speaking of arbitrage, neither Greenblatt nor I are particularly enamored by merger arbitrage generally, but every once in a while there are good opportunities within that strategy. It tends to have steady returns. While one might do much better than this based on allocations to certain deal opportunities, this strategy will still have generated a positive return this year. An easy way to passively allocate to merger arbitrage is to buy the IndexIQ Merger Arbitrage ETF (NYSEARCA:MNA):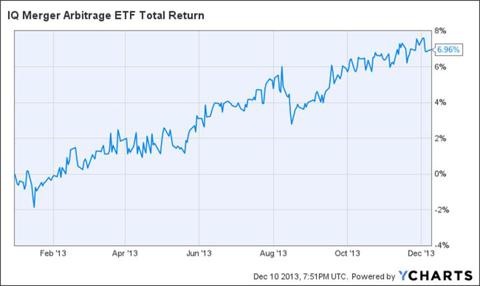 What does MNA currently own? Here are their holdings. Their top five US-listed equities include COLE, VPHM, OMC, MAKO, and LIFE. Other notable investments include BLC, CWH, and CTB.
Oaktree Capital Group (NYSE:OAK)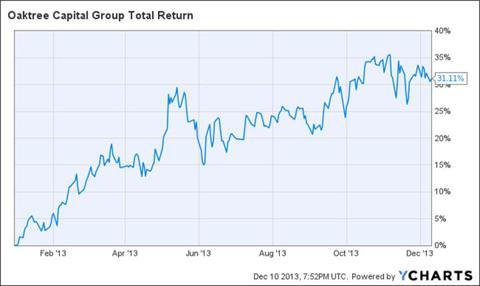 You could consider owning OAK, but if nothing else, read the memos from their brilliant chairman, Howard Marks. Marks runs Oaktree based on a unifying investment philosophy:
The primacy of risk control
Emphasis on consistency
The importance of market inefficiency
The benefits of specialization
Macro-forecasting not critical to investing
Disavowal of market timing
Third Point Reinsurance (NYSE:TPRE)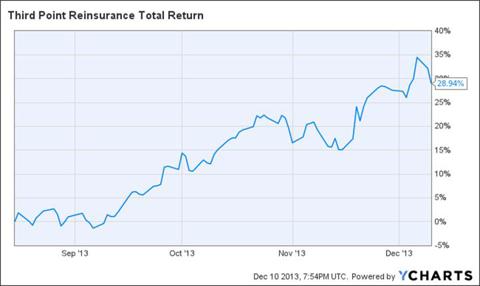 Third Point's top five positions are YHOO, AIG, BID, FDX, and LBTYA. Other notable positions include STZ, which massively benefitted from the BUD-Grupo Modelo deal, and ELN, which is in the process of being acquired.
Greenlight Capital Re (NASDAQ:GLRE)
GLRE is the great David Einhorn's hedge fund wrapped in the guise of an insurance company. Here is what they have accomplished so far this year: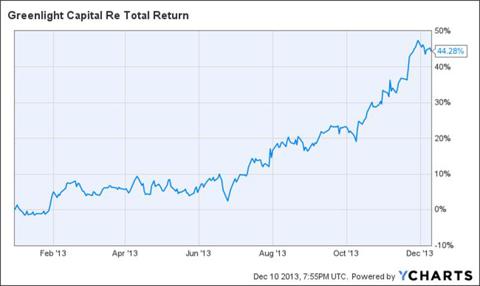 Greenlight's top five positions are in AAPL, GM, MRVL, MU, and CI. Other notable investments include OIS, which is under pressure from activist JANA and could benefit from a break-up.
Fortress Investment Group (NYSE:FIG)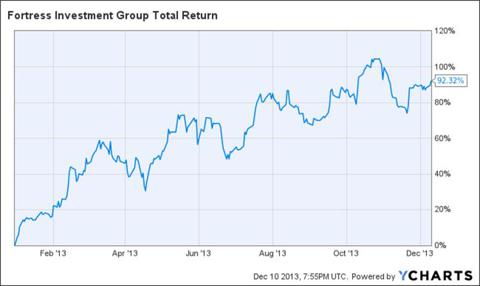 One my favorite Seeking Alpha contributors, Wexboy, has done a brilliant job of following the FIG idea here, here, and here. I am glad that I have often listened to him through the years; I am richer for it.
My Best Ideas (long GPT/short TMF)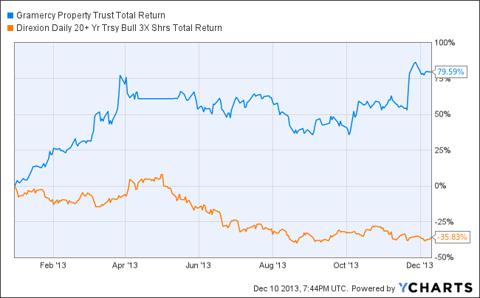 Every year at the risk of ridicule and embarrassment I publish two of my best investment ideas for the coming year. Over the past five years, a simple 50% weighting to these ideas each year would have returned over 600%. Best Ideas for 2014 coming soon.
Disclosure: The author is long GPT. The author wrote this article themselves, and it expresses their own opinions. The author is not receiving compensation for it (other than from Seeking Alpha). The author has no business relationship with any company whose stock is mentioned in this article.
Additional disclosure: Chris DeMuth Jr is a portfolio manager at Rangeley Capital, a partnership that invests with a margin of safety by buying securities at deep discounts to their intrinsic value and unlocking that value through corporate events. In order to maximize total returns for our partners, we reserve the right to make investment decisions regarding any security without further notification except where such notification is required by law.