Over the past week, Cree (NASDAQ:CREE) has taken actions that will allow the company to continue to grow share in the lighting sector by adding to its portfolio of LED lights. These innovations will help the company gain a better foothold in the retail and municipal markets, which will provide fantastic returns for shareholders.
We all know the knocks on LED lighting. While the energy savings and longer lifespan are indisputable, many consumers feel that LED bulbs are ugly, don't light as well, and take too long to turn on. The Cree LED bulb has fixed some of these problems, but the focus has been on lower wattage lights. Cree has just released a 75 watt bulb (a leading choice of lamps), which expands the wattage level nicely, shown in the picture below.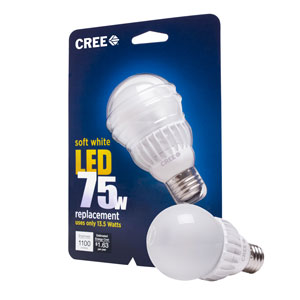 This bulb has none of the drawback of the "squiggly" traditional LED lights and looks just like the existing A19 traditional bulb. Cree's press release announcing the product goes on to highlight the strengths of the new product (release available here). In addition to looking like the traditional light bulb it will replace, this bulb will turn on instantly, unlike the vast majority of existing low-cost LED options. The bulb is also compatible with existing dimmers. These features help Cree to climb any remaining hurdles consumers have about switching to LED while leaving the company light years ahead of the competition.
Cree has also been working hard to bring down the costs of its products to help the company compete on price and gain share. This light bulb will retail at $23.97, which is far more than a GE (NYSE:GE) incandescent bulb retails for $1.25-$1.50. However, a Cree bulb lasts 25 times as long. As such, over the long run, consumers are saving about $8 by using CREE on bulbs alone. The bulb also uses 82% less energy, running like a traditional 13.5 watt bulb. These energy savings layered on top of long-term bulb savings make this bulb an attractive value proposition.
Still, some consumers probably have sticker shock when they a see a bulb priced above $20. That is why the company increased its planned marketing spend last quarter. While that lowered management's EPS estimate, sending shares tanking, it is a necessary investment to increase the bulb's penetration. As these savings become clear, we will see more and more consumers moving to LED lighting now that Cree has innovated beyond the traditional drawbacks of the product. As Cree continues to innovate and has an objectively higher quality product, I feel comfortable in my belief revenue growth will be 20% for at least three years.
While much of the focus is on Cree's consumer products, Cree has also been pushing into commercial business. With tight budgets, municipalities, states and the federal government are always looking for ways to cut costs. As a consequence, Cree has aggressively pushed into highway lighting, which could be a major growth market for the company. Cree has just launched a new 400 watt offering (press release here):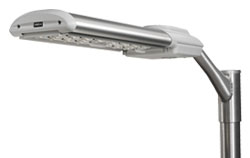 This new highway light will provide operators with more than 50% energy savings and nine brightness levels so that less energy is used around dusk/dawn than the middle of the night. At the same time, the lights will last in excess of 10 years with minimal maintenance requirements. Existing Cree street lights had focused on lower wattage levels, and this 400 watt option can be used on major multilane highways.
Existing street lights can cost $60-$90 every year in energy expenses while the United States uses enough power on street lights alone to power 1.4 million homes. With tight budgets and energy consciousness, Cree should be able to gain a significant share of municipal lighting over the next five years as it can now compete across the wattage spectrum, last longer, and consume far less energy.
This has been a big week for investors in Cree as the company proves yet again it is first in class when it comes to lighting technology, paving the way for sustained long-term growth. With higher wattage offerings that perform better than existing bulbs while using a fraction of the energy, Cree is poised to keep gaining share. The LED revolution is upon us, and Cree is a major winner. With long-term growth of 20% and $1.66 in 2014 earnings power, I think Cree has 20% of upside from here and would buy on any weakness.
Disclosure: I am long CREE. I wrote this article myself, and it expresses my own opinions. I am not receiving compensation for it (other than from Seeking Alpha). I have no business relationship with any company whose stock is mentioned in this article.