Content conducive to interactive TV is already a part of the experience of a growing number of consumers. Now Microsoft (NASDAQ:MSFT) is taking that one step further by experimenting with an ad-supported initiative on its streaming service.
Speaking at the Paley Media Center Summit recently, Microsoft's Xbox Entertainment Studio president Nancy Tellem said that she believes in advertising, but is going to take it in an interactive direction. Tellem said that new ads will be able to be interacted with by users of its service.
I could see this being an interesting concept and experience for some very specific products, such as gaming releases and trailers for upcoming movies that would be tolerable to Xbox One owners. It's also not hard to see where it would be interesting in a number of advertising situations where a viewer would have the option of doing something with the advertisement that interests them.
The question is whether or not this will be considered an unwanted interruption, or if it will be a welcome break in the gaming, viewing or listening process.
source: StockCharts.com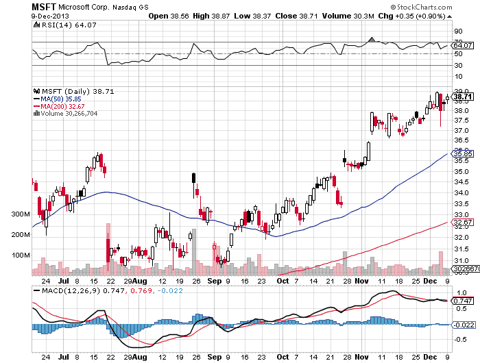 Netflix and Amazon Prime
Competition is another potential issue with the ad initiative. Streaming services like Netflix (NASDAQ:NFLX) and Amazon's Amazon Prime (NASDAQ:AMZN) are offered free of interruption.
The premise behind Microsoft's initiative seems to be that when advertising is done right in an interactive manner, it can become part of the overall positive experience of the user. If that occurs, the ad probably won't be taken as an interruption but instead will be a part of the content offered.
If Microsoft is able to successfully integrate these ads into its pay service, it will piggyback on its existing revenue stream. This will essentially create a completely new revenue stream with little additional need to boost the product or service already offered.
Assuming it succeeds, it would be interesting to see if Netflix and Amazon Prime or other streaming companies decide to go the same route.
When considering that no one wants to compete on price alone because it would become a commodity business, we could eventually see some very creative, interactive advertising campaigns in the not-too-distant future if consumers like what they see.
This isn't as incredulous as it first seems. After all, people pay for cable TV and still watch advertising during the shows. Microsoft may be leading the foray into socializing gamers and others using consoles to consider it a form of TV. If it does that, we'll probably see the entire industry change as it battles for the coming smart TV market.
The Gamble
While advertising on television will probably remain very similar to what it is today, the gamble for Microsoft is in attempting to grab the attention of its customers by getting them immersed in the ads offered by marketers on its platform.
The downside would be if it ends up being a failure and the streaming service is considered a poor alternative to its competitors. Consumers may abandon the company if that's the experience it provides.
If Microsoft is successful with the interactive advertising, however, it could command a premium price for ad placement. After all, it will offer more for the money than its peers do. This effect would last at least for the short term until the company's competitors respond.
What is important is that Microsoft may become the leader in the smart TV race if it wins this early round. If that's what happens, it has a lot of options available to it regarding how to use its other brands like Skype to generate revenue.
Conclusion
Using an analogy from baseball, Microsoft looks like it's trying to hit a home run with its interactive advertising strategy. The company hopes that the ads are made to be as compelling as the content itself.
If it works well, this could propel Microsoft into an early and significant lead in the segment. I think this answers some of the questions as to why Microsoft is bundling its services in the way that it is with Xbox One.
Continuing to be primarily a software company, it is easy to see how smart devices, televisions and PCs could be brought together seamlessly into a desirable package if this succeeds. This package could then be used to push consumers toward the software ecosystem that Microsoft has created. That would be a huge win for the company.
Disclosure: I have no positions in any stocks mentioned, and no plans to initiate any positions within the next 72 hours. I wrote this article myself, and it expresses my own opinions. I am not receiving compensation for it (other than from Seeking Alpha). I have no business relationship with any company whose stock is mentioned in this article.