By David Berman
One theory of why U.S. stocks are rebounding sharply this week without a clear catalyst relates to how speculators have been lined up against the S&P 500, using short-selling (or betting that the index will fall).
According to Stéfane Marion, chief economist and strategist at National Bank Financial, the net short positions (that is, the number of "long" contracts minus the number of "short" contracts on the S&P 500) is at the most extreme level on record. The chart says it all. (Click to enlarge)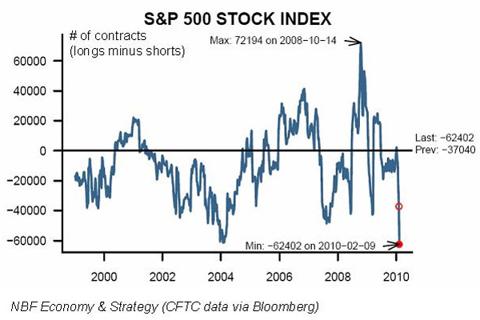 "Under these circumstances, the presentation of a credible political and institutional EU framework to help Greece deliver on its fiscal reform commitments could be the catalyst for a significant rebound in global equity markets if risk aversion positions are unwind," Mr. Marion said, in a note.
Are investors now betting that a credible framework is on its way?