"There will always be a need for fixed income." - Bill Gross
As the U.S. population ages and relies more heavily on fixed income, the aggregate demand for bonds is likely to increase. As seen in response to the threat of the Federal Reserve winding down their monthly treasury bond-buying program, however, bonds and other income-related investments have performed very poorly since May 2013.
From the date the market began its reaction to the taper-talk to Monday December 9, 2013, bonds as measured by the iShares Aggregate U.S. Bond Index ETF (NYSEARCA:AGG) dropped 2.9%. In the same period, the S&P 500 as measured by the SPDR S&P 500 Index ETF (NYSEARCA:SPY) advanced 9.3%.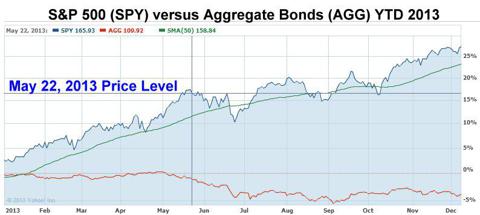 Another popular income investment are real estate investment trusts (REITs), which pay out 90% of taxable income to investors in the form of ordinary dividends that are taxed as income to the shareholder. This market suffered heavily off the taper-tantrum as well, with a decline of 13.4%.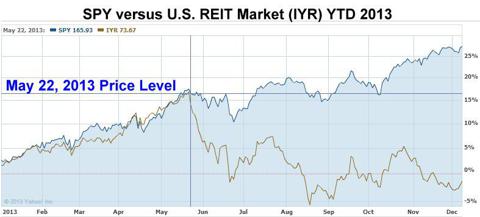 While U.S. bonds and REITs have recovered from their respective 52-week lows, overall performance on the year is negative. Current pricing may signal a contrarian play and an attractive entry point into both markets.
Most investors warn against market timing and investing in unfavorable sectors or businesses that are under pressure. Termed "a falling knife," investors know that such a stock or sector is hard to catch without getting cut.
Fixed-income investments and REITs have recently found several levels of support however, which may indicate that the sell-off related to rising rates is largely behind us.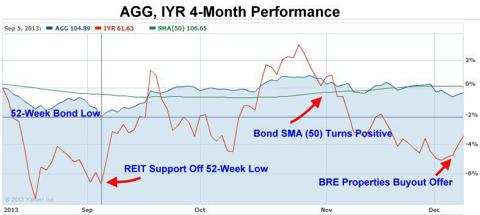 In the past four months bonds, as measured by the AGG, hit a 52-week low. This low has not been tested to-date and in mid-October, the bond 50-day moving average turned positive. This shows support in the bond market.
Regarding REITs, the sector found initial support off the late-August 52 week low on the same date as the bond 52-week low. While REITs came under heavy pressure again from late-October to early-December, support was found at higher levels than in early-September. This support was largely influenced by the BRE Properties (NYSE:BRE) buyout offer announced on December 4, 2013.
Income Investing With Bill Gross In 2014
Bill Gross, also known as "The Bond King," co-founded PIMCO, the asset manager with $2 trillion under management, which consists mostly of fixed-income investments. As such, PIMCO is the global fixed-income leader and Gross has become quite a wealthy man.
There are four ways to invest with Bill Gross. Income investors, rather than purchase individual bonds, may do the following:
Buy PIMCO bond funds.
Buy bond funds managed by Bill Gross.
Buy bond funds that Gross owns.
Buy dividend stocks and/or bond funds that Gross recommends in the media, which historically includes the annual Barron's Roundtable discussion that begins in January of each year.
Rather than wait for the Roundtable discussion to print next month, investors may take a cue from the current support levels in fixed-income investments to purchase bond funds that are trading at a discounted entry-point versus the beginning of the year.
Insider Ownership - Where Is Bill Gross' Money?
Mr. Gross holds over $50 million currently in PIMCO bond funds. Some are funds he manages and all are funds that yield over 7%. These holdings will be ranked on percentage of total insider holdings, assets under fund management, type of bond fund, premium or discount to NAV, YTD 2013 return and yield.
According to the U.S. Securities and Exchange Commission, Gross has increased his insider holdings of PIMCO bond funds by $16.3 million in current value, which was done between June 2013 and October 2013 through the net purchase of nearly 800,000 shares in several PIMCO funds.
As his total insider ownership stake in PIMCO bond funds are worth $50 million today, the year-over-year increase of $16.3 million accounts for a 48.4% increase in total ownership. With all of his purchases taking place between June 10 and October 23, 2013, one may believe that the face of the largest fixed-income manager in the world is onto something.
Using the AGG ETF as a proxy for bond prices, one may note the following using the chart below:
Bill Gross purchased bond funds after they fell for over a month.
Gross continued purchasing bond funds until the market showed signs of strength.
The current price of bonds is in the mid-range of the bond prices during the Bill Gross purchase window.
During tax-loss harvesting season, bond funds have lost value from late-October to early-December.
Bonds have found support above the August and September lows.
Bonds are lower on the year.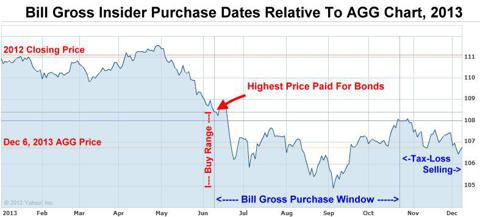 As such, investors are offered a current entry-price on bonds that is mid-range to the period that Bill Gross increased his PIMCO bond holdings by $16.3 million.
Put Your Money Where Bill Gross Puts His
Investors are very comfortable investing with Gross as he is the face of the largest bond fund management company in the world and is often seen by retail investors as a commentator on financial networks.
Using inside ownership information that is publicly available, the following PIMCO funds are all owned by Bill Gross as of December 6, 2013 (in order of ownership amount):
| | |
| --- | --- |
| PIMCO Corporate & Income Opportunity Fund | (NYSE:PTY) |
| PIMCO Corporate & Income Strategy Fund | (NYSE:PCN) |
| PIMCO Dynamic Credit Income Fund | (NYSE:PCI) |
| PIMCO California Municipal Income Fund | (NYSE:PCQ) |
| PIMCO Dynamic Income Fund | (NYSE:PDI) |
| PIMCO High Income Fund | (NYSE:PHK) |
| PIMCO Municipal Income Fund | (NYSE:PMF) |
| PIMCO Income Strategy Fund | (NYSE:PFL) |
| PCM Fund Inc. | (NYSE:PCM) |
Bill Gross has his largest stakes in PTY and PCN, which are closed-end funds that he also manages. His stake between these two PIMCO funds account for over half of his current insider ownership allocation.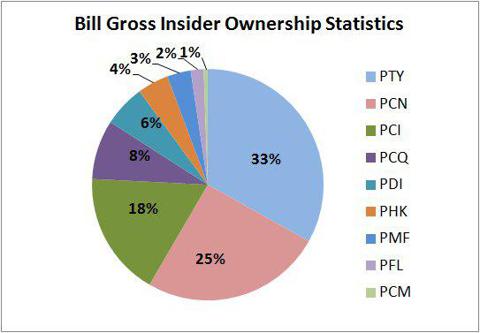 The fund size of his holdings range from $131 million to $3.36 billion. The chart below is in millions of U.S. dollars.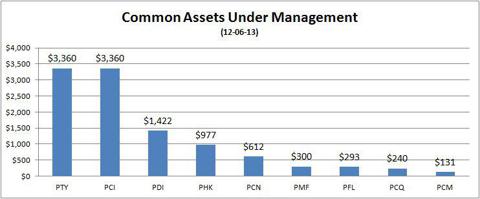 As the funds he owns are exclusively closed-end funds, the premium or discount to NAV on current pricing is important to understand prior to making a prudent investment decision. Note that PTY and PCN, his largest PIMCO holdings, are both trading at a premium to NAV (as NAV pricing updates with a 1-day lag time, Monday December 9, 2013 pricing is measured to Friday December 6, 2013 NAV below).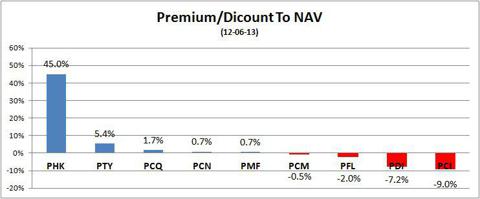 These bond funds all distribute high income at monthly intervals, which are currently yielding between 7.16% to 12.52% on market price. The orange bars below represent municipal bond funds.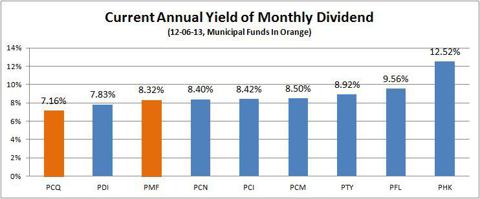 Except for The PIMCO High Income Fund, PHK, the funds owned by Gross are about on par for the year or have lost up to 20.7% of their market price value. As with all closed end funds, these prices may not follow suit to NAV as premiums or discounts may strengthen or weaken versus NAV movement over the same period of time.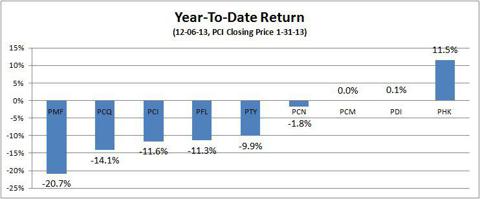 Below is a snapshot of the metrics listed above, regarding each of the eight PIMCO bond funds currently owned by Gross.

To make an investment profile utilizing the best options possible to mimic Gross, each fund that was highlighted for the following reasons were removed from the portfolio.
Orange - Municipal funds released as city governments are run inefficiently, also muni funds lack diversification to use the PIMCO research at full throttle among other bond classes.
Purple - PHK is trading at a 45% premium.
Blue - Total positions by Gross is paltry versus other funds.
As such, we are left with four options to invest alongside with Gross. These are PTY, PCN, PCI and PDI.

On average, these funds are down 5.8% on the year, yield 8.39% on a monthly distribution schedule and trade at a 2.5% discount to NAV.
As prudent investors, we may further ask what the difference between the funds are. To wrap hours of research into a simple understanding, PTY and PCN are very similar, as are PCI and PDI.
The advantages of similar funds come during the end of the year, when tax-loss season abates. As these funds trade close to each other, if one of the selections is down on the year, the investor can swap funds on the same trading day at the cost of brokerage fees only. With any loss, the investor can offset other gains to reduce tax liability in a taxable account.
The Latest Bill Gross Recommendations
When Gross answers the media to which investments he likes, he often mentions bond funds as that is his bread and butter. At times he has recommended dividend paying stocks as well.
This December, Gross recommended three funds in a Fortune Magazine interview. Of these three funds, one is from PIMCO and he acknowledged that he has been buying all three for his personal account.
In this regard, Gross does admit to diversification beyond PIMCO and is a true investment sport by talking up three companies versus only his own. These funds mentioned are all closed-end funds as well, following each mention are his reasons for owning the applicable fund.
Investco Municipal Opportunity Trust (NYSE:VMO): Gross mentions a relative high-quality portfolio and liquidity.
BlackRock Build America Bond Trust (NYSE:BBN): High-quality bonds upside, long-maturity downside.
PIMCO Corporate and Income Opportunity Fund: His largest holding is noted for relative high quality and a shorter average maturity versus BBN.
Conclusion
With a down year in income-related investments and an increasing demand for fixed-income seen due to the aging U.S. population, the current bond levels may offer income investors an excellent entry-point into diversified bond funds.
As the face of PIMCO, Bill Gross is known in the investment community as The Bond King. He has increased his insider ownership in PIMCO bond funds by over $16 million in current value, while also mentioning in the press that he owns additional bond funds with Investco and BlackRock.
While the non-PIMCO bond fund holdings owned by Gross is not privy to public scrutiny, insider trading laws in the U.S. dictate that investors must have access to any PIMCO funds he owns. As such, a list of funds may be created and ranked as candidates for income investments.
After accounting for diversified funds that trade at safe premium or discount levels and are heavily owned by Gross, PTY, PCN, PCI and PDI may all be seen as top rated options. To follow, BBN is a diversified, non-PIMCO selection owned by Gross and recently recommended in the press.
With tax-loss season showcasing a weak current environment for income-related assets, specifically bonds and REITs, investors are cautioned that lower prices may turn up before December 24, 2013 (the last day to trade for 2013 settlement of securities).
To strengthen the cause for entering the market, however, the AGG 50-day moving average turned positive in early October. Also, Gross purchased his additional $16.3 million stake in PIMCO bond funds between June 10 and October 23, of which bonds averaged pricing near current levels. Furthermore, until tax-loss season began in late October, bonds were performing quite well.
While nobody has a perfect track record, income investors may be rewarded for following the king. After all, fixed-income is his bread and butter.
To read more about Bill Gross' portfolio and his dividend stock recommendations, please read Searching For Yield With Bill Gross, published September 25, 2013.
Disclosure: I have no positions in any stocks mentioned, and no plans to initiate any positions within the next 72 hours. I wrote this article myself, and it expresses my own opinions. I am not receiving compensation for it (other than from Seeking Alpha). I have no business relationship with any company whose stock is mentioned in this article.