American Capital Agency Corp. (NASDAQ:AGNC) is a mortgage REIT that invests primarily in fixed rate Agency RMBS. The principal objective of AGNC is to preserve its net asset value while generating attractive risk-adjusted returns for distribution to its stockholders through quarterly dividends from its net interest income. Secondarily AGNC tries to grow its book value. AGNC's manager is a majority owned subsidiary of a wholly-owned subsidiary of American Capital, Ltd. (NASDAQ:ACAS). AGNC currently pays a great 15.83% annual dividend. Longer term AGNC has been one of the top performing mortgage REITs since its IPO in May of 2008. The chart below shows AGNC's outperformance.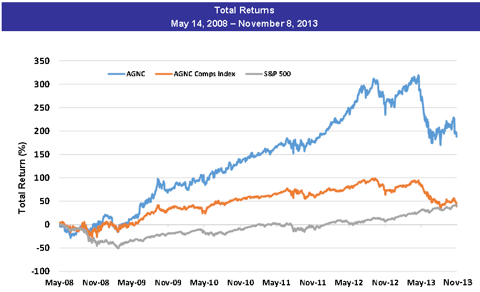 The total return is the total stock price appreciation figuring dividend re-investment at the stock price on each ex-date. The AGNC Comps Index is comprised of Anworth Mortgage Asset Corporation (NYSE:ANH), ARMOUR Residential REIT Inc. (NYSE:ARR), Capstead Mortgage Corp. (NYSE:CMO), CYS Investments Inc. (NYSE:CYS), Hatteras Financial Corp. (NYSE:HTS), and Annaly Capital Management Inc. (NYSE:NLY). Over the above period AGNC's performance has been impressive.
Nevertheless, Goldman Sachs (NYSE:GS) came out with a SELL recommendation on AGNC on December 5, 2013. GS expects AGNC's book value to fall as rates rise and spreads widen post Fed tapering. GS expects AGNC to continue to try to protect book value by decreasing leverage, rotating into shorter duration assets, and increasing its hedge ratio. GS expects all of the above to provide earnings headwinds, which will be a big risk to the dividend. GS expects AGNC's book value to fall 15% from $25.27 in Q3 2013 to $21.39 by Q4 2014. It expects the stock to trade at 0.86x book value at that time (versus the December 5, 2013 discount to book value of 0.78x). GS has issued an $18.50 price target. This represents 6% stock price downside from the December 5, 2013 price. GS expects AGNC FY2014 dividends of $2.00. This is considerably down from the Q3 2013 dividend implied full year dividend of $3.20. All told GS' estimates imply a total return of 4% for FY2014. BlackRock's interest rate forecast for 2014 end of 3.25% to 3.50% partially backs up GS' view.
I am still not sure all of the above makes AGNC a SELL. Rather in the currently very troubled market environment it only makes AGNC a HOLD. For instance MacNeil Curry, Head of Global Technical Strategy at Bank of America Merrill Lynch, says US equities may be in for a correction of 20% or more in 2014. If that happens, US Treasury rates may not rise as much. AGNC may lose little or no book value; and it may continue to pay large dividends. Since AGNC may trade at a near 1.0 multiple of book value (better than GS' estimate of 0.86x), it would not see its stock price decrease much if at all. In fact the stock price could go up, since the current stock price ($20.21 at the close December 10, 2013) to book value (as of September 30, 2013) is about 0.80x. Historically AGNC has traded at a 1.1x to 1.2x multiple. A normalization move of AGNC's stock price to just 1.0x book value would imply a price of $25.27 -- a rise of $5.06. If you add this 25% stock price increase to the current dividend of 15.83%, you get a roughly 40% total return.
I am not saying the latter scenario will happen exactly like that. However, there is a lot of wiggle room between a potential 40% return and a 4% return. When you consider that US equities, according to B of A/Merrill Lynch (NYSE:BAC) may see -20%+ downside in 2014, this is a long way from the predicted +10% upside GS is forecasting for its US equities universe for 2014. This represents 30%+ in wiggle room. Merrill Lynch thinks the bull market may be nearly over. If Merrill Lynch is correct, a return of 4% to 40% for AGNC may be excellent compared to a -20%+ loss. It is hard to accept GS' SELL rating under these circumstances. Rather AGNC's rating is more appropriately a HOLD to a BUY.
Gary Kain, AGNC's President and Chief investment Officer, points out that the Agency RMBS market is an extremely liquid market with $300B in trading every day. He says that investments in such markets do not normally trade for very long at discounts to book value because they can easily be exchanged for book value. Kain pointed out that AGNC has been buying back its shares at a discount to book value. This is in effect increasing the book value. Kain recommends that people usually take advantage of the opportunity to buy extremely liquid assets at a substantial discount to book value. It is hard to fault that logic over the short term.
More than this, we probably saw the spike from the tapering in the May-August 2013 time frame. The 10 year US Treasury Note yield moved up more than +1% during that time. As of this writing on December 10, 2013 the 10 year US Treasury Note yield is 2.81%. If as BlackRock estimates it will end 2014 at 3.25% to 3.50%, it has very little to move upwards on a per quarter basis. Using the mid-point of BlackRock's estimate of 3.375% as the ending value for 2014, this would amount to a 0.585% increase over the next 13 months. This amounts to only a +0.135% rise per quarter. This small a rise in the interest rate should be manageable for AGNC. It has a history of being able to manage well. AGNC might lose some book value; but it should not lose overly much, especially if the rise is smooth as opposed to one large spike. Further there is no saying that interest rates will be much over 3.0% at 2014 end. If Merrill Lynch is correct about the -20% or more correction, that would tend to push investors into US Treasuries (a safe haven). That would push US Treasuries' yields down, not up.
I tend to lean more toward Gary Kain's thinking than Goldman Sachs' thinking on AGNC. Only time will tell who is more correct. AGNC has a good history of outperformance. Plus the US Congress announced today that negotiations for a budget deal are nearly complete. If this proves true, that factor by itself might lead to less upward pressure on US Treasury yields (a higher book value for AGNC). It would make AGNC more of a buy.
The comparison table below of AGNC's Agency holdings versus those of its peers as of September 30, 2013 may give investors a basis for further thought on this subject.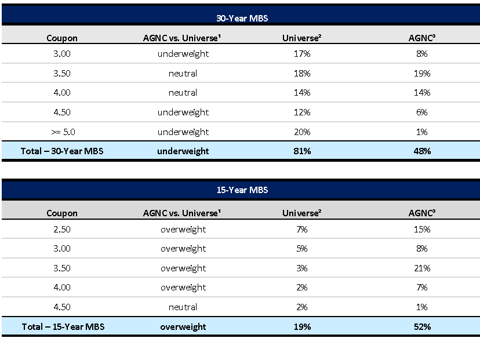 Overall it appears that AGNC still has too many 3.0% and 3.5% coupon 30 year fixed rate Agency RMBS. It also has large holdings of 2.5%, 3.0% and 3.5% 15 year Agency RMBS. All of the above will suffer significantly if interest rates and mortgage rates go up a lot. In some cases AGNC is better positioned than its peers. In other cases AGNC is less well positioned. It does not appear to be in appreciably worse shape that other primarily Agency RMBS mortgage REITs.
The hedge portfolio below shows AGNC is substantially protected from interest rate moves.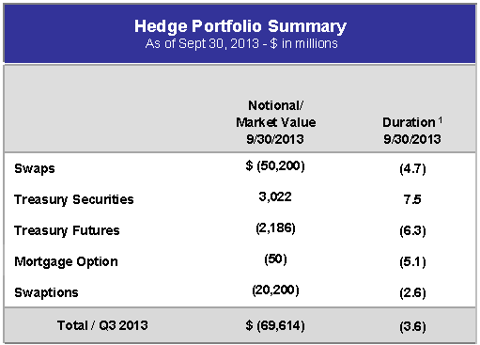 AGNC may lose a little book value with upward interest rate moves, but the losses will be small under any generally foreseen circumstances. Plus with relatively smaller interest rate moves expected, the CPRs (constant prepayment rates) should remain relative low for Agency RMBS. Hence they would not adversely affect the net interest spreads. There may be a HARP 3; but the effects of that will be limited mostly to non-Agency RMBS.
In sum AGNC appears to be a HIGH HOLD or a LOW BUY under the current circumstances. This would not be the first time either I or GS was wrong. However, the probabilities seem to favor the view of Gary Kain (close to mine) versus the view of GS. For those who already own AGNC, it likely makes sense to keep this good to great long term outperformer. For those who don't own it, investors can at least consider buying it. The management team is good; and the overall stock environment may turn very bad soon. It the situation changes to be drastically different from the one you expect, you will get some notification of it through interest rates, etc. You can always sell at a later date. Many think GS has a habit of issuing SELL ratings just before it buys.
The two year chart of AGNC provides some technical direction for this trade.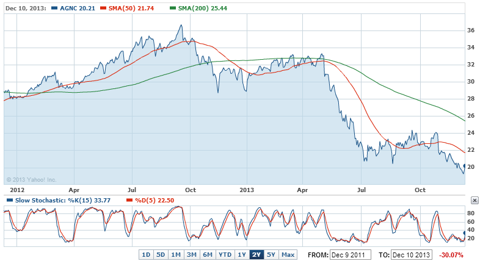 The slow stochastic sub chart shows that AGNC is near oversold levels. The main chart shows that AGNC has been in a downtrend since early May 2013 (or perhaps since September 2012). However, given the fundamentals, AGNC's good management team, and the large discount to book value of AGNC (about 20%), AGNC appears to be a stock to consider buying. At the least, it is a hold. GS' SELL rating is overkill; or it may simply be late. GS' SELL rating does not appear to be cause for alarm. Of course, investors do have to worry that a lot of people may follow GS' advice. They seem to like to create buying opportunities. Savvy investors may want to be on the lookout for even better buying opportunities. Plus don't forget that the net interest spreads (interest income) will widen (go up) as interest rates increase. Some things about interest rates increasing are not negative.
NOTE: Some of the fundamental fiscal data above is from Yahoo Finance.
Good Luck Trading.
Disclosure: I have no positions in any stocks mentioned, but may initiate a long position in AGNC over the next 72 hours. I wrote this article myself, and it expresses my own opinions. I am not receiving compensation for it (other than from Seeking Alpha). I have no business relationship with any company whose stock is mentioned in this article.