3M (NYSE:MMM) is a conglomerate that operates in a well-diversified range of businesses across different industries. The company was established in 1902 and is based in St. Paul, Minnesota. 3M carries out its operations in more than 70 countries and its products are sold in nearly 200 countries worldwide. The company has a diverse portfolio of products ranging from healthcare, office products, abrasives and adhesives. The company has five business units which are being managed under their corresponding business groups; Consumer, Electronics & Energy, Healthcare, Industrial and Safety & Graphics. The Consumer segment of the company offers home improvement, construction, homecare and consumer healthcare products. Electronics & Energy develops products relating to communication technology. Healthcare is involved in drug delivery systems, dental, food safety, microbiology and orthodontics etc. Its Industrial segment manufactures products ranging from abrasives and industrial tapes to oil and gas solutions. Safety & Graphics segment is involved in operations related to architecture solutions, display enhancement solutions, touch screen systems, life cycle solutions and security solutions. (Note that this is not an exhaustive list of the products and solutions provided by 3M). During 2012, the company generated around 35% of its revenue from industrial operations. The chart below reveals the details of the revenue share of each segment.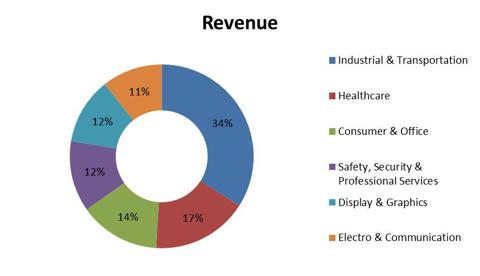 This data is based on the company's 2012 annual reports; 3M has changed its segments classification, reducing to a five segment classification effective from 2013.
Market Performance
Shares of 3M are listed on NYSE and are currently trading at around $132. The shares of the company appreciated from around $94 to $132 YTD. This represents a 40% growth since the start of the year. The revenue of the company has shown almost linear growth trends. Revenue grew at an annual run rate of $1 billion. The stable growth of revenue and increased EPS increased the investors' confidence in the business of 3M, thereby, increasing valuations.
| | | | |
| --- | --- | --- | --- |
| Trends | | | Revenue in billions |
| | 2012 | 2013 | 2014 |
| Revenue | 30 | 31 | 32 |
| EPS | 6.32 | 6.7 | 7.4 |
Financial Performance
Revenue
The company has posted growing revenues in the past three years which translates to a 1.84% CAGR since 2011. This growth is supported by the industrial, healthcare and consumer segment revenue growths.
Net income
Net income has also been increasing in the recent past. The company posted around 2.2% CAGR. The current net income margin is around 14%. With a dividend yield of around 1.90%, meaning $1.7 billion in dividend payments, the company is still retaining $2.5 ($4.2 billion minus $ 1.7 billion) for reinvestment purposes each year. This is a decent run rate as far as retained earnings are concerned.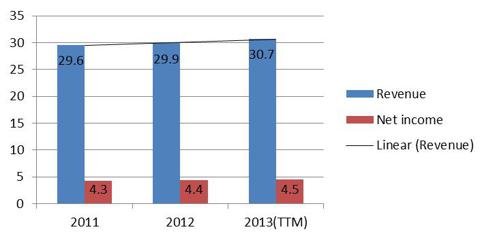 Liquidity and Cash Flow
The cash and cash equivalents balance of the company stands at $3.31 billion, according to the latest quarterly report. This is a healthy cash balance, given 3M's ability to retain income for investment purposes. The balance was around $4.4 billion in the previous year (y/y). Purchase of treasury stock, property and plants and equipment contributed towards the lowered cash position. However, this is not alarming because the company is generating enough cash from its operations.
Current ratio of the company stands at 1.79x. The ratio is >1, giving no indications of liquidity problems. 3M's current ratio is above the industry average of 1.33x indicating that the company is better managed, in terms of liquidity, than the industry.
Investor Attraction
Dividend Yield:
On this front, 3M is showing an above average performance. The company's dividend yield is around 1.92% as compared to the industry average of 1.87%. This dividend yield translates to $2.5 per share.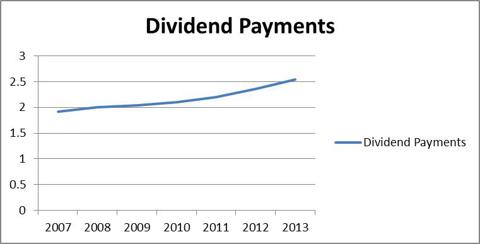 The graph is not linear; the company has paid incremental dividends in the past. The amount of increment seems higher in recent years. Investors always welcome increasing dividends and 3M has the ability to sustain its dividend growth in the future. This indicates 3M's potential for appreciated future valuations.
EPS:
The EPS of the company is also growing year on year. Expected EPS for the current year is $6.7, which is greater than the EPS ($5.48) of a comparable conglomerate, Johnson & Johnson (JNJ).
Drivers of Performance
Acquisitions
3M acquired Ceradyne in late 2012. Ceradyne is involved in the production of technical ceramics. The advanced ceramics produced by Ceradyne are utilized in the automotive, nuclear, oil & gas, solar, medical and defense industries. Ceradyne received an order for enhanced helmets from the United States military, amounting to around $80 million. The company also received an order for body armors from United States military, worth $151 million. These orders alone make up 2.26% of the industrial segment of 3M. Clearly Ceradyne is adding substantial revenues to 3M. The expected sales of Ceradyne will provide a boost to the future performance of 3M.
"Our plan is to spend $1 billion to $2 billion on an annual basis of acquisitions, and we are laying that plan out and we have a good hopper, which is broad-based for all the five business groups in terms of where we would like to go for the future," said the company CEO Inge Thulin. The company's intention to spend around $2 billion every year on acquisitions means an increase in growth and revenues, given that the acquisitions are in synergy with 3M's long-term plans.
Research and Development
Research and development expenses are around 5% as compared to the revenue of the company and 25% of the operating expenses. This indicates the company is focused on research and development. 3M has 8,200 researchers around the world, of which 4,100 are based in the US. The patent portfolio of the company includes 3,102 patents, as of 2012, of which 527 are US patents. The company has 46 technology platforms. These platforms include adhesives, abrasives, electronics & software, light management, micro-replication, nanotechnology, nonwoven materials and surface modification. The company is planning to increase its R&D expenditure by almost 6%, by 2017. This will result in new advancements and new technologies. 3M's patent portfolio will also grow as a result of these new technologies. R&D is a key factor in determining the future success of the company.
Geographical Growth
The company considers Asia-Pacific and Latin America to be an opportunity market for its healthcare segment. 3M currently generates around 40% of its revenue from Asia-Pacific and Latin America. The organic sales of 3M's healthcare segment increased by 9% in Asia Pacific and 11% in Latin America year over year. The company added new healthcare products to its portfolio; VFlex 1805 and Aura 1870+. "The VFlex 1805 and Aura 1870+ provide the potential for the proven protection of a respirator with the fluid resistance of a surgical mask," said James Cooper, product marketer, 3M Personal Safety Division. "Plus, they're competitively priced, making them accessible for hospitals, day-surgery centers, nursing homes, clinics, and other healthcare facilities." With new healthcare products being added to the portfolio and the growth prospect for healthcare in Asia-Pacific and Latin America, 3M is set to grow in this segment which in turn will improve the overall performance.
Innovation and Diversification
3M is renowned for its innovations. The company constantly innovates and improves its healthcare and personal care related products. For instance, 3M now provides adjustable products for specific body parts. It is also providing innovative solutions for dental and orthodontic solution. It even uses SLA, 3D printing technology, in its digital impression system LAVA™. A 3M scientist recently received the R&D Magazine's Innovator Of The Year award for achievements in optical science. All these developments indicate the inclination of the company towards innovation. These technologies will continue to contribute towards the future growth of the company.
3M is well diversified company; it has product offerings across different industries. This makes it less vulnerable to the risks of being limited to a single industry. The company also has exposure to growth opportunities from different industries. This diverse portfolio positions it to gain future growth with minimal risk exposure.
Valuation
Price targets using 19x multiplier

PT in USD

EPS

PE

Price Target

High

7.58

19

144.02

Mean

7.41

19

140.79

Low

7.15

19

135.85
The estimates indicate that there is still growth potential in the valuation of 3M. The price target of $140 is derived, which is above the current trading price. PE multiple of 19x (NASDAQ average) is used. The relatively high multiplier is used because of the potential for acquisitive growth, new patented technology and dividend growth. The company has the potential to pay higher dividends and if it decides to substantially increase dividend payments, the valuation will appreciate.
Conclusion
3M is a diversified business and has opportunities to grow in various markets. It has the ability to enter industries with future growth prospects. Divestment is also an option for 3M in case a business unit is not performing or does not have good future growth prospects. This is indicative of the low risk, yet high growth potential, of the 3M business model. The company's financial performance is up to the mark, with constantly growing revenues and earnings. It has a solid balance sheet with substantial cash. Moreover, the company has the potential to increase its dividend payouts, which is a positive sign for an investor. On the business front, the company is expected to grow in future because of its acquisitive growth strategy. The research and development carried out, along with the patent portfolio of the company, is a competitive edge for 3M. Healthcare growth in Asia-Pacific and Latin America will also provide an opportunity for 3M in the near future. All in all, 3M is a safe bet for long-term investment purposes.
Disclosure: I have no positions in any stocks mentioned, and no plans to initiate any positions within the next 72 hours. I wrote this article myself, and it expresses my own opinions. I am not receiving compensation for it (other than from Seeking Alpha). I have no business relationship with any company whose stock is mentioned in this article.
Additional disclosure: Equity Flux is a team of analysts. This article was written by our Technology analyst. We did not receive compensation for this article (other than from Seeking Alpha), and we have no business relationship with any company whose stock is mentioned in this article.