Over the past eight months I've profiled the Gold/Silver ratio twice as represented by the gold (NYSEARCA:GLD) and silver (NYSEARCA:SLV) ETFs, respectively. In April, I said the GLD/SLV ratio had broken out from its channel and one could play it by being long GLD and short SLV. That trade worked out pretty well as the ratio spiked from 6 at the time to nearly 7 before normalizing late in the summer. Then, in October, the ratio had consolidated back on the upper bound of the same channel when I said it was a good time to put the same trade back on. That has also worked out pretty well as the ratio has gone from about 6 to roughly 6.3 in that short time. Given that background, what does the ratio tell us now?
As you can see below, my two previous calls have been overlaid on the current chart of the GLD/SLV ratio. We'll now take a look at what the chart is telling us in terms of another potential trade.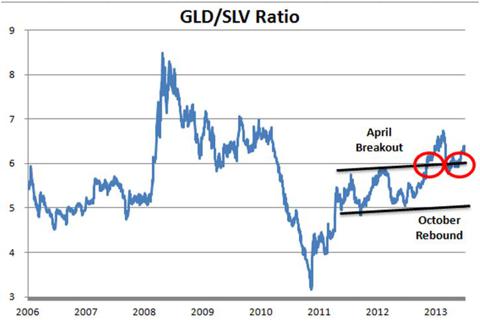 First and foremost, this chart tells you that the ratio of 6 in the GLD/SLV is an excellent low point from which to initiate long GLD/short SLV trades. It has worked very well twice now and unless the ratio breaks through convincingly to the downside, there is no reason to stop using this as a potential entry point. As they say, the trend is the trend until it isn't. We see a clear case of that here and one could potentially use the ratio of six until it just doesn't work anymore.
So after this has worked twice this year for decent risk adjusted gains, what now? Right now, I'd suggest keeping on the long GLD/short SLV trade as the rebound hasn't reached its full potential, in my view. I think the move up since my October call is less than half way done and thus, I think there is more upside in the long GLD/short SLV pairs trade. If we get to a ratio of 6.7 or more, it would probably be time to consider taking profits but we aren't there yet. In addition, if the ratio turns down before it reaches that level, it could be a sign that the ratio isn't going to take out its 2013 highs and that perhaps silver is set for a period of outperformance. However, we won't know that until the ratio breaks very strong support around 6 that has been building since 2011.
Pairs trades aren't for everyone and I fully recognize that. They can be expensive or impossible to put on if you have an IRA, for example, but that doesn't discount their value to some traders. Of course, you can simply go long gold if you like in order to take advantage of gold's outperformance over silver but the point of the pairs trade is to reduce risk. By shorting one and going long the other you take advantage of the outperformance of one over the other instead of facing 100% market risk. The potential rewards of this pairs trade are lower than simply going long one of the metals but the risk is much, much lower as well. With a pairs trade, you don't really even need to care which direction the prices of the metals move, you just want to capture the outperformance of one over the other.
Back in April, the GLD/SLV ratio flashed a long gold/short silver signal that made traders a very nice risk adjusted return. In October, I recommended the same trade and anyone who took my advice is up once again, albeit less than they would be on the April move. However, I think the October bounce is less than half way finished and as such, I recommend either staying long gold and short silver or initiating a position here to take advantage of the remainder of the move. In the next couple of months we will find out if the ratio has more legs to the upside or if silver is set for a period of outperformance in 2014. Right now, the trend is still very much in place and as such, we should take advantage while we can.
Disclosure: I have no positions in any stocks mentioned, and no plans to initiate any positions within the next 72 hours. I wrote this article myself, and it expresses my own opinions. I am not receiving compensation for it (other than from Seeking Alpha). I have no business relationship with any company whose stock is mentioned in this article.
Additional disclosure: I have a long GLD/short SLV position as profiled in the article and may change it at any time.