Just a year ago La-Z-Boy (NYSE:LZB) appeared that it might become another casualty of the downturn in housing. Three straight quarterly losses had brought the stock down under $1, but in the past twelve months business has turned around and the stock touched $13 per share today, its highest point since March of 2007. Today, the stock traded more than 11% higher on extremely heavy volume.
After the close on Tuesday, La-Z-Boy reported net profit improved to $11 million or $.21 per share (or $.17 when stripping out one-time events) which compares favorably to the loss of a year ago of $64.5 million or $1.24 per share. Consensus analysts' estimates called for EPS of $.09 on sales of $276 million. Revenue came in far better than expected, totaling $305.1 million or 5.7% better than a year ago. The sales gains were fueled by double digit gains in their upholstery division, while the retail segment produced roughly flat sales. Operating margins for upholstery and retail divisions where both improved thanks to cost savings and other operational efficiencies. Furthermore, the company generated $22.7 million in cash from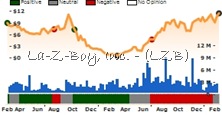 operations, which further strengthened its balance sheet.
Coming into the week, we had our neutral Fairly Valued rating on LZB, but following today's appreciation it may be due for a downgrade in the coming week. We can appreciate that there are improving trends, but at this point the fundamentals do not support this much appreciation–1300% in the last twelve months. For example, historically speaking La-Z-Boy has attracted a price-to-cash earnings multiple of 12.9x to 35.1x, but following today's advance it is getting very close to the high end of that range at about 33x. Furthermore, the current price-to-sales valuation stands at .58x, which is higher than its historical range of .21x to .55x.
So, one could argue that La-Z-Boy has seen business improve from a year ago, but we are concerned that the market has begun to pay too rich a valuation for this stock. In the firm's press release, management stressed that they are still, "concerned about various economic factors, particularly unemployment and credit availability." Given this cautious view, we would expect more quarters of padding the balance sheet before they consider reinstating the dividend last paid in Nov. 2008. The comfy furniture-maker has closed down underperforming stores and remains focused on cost savings, which will benefit the bottom line. However, at this time and for the current level of fundamentals like sales and earnings, we would not see their shares as attractive unless they slipped back into the single digits.