It's no secret what our investment strategy has been lately. We're looking for banks that were seared badly during the credit crunch, saw their stocks get walloped, but have lately begun to get a handle on their credit problems and will shortly return to profitability.
These are the companies that, in our view, will offer the most attractive returns relative to risk as the recovery proceeds. And we've had no small amount of success identifying what we believe are very attractive investments. Synovus (NYSE:SNV), for instance.
But among potential banking turnarounds we've looked at, one company stands out to us as being exceptionally compelling: Taylor Capital (NASDAQ:TAYC) of Rosemont, Illinois. We think the stock is so attractive, in fact, that over the last eight months the investment partnership I manage has accumulated over 11% of the outstanding shares.
Allow me to share with you why I'm so enthused.
Who Is Taylor Capital?
First, a little background: Taylor Capital is the ninth-largest bank in the Chicago market, with $4.4 billion in assets and a market capitalization around $100 million. The company was formed in 1929; three different generations of Taylors have run it since then. The current chairman and CEO is Bruce Taylor. The Taylor family controls 44% of the outstanding shares.
As you've likely guessed, Taylor got hammered during the credit crunch and attendant recession. At last look, it has lost money for the past nine quarters in a row (a total of $185 million). After Taylor reported a surprisingly large loss for the fourth quarter of 2007 ($2.78 per share, including goodwill impairment and an elevated provision), the board went outside the company and brought in an ex-LaSalle Bank executive, Mark Hoppe, as president. This was the critically important first step in Taylor's recovery—and what we expect to be a powerful "turnaround and grow" story as the banking industry recovers.
OK, end of intro. Here, in a nutshell, are the key reasons we're so bullish on Taylor. The company has:
assembled a new, impressive senior management team;

adopted a new "fix and grow" strategy;

bolstered its middle management ranks with the addition of over 200 hires;

aggressively attacked its credit problems (largely loans to homebuilders);

received a capital infusion from a legendary, long-time Chicago banker;

improved both the cost and mix of its funding;

strengthened its board.
Meanwhile, given its market cap, the company is under-covered by Wall Street. It has an unusually high (and rising) short interest position, in a stock with very restricted float. Finally, valuation is compelling, based on normalized earnings and price-to-adjusted book value.
As noted, Taylor has lost money for the last nine straight quarters, and will probably lose money for the next two. But it's on the road to recovery, as new management takes advantage of recent disruptions in the U.S. and Chicago banking markets. Taylor is on its way to gaining a very attractive, lucrative position as a middle-market business lender.
We believe that as its recovery proceeds, Taylor can achieve normalized earnings power of around $2.25 per share, which implies just a 1.1% return on assets. Assuming the stock trades at 12 to 15 times normalized earnings, it could reach $27 to $34 over the next two to three years, in my view, or a triple from current levels.
Interested? You should be! Now let's put a little meat on the bones of each of the positive elements in the Taylor Capital case I mentioned earlier:
1. A new, impressive management team has been assembled. The first and most important addition to Taylor's senior management is Mark Hoppe, who joined in February, 2008. Mark had earlier spent his entire banking career, starting in 1981, at LaSalle Bank, which was owned by ABN Amro (ABN) until it sold LaSalle to Bank of America (NYSE:BAC) in 2007.
Recall that LaSalle dominated the middle market in Chicago in the late 1990s and 2000s, following the sale of key competitors American National and Harris. But then LaSalle's own franchise was devastated following the company's sale to BofA. So Hoppe brings years of experience to Taylor from LaSalle, from a time when the company was one of the major players in the Chicago market.
Hoppe immediately set out to build a new management team, starting with chief lending officer Larry Ryan (who'd spent 27 years at LaSalle Bank) and chief credit officer Mike Morton (seven years at LaSalle). Later in 2008, Randy Conte (12 years at LaSalle) became CFO, while John Lynch (over 30 years at LaSalle) was named vice chairman. (Ironically, Lynch first hired Hoppe 30 years ago.)
The final two key additions to senior management are Mike Sharkey, who's building an asset-based lending business like the one he ran at LaSalle (and which was fifth-largest in the nation) and Willie Newman, who's building a conforming-mortgage business, also like the one he ran at LaSalle (and which was also the fifth-largest in the nation).
Thanks to the disruption caused by Bank of America's disastrous integration of LaSalle, Hoppe has been able to attract an impressive group that has shown proven success working together—and making money--in the past.
2. A new "fix and grow" strategy has been adopted. Like so many banking companies of its size, Taylor Capital found itself with too much exposure to home builders (particularly via land loans) when the residential real estate cycle crashed. Loans to homebuilders represented about 20% of the company's loan portfolio at yearend 2007. The "fix" part of the new strategy calls for a significant reduction in both loans to home builders as well as exposure to commercial real estate generally. As you can see, that process is well underway. (Click charts to enlarge)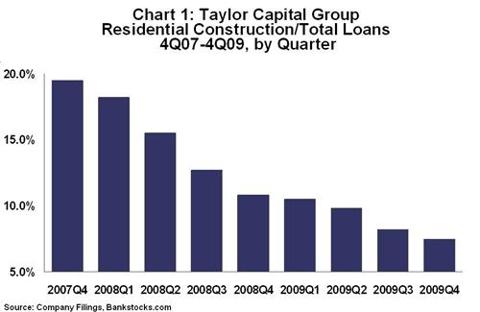 In addition, Taylor had built a portfolio of loans to consumer finance and mortgage banking companies, two segments the new management is not enthusiastic about. Exposure there will come down, as well
Today, loans to homebuilders are down to $222 million or 7.5% of total loans, while other commercial real estate exposure is $1.3 billion or 44.5% of total loans. Loans to consumer finance and mortgage lenders come to a little more than $200 million, on their way to virtually nothing.
The third and most important part of Taylor's "fix" is about improving the company's credit quality. I'll get to that a bit later.
The "grow" part of the strategy, meanwhile, involves the company getting back to its roots as a relationship-focused, middle-market commercial banker, and supplementing that with a couple of specialty lines: asset-based lending and mortgage banking.
We're excited about Taylor's growth outlook. The company has already shown early signs of success, despite spending so much attention to its "fixes". Last year, Taylor added 200 new clients, $650 million in new loan balances, and $1.2 billion in loan commitments. Further, the company is well-positioned to continue to take advantage of the disruption in the Chicago banking market that's come about as a result of consolidation (thank you, BofA) as well the banking industry's woes generally. In particular, Taylor has a wonderful opportunity to build two national specialty businesses, essentially from scratch, under the direction of a proven management team.
Many banking companies are in the midst of impressive "fix" stories but, in my view, few will offer the same attractive growth outlook that Taylor does.
3. Middle management ranks have been bolstered with new hires. Taylor has added over 200 new lenders and processors, many from LaSalle. Most replace the prior, mediocre crew. Senior management has instilled a "risk-adjusted" profitable-growth mentality in order to discourage lenders from simply cutting price or easing terms to gain business.
4. The company has aggressively attacked its credit problems. Early indications are that credit has started to improve. The pattern of credit improvement at banks has been pretty well established over the years. At Taylor recently, that pattern is clearly in evidence. First, the bank recognizes that there are serious problem in parts of its loan portfolio. Second, the bank stops making new loans in the problem areas and works down the problem exposure (as we saw with loans to homebuilders). Third, the bank manages the problem loans as their loan grades are lowered. Some become nonperforming, some need to be charged off, and, in some cases, the bank repossesses the collateral and disposes of it.
All this is going on at Taylor now. The first sign that credit has begun to stabilize was a slowing in the inflow of new problem loans. New problem loans were $21 million in the fourth quarter of 2009, down from $48 million in the third quarter and $81 million in the second.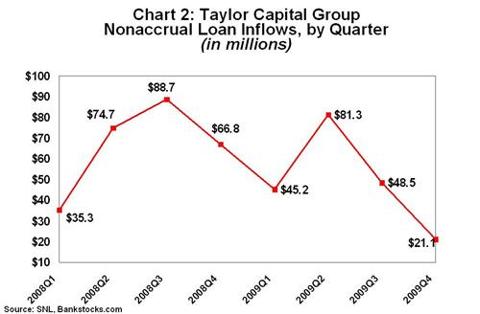 Next, the quarterly reserve building began to slow (it was less than $2 million and $3 million in the first and second quarters of last year; since then, the company has released reserves—by $26 million in the third quarter). Chart 3 illustrates: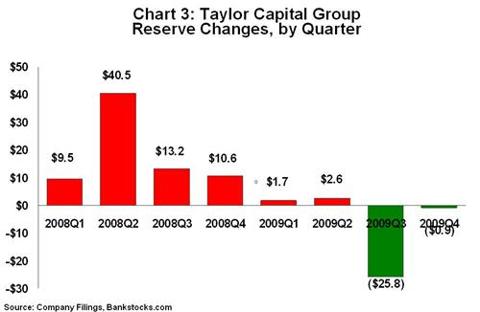 Also, total nonaccrual loans began to fall. They were $141.4 million in the fourth quarter, down from $189.4 million two quarters before and $200.2 million a year ago. Take a look: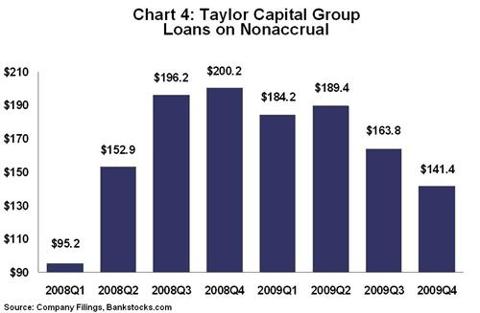 The final indicators, which show that credit is clearly improving, happen when the quarterly net chargeoffs decline from their very elevated levels (at Taylor, NCOs have fallen to $19.9 million in the fourth quarter, down from $41 million in the third—Chart 5) and when the total level of nonperforming assets starts to come down.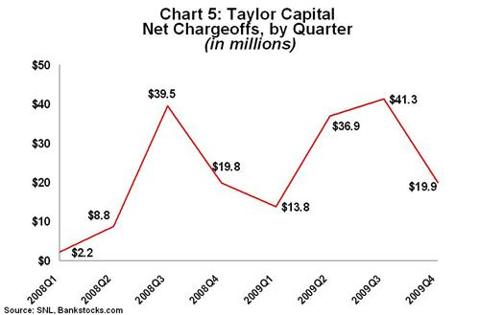 And as Chart 6 shows, nonperformers fell steadily throughout 2009, to $169 million in the fourth quarter, from $213 million at the start of the year.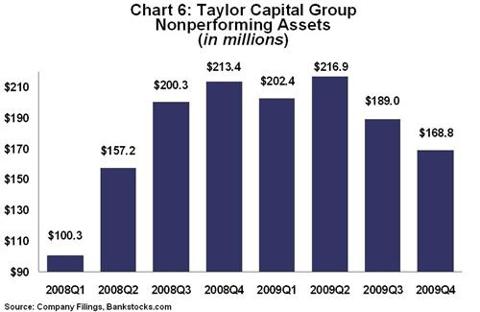 While we're impressed with the improvement in the leading indicators of credit at Taylor, credit costs will remain unusually high for some time, as they will for just about all banks. The most important point, though, is that the early indicators have reached an inflection point, especially regarding bad loans' effect on earnings. The company is on track to return to normal earnings over time. In the most recent quarter, for instance, Taylor's total direct credit expenses totaled $27.5 million ($19 million of which were loan loss provision, with another $8.5 million in foreclosed property expenses). We estimate "normal" credit costs for Taylor's book of business should run around $4 million per quarter. The difference adds up to a swing of $1.45 per share, fully taxed!
Improving credit quality is by far the single most important piece to Taylor's "fix" that will restore the company's profitability and then, after that, return it to normalized profitability.
5. Taylor has received a capital infusion from an accomplished, well-regarded investor group. In the summer of 2008, Bruce Taylor correctly saw that the company needed more capital to survive the credit storm, and sought out legendary Chicago banker Harrison Steans. This was a stroke of genius. First, the Steans group was a source of ample capital (the company later realized it needed to raise more than it first thought), and, second, because Steans himself is an incredibly talented banker with a long track record of making lots and lots of money for his investors.
Let's first focus on the dollars. Taylor issued $60 million in a preferred convertible at $10 per share to the Steans-led group. At the time, in September 2008, the company raised an additional $60 million in subordinated debt for the bank, with warrants attached, from the same group.
The two largest investors in the group are the Steans family and Prairie Capital, a Chicago-based private equity firm with close ties to the Steans family. But (with all due respect to the other investors) the key to this group is Harrison Steans himself. Knowing Steans and his track record in banking in Chicago, there is no one I would rather invest with in Chicago banking than Harrison Steans.
Steans began as a banker then became a bank investor. He was chairman of LaSalle Bank when it was sold to ABN Amro in 1979. I was first impressed by him in the 1980s, when he built a Chicago-based banking organization from $40 million in assets to $1.8 billion before selling out to NBD in 1987 for 4 times tangible book value.
Steans didn't stop there. In the 1990s he bought a $70 million (asset) Florida-based banking company, then built it to $700 million before once again selling it at 4 times tangible book value.
Steans's banking model is simple but, like many things in life, its success depends on discipline. His banks focus. They raise retail and commercial deposits, and then stick to small-business and middle-market lending. On the operating side, Steans does not micro-manage, but has great skill at identifying talent, instilling it with an understanding of risk-adjusted growth, then motivating it with equity ownership. He believes a banking organization should either grow or die. Historically, Steans's banking companies have grown both organically as well as through value-added acquisitions.
Notably, Steans is dispassionate in deciding whether to be a buyer or a seller. When I asked him once how he decides when it's time to sell a bank, he told me that when he sees other banking organizations outbid him by 40% or more for acquisitions (as has happened twice) it's time to join the list of sellers.
Harrison Steans is a proven moneymaker. He's had success both inside and outside the banking sector. He knows how to buy at the right price, attract and motivate great people, and he knows when it's time to sell. Steans led a group that bought $60 million in Taylor preferred convertible at $10. You can buy the common today at $9.
6. The company's funding mix and cost of funding are showing dramatic improvement. Before new management arrived, much of Taylor's growth was funded with out-of-market deposits--not an optimal situation. After new management arrived, the cost of all the company's deposits rose, both on broad concerns regarding the U.S. banking industry as well as specific concerns about Taylor.
Those jitters have since eased, and the company has moved to improve its funding. During 2009, Taylor's cost of funds fell by 86 basis points and its net interest margin rose 74 basis points. This was due to both a re-mixing of deposits (in-market deposits up rose by 20% last year while out-of-market deposits down 50%) as well as a reduced risk premium.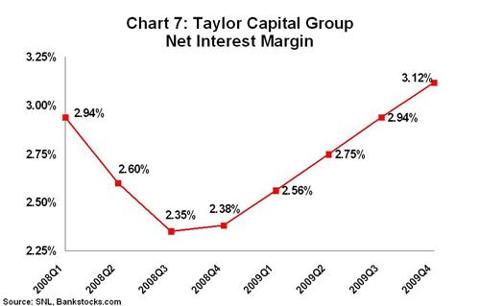 Further margin improvement is likely in 2010, from both factors. For instance, in the first quarter alone, the company expects to reprice $250 million in maturing CDs at a 210-basis-point average spread improvement. This would add 12 basis points to the first quarter margin compared to the prior quarter.
7. The board of directors has been significantly strengthened. In addition to inviting Harrison Steans on the board, Taylor has made four other significant, positive additions. One is Jennifer Steans, Harrison's daughter, and an accomplished banking expert and investor in her own right. Jennifer works alongside her father and is involved in all key decisions.
Second is Bryan Daniels. He is co-founder of the private equity firm, Prairie Capital, and has close connections to the Steans family. Prairie Capital is Taylor's fourth-largest shareholder and a large owner of the convertible preferred and sub debt. Daniels is not your typical private equity investor: he spent the bulk of his career in banking, having run, most recently, correspondent banking for American National. In that job, he had a chance to call on many Chicago banks.
Third, Hill Hammock joined the board to complete the LaSalle Bank connection. He was vice chairman and COO of LaSalle before he retired.
Finally, Michael Moskow, the past president and CEO of the Federal Reserve Bank of Chicago was added. In this time of regulatory uncertainty, the importance of this addition can't be overstressed.
8. Taylor Capital is undercovered by Wall Street even considering its market cap – There are just two Wall Street analysts who cover the company: Eileen Rooney at KBW and Daniel Cardenas at Howe Barnes. The former rates the stock "underperform" and the latter "neutral".
We love, and live on, undercovered, misunderstood investment opportunities. If we are correct in our assessment of Taylor's outlook, you can expect more analysts to pick up coverage of the company and investment ratings to turn more positive.
9. There is an unusually high, and rising, short interest position in Taylor, and limited float. I was surprised to see the short interest position in Taylor is so high. According to Bloomberg, the short interest as of the end of January was 1.028 million shares. This represents: 9.3% of total shares outstanding, 22.6% of the float, and 18.9 days of average daily trading volume.
So the short interest in Taylor is substantial. We have always believed a large short position is not necessarily a good thing or a bad thing for a "long" investor, but if the long investor proves correct, the resulting short-covering can cause an explosive upside in the stock.
10. Taylor's valuation is compelling. As noted, Taylor's current stock price of $9 per share implies the company is trading at just 4 times normalized earnings and 1.0 times current stated tangible book value. However, the company has a $62 million deferred tax asset reserve that (if our forecast proves correct) will eventually be reversed, which would add about $5.50 to tangible book value. That puts the stock at just 0.6 times its adjusted tangible book value.
As Taylor successfully executes its "fix" and "grow" strategies, its stock price might easily triple in price over the next three years, I believe. A $27 stock valuation would put the stock trading at just 12 times normalized earnings.
Capital ratios Too Low?
The principal argument from the skeptics regarding Taylor has to do with the bank's capital ratios, which, they might argue, are too low. Given the irrational approach some bank regulators are taking toward capital in this particular credit cycle, this argument might even have some (temporary) validity.
Taylor's three regulatory capital ratios easily exceed the levels bank regulators say are minimums for a bank to be considered "well-capitalized". In particular, the company's total capital ratio is 12.7%, vs a regulatory minimum of 10% for well-capitalized, while its Tier 1 capital ratio is 9.8%, vs a regulatory minimum of 6%, and its leverage ratio is 7/6% vs. a reg minimum of 5%.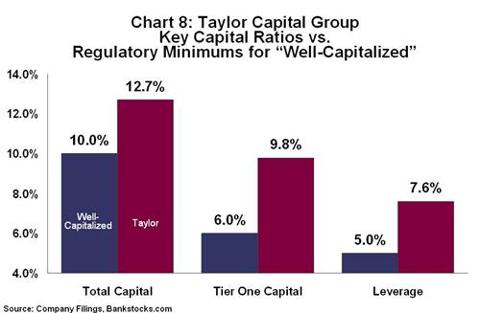 However, the bears can glom on to a (non-official) capital measure where Taylor Capital is light. Specifically, Taylor's tangible common equity to tangible asset ratio (ugh) comes to just 2.3%.
But if our forecast is right, Taylor should be able to boost its TCE/TA, once it can reverse its deferred tax asset reserve and as the preferred gets converted to common. Using year-end figures, that would raise the tangible common equity to asset ratio to 5.1%.
Even with those adjustments, the company's tangible common equity ratio would be low relative to peers. Plus, the company still wants to pay back its $105 million in TARP preferred. Given all this, we do expect the company to raise additional capital over time.
However, fears of a massively dilutive equity offering are overstated. The company's regulatory capital ratios are solid, and the largest equity holders will not tolerate unnecessary, irrational dilution.
So, yes, you can expect Taylor to raise additional capital--but not until its recovery is more appropriately reflected in the valuation of the company. In estimating normalized earnings, we have assumed the company raises an additional $50 million in common stock at $15 per share, and we still arrive at normalized EPS of $2.25. If the company raised $50 million at $12 instead, normalized EPS would only drop to $2.20. In all, fear of an equity raise should not hold anyone back from owning Taylor at current prices.
Taylor Capital: "Fix" and "Grow"
Taylor Capital is in the midst of a remarkable transformation from a credit-troubled, mediocre, business-focused bank in Chicago to a recovered, healthy, growing bank. The company is not well-followed or well-understood which is what has helped create such an attractive investment opportunity.
Disclosure: The author may hold positions in the above-mentioned securities.