NQ Mobile Inc's (NYSE:NQ) ADR shares intrigued me because the company was a fast-growing Internet security small-cap company. However, the charges that the company has engaged in fraud are very concerning. Steven A Cohen's SAC Capital and affiliates took a stake in the company in August. Other notable institutional investors that took a position in it earlier this year include Oberweis, Fort Washington, Fidelity, Thornburg Investment Management's 5-Star Rated Developing World and the Wallenberg family's SEB Asset Management. Strategic investors included Sequoia Capital, Qualcomm, Mediatek and HTC. At least I did not take a position in it. NQ Mobile's share price plunged by 47% on October 24 before trading in its shares was halted. NQ Mobile's trading volume on October 24 was more than 7 times its average three month daily trading volume and its spectacular share decline on October 24 wiped out nearly all of its gains since its 2011 IPO.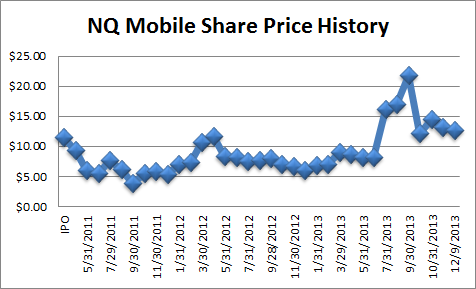 Source: Morningstar Direct
According to Muddy Waters, NQ's Antivirus 7.0 app has the following problems associated with it:
It collected significant levels of sensitive data.
It sends much of this sensitive data to its server in China; it also sends this data onward to a Chinese analytics company
Antivirus 7.0 does a poor job protecting users downloaded data (possibly by design) and
Users' phones can easily be loaded with malware by third parties due to the lack of basic safeguards on the downloaded data. The encryption AV 7.0 uses is allegedly pointless because it includes the key with the data it is encrypting, which is akin to leaving the key hanging out of a safe.
According to the Chinese government owned broadcaster CCTV, NQ Mobile and its subsidiary FL Mobile, were paying phone refurbishers in China to install both NQ and FL software. However, the FL software was really a trojan, and about six hours after the user put a new SIM in, the phone would go haywire. The performance would slow down, and users would see their phones uploading and downloading data without being commanded. Non-NQ security apps were suddenly deleted. However, users could obtain salvation by running NQ, which informed them that they would need to become paying subscribers in order to eradicate the virus.
Muddy Waters alleged that NQ Mobile secretly controls a shell company called Yidatong. Muddy Waters concluded that Yidatong was really NQ based on visiting 10 sites purportedly occupied by YDT, all of which were empty or did not exist; studying YDT's SAIC files and financial statements; searching for current and former employees; and reviewing various other records. Other alleged issues of concern were as followed
YDT's email server is the exact same server as NQ's.
YDT's 75% owner Ms. Rong Xu had worked with NQ Mobile
Ms. Xu was director of a company that came to own 25% of NQ in 2006. In November 2006, a company of which Ms. Xu was (and still is) a director, Yiteng Beijing Technology Co. Ltd. came to own 25% of NQ. One of the other Yiteng directors and shareholders is Ma Jun. Ma Jun is Ms. Xu's co-shareholder at YDT.
Two days before Muddy Waters issued its strong-sell/strong-short research report, NQ Mobile announced a new product/platform, NQ Live. NQ Live is an instant-on, always live replacement for the wallpaper on Android devices. NQ Live dynamically delivers content and functionality to the user's homescreen, tailored to the brands a user follows or the news he desires. Examples of content and functionality include; search (traditional, voice and visual), weather, time, stock quotes, sport scores, breaking news, content updates, etc. NQ Live will be pre-installed on handsets from ZTE, Ginee, Vivo and China Telecom. NQ Mobile will attempt to monetize NQ Live through advertising, content and app placement and promotion fees, revenue share on search and crossing selling NQ's numerous other fee-based products.
As soon as Muddy Waters announced its allegations about NQ Mobile, the company responded by accusing Muddy Waters of making false allegations. The company announced that it would issue a more detailed response before the market open in the U.S. on Friday, October 25 as part of a conference call. NQ Mobile confirmed its existing major term deposits as of October 25 and explained why its cash is classified as a Level 2 asset. NQ Mobile hosted a conference call, denied the allegations and announced that the Company's board of directors formed an independent special committee to conduct an independent review of the allegations raised in a report issued by Muddy Waters dated October 24, 2013. The special committee is comprised of four independent directors of the Company, Ms. Ying Han and Messrs. William Tiewei Li, Xiuming Tao and Jun Zhang, with Ms. Han being the chairwoman of the committee. The committee has the authority to retain independent advisors in connection with its investigation.

Source: NQ Mobile October 25 Press Release
On November 13, NQ Mobile released its Q3 2013 results. The company reported rapid year-over-year growth in its revenues (110%) and its Non-GAAP operating income (150%). NQ Mobile generated $22.2M in cash flow from operations during the quarter, up from $6.9M in Q3 2012. NQ Mobile reported that it had $149.5M in cash and term deposits as of Q3 2013. NQ Mobile reported that its Days Sales Outstanding declined 20.7% on a linked-quarter basis from 145 in Q2 2013 to 115 in Q3 2013. In response to Muddy Waters' acquisitions, NQ Mobile's management announced that its senior management intends to purchase up to $3M of the company's American Depository Shares by the end of 2013. NQ Mobile Inc. announced on Nov 6, that it has upheld its commitment to transfer cash funds to the Company's account at Standard Chartered Bank (the "Standard Chartered Account"). The Company has a cash balance of approximately RMB 628 million (approximately USD $103 million) in the Standard Chartered Account as of Nov 6, 2013.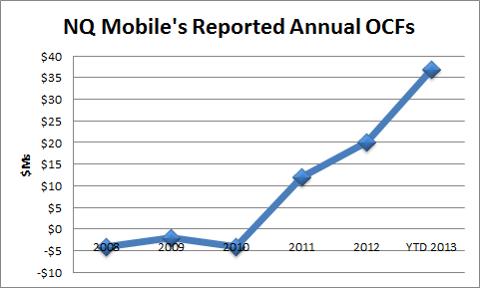 Source: Morningstar Direct
Before evaluating Muddy Waters' charges, the biggest irritant I saw was that reported profit growth was nonexistent due to the rapid growth in equity-based compensation expenses for NQ's employees. I also had questions about its many different acquisitions executed throughout the years. In my professional opinion, I prefer growth-oriented companies that do not over-indulge in acquisitions and generate growth organically. Furthermore, I believe that there are potential risks involving acquisitions such as integration risk and potential for organizational cultural clashes between the acquirer and the acquired firm. Finally, I questioned how much of NQ Mobile's growth was due to organic business growth and how much was due to acquisitions.
NQ Mobile's shareholders should be pleased that four institutional investment management boutiques stepped up to acquire shares after Muddy Waters' released its accusations about the company. The four boutique managers that acquired shares in NQ Mobile after October 2013 include the following firms:
Altimeter Capital Management (9.5M Class A Common Shares),
Toro Investment Partners (7.6M Class A Common Shares),
Oberweis Asset (increasing its position from 991K ADS shares to 1.8M ADS shares (9M Class A Common Shares) and,
ChinaRock Capital Management (1.7M ADS shares (equivalent to 8.5M Class A Common Shares).
In addition to the aforementioned boutique firms, mutual fund and bulge-bracket asset manager Columbia Management also acquired 421K ADS shares as of the end of October for its Emerging Markets mutual fund.
One concern I have with NQ Mobile is that it reacted the same way when responding to Muddy Waters that Sino-Forest did. Here are some examples of this:
NQ Mobile denied Muddy Waters' claims and provided a "Table of Major Term Deposits" allegedly as evidence to show its current cash position is real and where its accounts were. Sino-Forest did the same thing as did Longtop Financial.
Although NQ Mobile formed a special independent committee to investigate Muddy Waters' claims, so did Sino-Forest.
Sino-Forest even released reports refuting Muddy Waters' allegations and so did NQ Mobile.
Sino-Forest threatened to take legal action against Muddy Waters and NQ Mobile hinted at possible legal action against Muddy Waters.
When accused of fraud, Sino-Forest's former Chairman and CEO Allen Chan would give interviews to various financial media outlets defending his company and claiming all allegations against them were false and NQ Mobile's Co-CEO Omar Khan has done the same thing with his company.
Muddy Waters Follows Up
On November 6, Muddy Waters published a follow up report on NQ Mobile. Muddy Waters reiterated its concerns that Yidatong was not located at any of the 10 addresses that it was registered at. Muddy Waters also reiterated the issues regarding Rong Xu's relationship with Yidatong and NQ Mobile. It also noted that Chinese news outlet iFeng concluded that DT is really controlled by NQ and Xu Rong is just a front, and that YDT's purported numbers do not tie.
On November 12, Muddy Waters published another follow up report in which it raised issues concerning NQ Mobile's Director of Capital Markets Matt Mathison, NQ Mobile's Co-CEO Omar Khan and NQ Mobile's involvement with convicted racketeer Anthony Sasso. I was originally attracted to NQ Mobile because of Matt Mathison's reputation as a fraud-busting watchdog. Unfortunately, Matt Mathison's hedge fund only had $10.4M in AUMs as of 2012 and five clients. Furthermore, Matt Mathison's reputation as a fraud-busting watchdog should have been attributed to J Capital Research (NYSE:JCAP), which had a Chinese research joint venture with Matt Mathison's former employer Wedge Partners that dissolved in the middle of 2010. NQ Mobile's Co-CEO Omar Khan seemed to be in the dark when it came to discussing where NQ Mobile's largest geographic source of users is from. In addition, it was a surprise to see that Anthony Sasso served as the incorporation registration agent for NQ in America considering his past as a convicted racketeer.
Conclusion
In conclusion, NQ Mobile is definitely an enigma, wrapped inside a mystery, tucked inside a riddle, but perhaps there is a key. I like that NQ Mobile responded quickly to these accusations by denying them, hosting a conference call and issuing detailed itemization of its term deposits. However, I was worried that NQ Mobile followed the same strategy that bankrupt bust-out Sino-Forest followed. NQ Mobile announced it was offering $150M worth of five-year convertible bonds (4% interest and convertible at $25.61/American Depository Share) through Morgan Stanley and Deutsche Bank earlier this month. It would be interesting to see if NQ Mobile was able to dupe its underwriters. I believe that as of right now, investors should short or avoid NQ Mobile. While hearing about investment management boutiques investing their money in NQ Mobile sounds impressive, I did not forget that even John Paulson lost money on Sino-Forest.
Disclosure: I have no positions in any stocks mentioned, and no plans to initiate any positions within the next 72 hours. I wrote this article myself, and it expresses my own opinions. I am not receiving compensation for it (other than from Seeking Alpha). I have no business relationship with any company whose stock is mentioned in this article.