J.C. Penney (NYSE:JCP) has struggled to turn around a retail business that has been failing in the last few years. News and financial metrics indicate that it has not had much success so far. Though the possibility of a prosperous turnaround should not be dismissed, there seems to be little indication of consistent company progress in terms of profitability, market share and operating profit.
Recent News
The SEC has expressed some curiosity about J.C. Penney's reported liquidity, cash, equity offering and debt numbers. It's important to keep in mind that this inquiry should not be taken as a fraud indictment. It may turn out to be completely harmless. Nevertheless, given the SEC's mission to protect shareholders from questionable corporate practices, prospective investors should hold off on moves involving J.C. Penney stock until this inquiry is resolved.
A prominent investor and fund manager J. Kyle Bass recently sold his equity stake in JCP, though he retained JCP debt. He stated that, as a result of company prospects and his fund's research, he is "not investing in a turnaround." Though the goals of institutional and retail investors may differ, such a prominent public statement by someone intimately familiar with the stock's dynamics should be taken with consideration. There is nothing wrong with coattail investing. Doing so is an admission of limited expertise and information. Going by this move, it seems that a long position is JCP is ill-advised.
Other money managers, such as the Chief Investment Officer of Survetta Capital Management LLC, also expressed skepticism about JCP's prospects, citing a high probability of bankruptcy if J.C. Penney's business strategy and operations are not radically altered.
November Sales
On a positive note, JCP recorded a 10.1 percent increase in sales on Thanksgiving, similar to reported sales increases from Macy's (NYSE:M) and Kohl's (NYSE:KSS). This fact indicates that J.C. Penney has some elements of a successful business strategy. Its discounts lure in shoppers, but Penney's retail strategy has to ensure consistent profitability. Being at the customers' whim for ever-deeper discounts that erase profit margins is not a financially healthy position.
Net Margin/Competitor Analysis
The latest annual net margin is discouraging. In J.C. Penney's history, net margin has only been in negative territory once before: -1.8 percent in 2001. The company dates back to 1995, so it has been through the 2001-2002 and 2008-2009 recessions. In 2008-2010, JCP's reported net margin was an average of 3.37 percent. The latest data for 2013 shows an annual net margin of -7.6 percent. This is unexplored negative territory and looks very bad for JCP. Some speak of a turnaround for the stock. Recent data is not encouraging. Consider that the last five quarters saw net profit margin decrease from -4.2 in Q4 2012 to -22 percent in Q3 2013. The Q4 2013 upswing to -17.6 percent is very likely due to the holiday shopping season, not to fundamental changes in J.C. Penney's business strategy. To throw more light on net profit margin data, consider J. C. Penney net income margin compared to major competitors Macy's, Kohl's and Wal-Mart (NYSE:WMT) in 2007, 2010 and 2013.
Net margin percentages for JCP and some of its competitors in 2007, 2010, 2013:
| | | | |
| --- | --- | --- | --- |
| Stock | Net Margin % 2007 | Net Margin % 2010 | Net Margin % 2013 |
| JCP | 5.7 | 1.42 | -7.59 |
| M | 3.66 | 1.49 | 4.82 |
| KSS | 7.13 | 5.77 | 5.11 |
| WMT | 3.49 | 3.66 | 3.78 |
Most prominently, observe that all of JCP's competitors have kept up a positive net margin in FY 2013. J.C. Penney is struggling with nearly -7.6% net return, down from a very respectable 5.7 percent margin in 2007. In recent years, JCP is in a tricky situation. To cut costs would boost margins in the short term but at the expense of future operational capabilities. As the saying goes, nobody cuts their way to prosperity.
Conclusion
The only point in favor of J.C. Penney is strong November sales. Though this is not a triviality, the timing is too close to the holiday shopping season for a clear evaluation of a given business strategy. More pertinently, multiple fund manager skepticism and substantially inferior net margins strongly indicate that JCP stock is not a good long investment at the moment, especially with the recent SEC inquiry. Shorting the stock seems to offer greater reward with significantly less risk.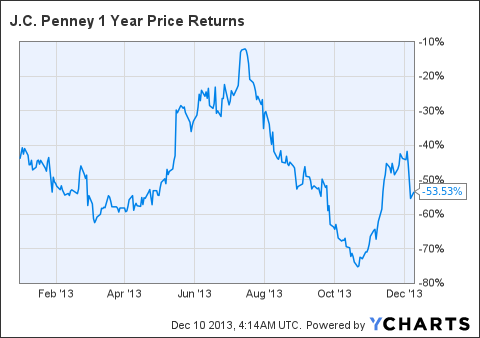 JCP 1 Year Price Returns data by YCharts
Disclosure: I have no positions in any stocks mentioned, and no plans to initiate any positions within the next 72 hours. I wrote this article myself, and it expresses my own opinions. I am not receiving compensation for it (other than from Seeking Alpha). I have no business relationship with any company whose stock is mentioned in this article.