Applied Materials (NASDAQ:AMAT) just announced an outstanding Q1. Along with the announcement came conjecture by some industry analysts regarding Applied's market positions in the semiconductor equipment industry. [Read Applied Materials F1Q10 earnings call transcript here.]
While I will not know Applied's rankings for 2009 for another few months after I collect revenue breakouts from the company and all its competitors, we can take a look at the trends over the past 20 years to try to see how Applied is positioning itself against its competitors, particularly Novellus (NASDAQ:NVLS-OLD) in the vacuum space.
Applied Materials led the world in equipment sales beginning in the early 1990s, and has essentially continued to outperform the industry average. The chart below shows how Applied has positioned itself in the market in 1979, 1989, 1999, and 2008.
Click to enlarge: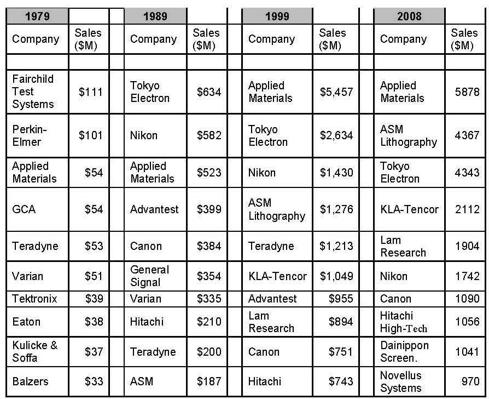 In 1999 Applied had more than double revenues of its closest competitor Tokyo Electron (OTCPK:TOELF). In 2008, the company was only35% ahead of number two player ASML (NASDAQ:ASML).
Applied competes in the semiconductor equipment market in nearly 20 sectors, significantly more than any other supplier. As a result, there is little overlap in individual sectors between Applied and the other top 10 market leaders. For example, there is no competition with ASML whereas Applied competes with Tokyo Electron in the plasma etch, deposition, and clean sectors. It competes with KLA-Tencor (NASDAQ:KLAC) in the metrology/inspection sectors, and Lam Research (NASDAQ:LRCX) in the plasma etch sectors.
If we hone in on the sectors, we can better understand how Applied is faring and whether July was a rapid ramp in overall equipment sales or share gains.

Click to enlarge: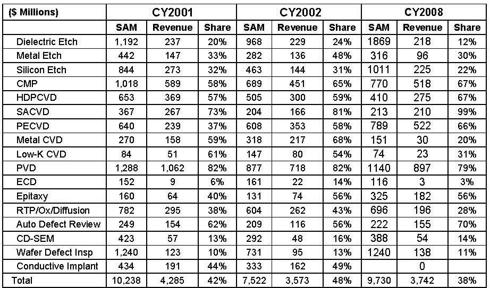 In 2001, Applied Materials held a 42% share of the overall equipment market, holding greater than a 50% share in 7 of the 17 sectors. 2001 is an important year to look at because the overall semiconductor equipment market nosedived after a record breaking 2000, dropping 45% year-on-year.
The overall semiconductor equipment market continued to drop another 45% in 2002, but Applied's revenue decreased only 16.6% sequentially. Applied's overall share thus increased to 48% of the overall semiconductor equipment market, and the company held greater than a 50% share in 9 of the 17 sectors it competed in.
The year 2008 started out to be a good one until the market collapse in Q4, and ended down 29%. Applied's overall market share eroded to 38% of the overall equipment market, although it maintained a market share greater than 50% in 7 of the 16 sectors it competes in (we have not included share date for the company's gate or clean sectors).
Conclusion
What can be concluded from all this data? Although Applied's feathers are a bit ruffled, it continues to be the market leader. It may have lost some share over the past decade and its 20.9% Q-Q sequential growth exhibited in the latest quarter was impressive, but remember that Novellus registered a 26.5% sequential growth its last quarter.
Applied also forecasts a 50% net sales growth for 2010. I strongly disagree. It's solar business may see growth, but I doubt it, as the solar market overall is mired in excess capacity and red ink, and solar customers are backed by governmental incentives and stimuli and none of these except the Chinese have any money.
In the semiconductor equipment market, if you note my January 14 article in Seeking Alpha "Where's Semiconductor Equipment Headed in 2010? (Part 2)", I paint a less rosy picture than 50% growth.

Disclosure: No positions