Microsoft (NASDAQ:MSFT) may be large and very profitable, but it has been on a steady decline over the past decade. The company peaked at over $600 billion in market cap in 1999 and is now valued at $250 billion (a loss of over $350 billion in value). Microsoft's loss in market capitalization is higher than the value of any company today, to put that into perspective.
Click to enlarge: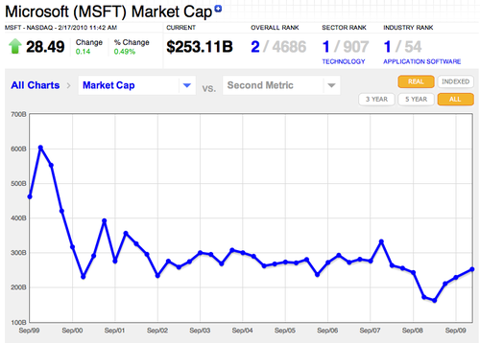 During the dot com boom, many companies started to create cloud based applications to power everything from business applications to email, and for the most part they failed. Today, more and more applications are moving to the cloud, and users are getting comfortable doing just about everything via the web, enabling access from an ever growing number of devices.
Microsoft is in an interesting place right now. The company has a huge windows and office business that is being attacked from all sides by Google (NASDAQ:GOOG), Apple (NASDAQ:AAPL) and open source software vendors. Microsoft is a company without a clear vision, even though they have products that most of us still use on a daily basis. We think Microsoft will figure it out, but it is likely to lead to lower margins and a continued drop in market cap.
Let's look at how the company is performing financially.
Top Line Growth
Microsoft announced revenue of $19 billion for the second quarter ending 12/31/09.Microsoft's revenue increased 14% YoY.
"Exceptional demand for Windows 7 led to the positive top-line growth for the company," said Peter Klein, chief financial officer at Microsoft. "Our continuing commitment to managing costs allowed us to drive earnings performance ahead of the revenue growth."
Click to enlarge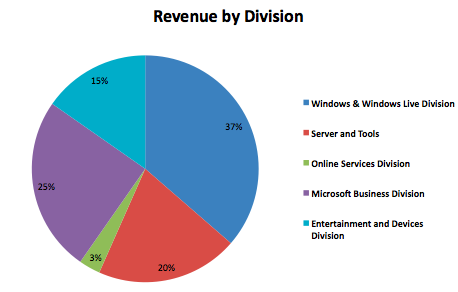 Windows and Windows live managed to grow at nearly 70% YoY based on the strength of Windows 7. The Server and Tools division was up over 2%, but all other divisions posted YoY losses in revenue.

Profit margins improved in all divisions except online, which continues to lose money, but the long-term trend is down.

Valuations

Microsoft's PE has also trended down over the last decade with profit margins. Right now, MSFT trades at less than 13 times next year's estimates.

Click to enlarge


Conclusion

So what happens now? MSFT is a company with declining margins and lots of new competitors vying to disrupt its dominance in operating systems and business productivity applications. The market isn't very optimistic in Microsoft's ability to turn things around, given the low multiple being put on the company. We would avoid the stock until the company clearly articulates a strategy to address macro trends to cloud computing and open source software that doesn't cannibalize its existing business.

Disclosure: Long GOOG and AAPL