In what has been a challenging year for many of the MLPs, Plains All American Pipeline (NYSE:PAA) has been a relatively strong performer with units rallying 10.5%. However, they are 17% below their 2013 high of $60, despite consistent distribution increases to $0.60 a quarter. With a 4.8% yield and solid distribution growth, I think PAA is an attractive buy at current levels.

Next year, PAA expects to grow its fee based business by upwards of 20% thanks to continued investment in its network (guidance here). As a consequence, I would expect a distribution hike in the 10-12% range, meaning a forward yield in excess of 5.2%. On Tuesday, we got a better idea of how the company will grow its business with major capital outlays announced.
Plains All American will spend $400-$500 million on four projects in the Permian Basin, one of the primary regions in the U.S. energy boom. These projects will add 890,000 barrels per day in capacity to PAA's system, which makes PAA one of the pre-eminent pipeline companies in the region (press release here). With continued production growth in the area, these expansion projects should add incremental cash flow for many years, starting in 2015 when they should be fully operational.
In 2014, PAA will spend upwards of $1.5 billion on expansionary projects, which will increase income-producing assets in excess of 11%. These expansions will furnish continued EBITDA and distribution growth, which will be very beneficial for units. Importantly, the company also has a strong balance sheet with which to fund growth projects. As of the last quarter, the company had a debt to equity ratio of 0.98 while most in the industry carry notably more debt than equity.
PAA's strong balance sheet gives management the flexibility to use debt rather than equity to fund expansion projects when units are cheap. When a company issues equity to fund expansions, distribution growth lags corporate growth as distributions have to be paid on new units. PAA could comfortably add $2-$3 billion in debt if management wanted to before having to raise money in the equity market. Its fortress balance sheet gives PAA the ability to expand very accretively or even make bolt-on acquisitions in the M&A market when pipelines are available at an attractive price.
In keeping with management's conservative balance sheet approach, Plains All American very conservatively manages its distribution. Many MLPs (especially downstream ones) have been criticized for paying beyond their means with coverage ratios that hover at or below 1x. Even Kinder Morgan Energy Partners (NYSE:KMP) sometimes fails to cover its distribution, though there are seasonal factors involved. PAA errs on the side of over-covering rather than over-paying when it comes its distribution. With an assumption of a 10% distribution increase, the company will still maintain a 1.12x coverage ratio in 2014.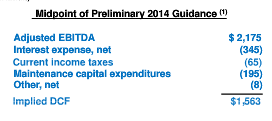 Essentially, PAA is planning to generate $167 million in cash more than it will pay out. There are several benefits to this. In a sense, existing unitholders are funding part of the expansion plans as the company won't have to issue as much debt and equity. Similarly, if the company performs up to 11% worse than expected, PAA can still easily maintain the planned payout, making the forward looking 5.2% yield very sustainable. Last, it negates some of the concerns MLP bears have about maintenance cap-ex accounting. Even if you wanted to challenge the company's maintenance cap-ex figure (which I see no reason to do), the company could be spending 80% more than reported to maintain the pipelines (rather than grow them) without impacting distributions sustainability.
The one negative of this coverage ratio is that investors could be paid more than they are. Investors are receiving lower distributions than if the company hugged a 1x coverage ratio. Plains All American runs itself very conservatively, and with that comes greater cash flow certainty and measured expansion plans but mildly lower distributions. While investors might clamor for more, they will be grateful PAA has a little cash to spare if there is ever a temporary downturn and PAA is maintaining its distribution while competitors are cutting theirs.
On the whole, I think PAA is an attractive buy at $50. While its 4.8% yield is lower than many other MLPs, I expect PAA to grow its distribution by 10-12% over the next three years thanks to planned expansions around the Permian Basin and elsewhere. Compared to other MLPs, PAA's trade-off is a slightly lower payout today for faster growing ones tomorrow. At the same time, investors can sleep well at night knowing that management is very disciplined and doesn't pay more than it can afford. Below $55, PAA is a very attractive long-term MLP investment.
Disclosure: I am long KMP. I wrote this article myself, and it expresses my own opinions. I am not receiving compensation for it (other than from Seeking Alpha). I have no business relationship with any company whose stock is mentioned in this article.