Growing IT and tech companies in Asia are ripe for investment and will continue to grow dramatically as the population of Asia increases its demand for multifunctional technology. Asia has made large gains in its position as a major engine of global economic growth, and Asian companies have become world-class developers in a variety of fields. In particular, IT services and technology.
Companies in Asia have grown dramatically in recent years. The changing trends in mobile devices and Internet services are expanding the IT services sector rapidly, and are in sync with the regions' stellar economic growth. From 2004 to 2009, the number of IT services companies rose from 211 to 279 companies.
One of the many reasons for such an exploding growth in this sector is globalization and outsourcing to Asian companies. Asian market demands are growing, and with the rapid trend in PC ownership and Internet penetration rates, they look like they will continue to make gains. According to the Economist Intelligence Unit (EIU), the estimated numbers of PC and Internet penetration per 100 people in Asia are at more than 30 per 100 currently, and expected to reach 36 per 100 people in 2016. China has an estimated 500 million people online at any given moment, which is a huge driving force behind the success of IT and technology companies in Asia. The sheer size of the population makes these types of products and services in great demand in this region.
Mobile saturation is also a driving aspect in the development of the IT services sector. The mobile subscription rate in Asia and Australia is expected to rise by more than 110% in 2016, according to the EIU. Some countries such as Malaysia, Singapore, and Vietnam have penetration rates above 100% as well and continue to show signs of steady growth. There are many great opportunities for app developers, gaming developers, and mobile service providers and suppliers -- even in the more remote areas, where there is still a high demand for mobile services.
(Click to enlarge images.)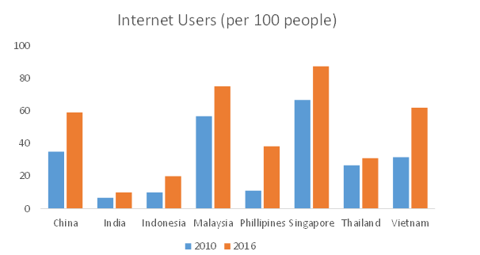 Source: ITU, EIU.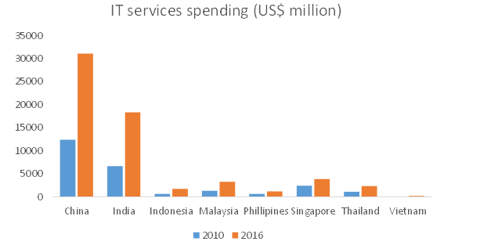 Source: IDC, EIU.
The first chart above shows that the number of Internet users in selected countries has increased dramatically since 2010 and is expected to increase until 2016. The second chart illustrates how spending trends have increased, with IT services and the expected growth until 2016. China and India are expected to spend more money on IT services in the future as the number of Internet users in India increases. The remaining countries are still expected to invest very little in IT services, despite the fact that the number of Internet users in Vietnam has increased dramatically.
Samsung (OTC:SSNLF) (BC94) is one of the biggest technology companies in the world, with a number of breakthrough products and a high standard of quality. Samsung is a conglomerate that runs 80 companies, which are extremely diverse. They include companies that construct oil tankers, manage apartment complexes, run hotels, and operate amusement parks, along with the more known companies that manufacture and sell consumer electronics. Therefore, it is reasonable that Samsung's stock price was listed at US$1,412 (KPW 1,500,000) as of this month. The price was down slightly from the July to September quarter; however, it increased again in November. The growth of Samsung can be attributed to the current trend and demand for the new smartphones and tablets they have issued. I believe the price will continue to be stable until the end of 2013, with an average price between US$1,459.78 and US$1,506.87 (from KPW 1,550,000 to KPW 1,600,000).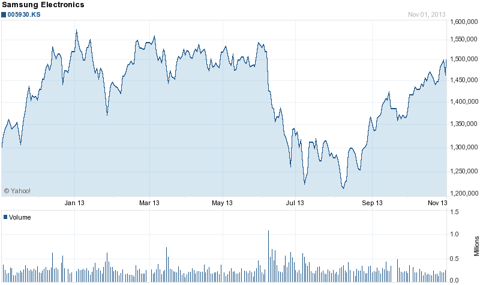 Source: Data from Yahoo Finance.
Tencent Holdings Ltd. (OTCPK:TCTZF) (0700.HK) is a Chinese company that is currently embarrassing big companies such as Facebook (NASDAQ:FB), Zynga (NASDAQ:ZNGA), and AOL (NYSE:AOL). This company owns QQ, which is the most popular social network in China. Their revenue is generated primarily from selling ad space and the sale of virtual goods and online games. The stock price of Tencent has recently reached a peak, but I suspect it will continue to stay in the US$45.1 to US$58 (from HKD 350 to HKD 450) range over the next quarter.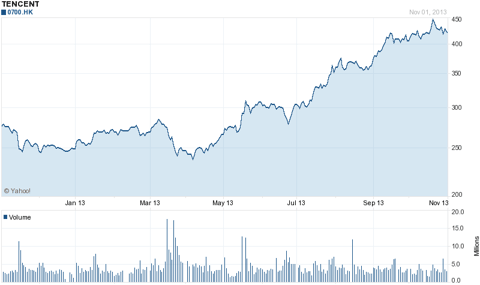 Source: Data from Yahoo Finance.
Baidu (NASDAQ:BIDU) is a Chinese company that has launched an Internet search engine. Baidu has beaten Google (NASDAQ:GOOG) in China and is now listed on the Nasdaq stock exchange. The stock price has gone up impressively since early 2013, and while they are still struggling to capture a mobile browser, I suspect that their stock will remain in the US$155 to US$170 range.
It seems apparent that the IT services sector in Asia is developing at a rapid rate, making it an ideal area for investment. The demand for multifunctional devices will only increase over time, and the potential for any of the companies I have listed are extraordinary. I expect to see a steady growth in this industry for the remainder of this year and for many more years to come.
Disclosure: I have no positions in any stocks mentioned, and no plans to initiate any positions within the next 72 hours. I wrote this article myself, and it expresses my own opinions. I am not receiving compensation for it (other than from Seeking Alpha). I have no business relationship with any company whose stock is mentioned in this article.