By David Russell
Options volume surged in Career Education (NASDAQ:CECO) yesterday as investors took bullish positions ahead of earnings and a presentation before investors and analysts.
In the largest transaction, about 2,500 April 25 calls were sold for $0.70 against open interest of 568 contracts. The trade came shortly after a spate of buying in the shares, suggesting the use of a so-called buy-write options strategy.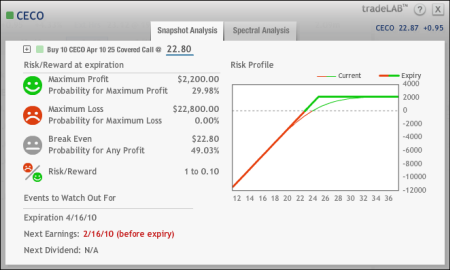 The transaction, also known as a covered call, generates income to reduce the cost of buying the shares. It's a low-risk strategy that would cap the investor's upside at $25. (See our Education section)
CECO rose 4.33 percent to $22.87 yesterday. The for-profit university operator reported better-than-expected earnings and revenue after the bell, pushing the shares up a further $0.25 in extended trading.
In another large trade, an investor purchased more than 2,000 February 24 calls for $0.25 to $0.30, wagering on a simple rally in the shares. Volume was almost four times open interest in the strike, and the stock must rally at least 7 percent from yesterday's close through the end of the week for the trades to earn a profit.
CECO, which has been range-bound between $20 and $26 for the past year, is also scheduled to hold an investor conference at 1 p.m. ET today.
Overall options volume was six times greater than average on Wednesday, with puts outnumbering calls by more than 2 to 1.
(Graphic courtesy of tradeMONSTER)