I once had a brilliant idea, born from a series of "what if's":
OK, this brilliant idea wasn't exactly my own. It was one I had shamelessly borrowed from someone far more brilliant, someone who went on to take that idea and turn it into an empire.
William O'Neil's Brilliant Idea
William O'Neil, founder of Investor's Business Daily and author of the bestselling book, How to Make Money In Stocks (McGraw-Hill: 1988), had this same idea about 30 years before I did. Prior to attaining his status as a successful money manager, market data mogul, and guru to millions of investing disciples, O'Neil conducted a landmark study that revolutionized the way many now invest their money. He lined up the 1,000 best performing stocks over the previous 100 years of market history and asked a very simple question: "What did these stocks have in common just prior to their historic runs higher?" O'Neil noted that the greatest stock market winners tend to possess the same seven technical and fundamental traits. He gave these traits the now famous mnemonic, CAN-SLIM.
By all standards, O'Neil's CAN-SLIM strategy has been wildly successful. The chart below, taken from the website of the American Association of Individual Investors (AAII), shows that CAN-SLIM can produce massive, alpha-rich returns:
Source: AAII.com.
My 500 Stock Experiment
Those interested in learning more about CAN-SLIM should read the latest edition of O'Neil's book. I can also recommend Chapter 9 in my forthcoming book, Market-Neutral Trading (McGraw-Hill), where I detail a market-neutral version of CAN-SLIM. Here I want to share with you lessons learned from my brilliant, albeit borrowed, idea.
I was not quite as ambitious as O'Neil. I limited myself to 500 stocks gleaned from five years of market data that had turned in the best one-month gain. I reasoned that if I could isolate a prevailing pattern prior to that explosive move and then systematize it, I would have nothing less than the greatest trading system ever invented!
To make a long story short (the aforementioned book has the full version in Chapter 2), I did in fact isolate a pattern that was evident in 159 of my 500 stock list just before they exploded in price. I built a simple scan based on this pattern, and over several days I put real money into 32 stocks that passed through its filters. On each position I put a 50% limit order to sell, a MOC sell order set to execute one month after entry, and an OCA conditional on both. Then I waited for the money to roll in.
My experiment, as you may have guessed, was a dismal failure. The problem was a simple flaw in logic. I had wrongly assumed that many of the charts showing the common pattern I had isolated would rise 50% in a month simply because many stocks that rise 50% in a month do so from that pattern. That is like saying, "Every time it rains, the grass gets wet; thus when the grass is wet, it has just rained." It is one of the most common "freshman" mistakes made in a college logic class, and in my haste to grab quick profits I had just made it.
Isolating the Winners of 2013
So why did O'Neil's research produce a winning system when mine didn't? We were both trying to define the common conditions that obtain for stocks just prior to making huge moves up in price. We had both succeeded in finding those conditions and in building scans based on them. But the key difference in our approaches was this: I wanted quick-turn gains while he was willing to wait for them. If you took those 32 stocks of mine and checked their charts one year later, you would have seen a very different story. Today, three years after my experiment, you will find a total return for the whole batch of 32 pegged at 93% (vs. 41.7% for the S&P), which includes several companies whose shares more than tripled in price. This return, which represents an average annual ROI of 24.5%, falls just short of the average annual ROI for the CAN-SLIM system according to a 15-year study conducted by the AAII.
Sometimes the best trades are the ones you put in your back pocket and forget for a while. It is, of course, possible to grab a fair share of quick-turn gains. I've been doing it publicly for over 11 years now. I've been blessed, despite my many faults as a trader, with some pretty decent results. But the greatest trades -- those that can change your whole standard of living in a few short months -- can only be had by sitting on your hands.
Admittedly, 2013 has been a very good year for stocks. In fact, if today were Dec. 31, 2013, it would prove to be the best year since 1997 for the S&P 500. But topping the list of strong returns are a number of stocks with truly heart-stopping one-year gains. Consider the following stocks currently priced over $10 per share, trading on a minimum of 100,000 shares per day, and sorted by their one-year performance (far right column). Congratulate yourself if you own any of them: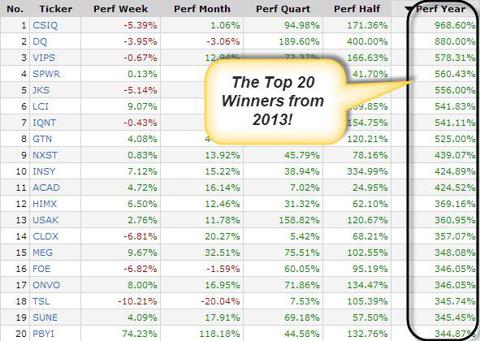 Source: Data courtesy of Finviz.com.
The Winning Trends of 2013
There are several interesting "thesis"-like investing trends that emerge from this list. These trends include, but are not limiited to, the following:
Trend #1: Solar Was Hot! One industry dominated the list with six companies in the top 20 -- the solar industry. Solar and solar-related stocks placed four companies in the top five. The #1 stock for 2013 as of this writing, Canadian Solar (NASDAQ:CSIQ), turned in a nearly four-digit, one-year return.
What triggered the run in solars? It seems to have been, at least in part, a piece of pending legislation. On April 24 of this year, a group of two senators and two congressmen introduced The Master Limited Partnership Parity Act (S.795). Oil, gas and coal companies are currently able to form tax-advantaged MLP's. They have been able to do so since 1987. The new law would now give the alternative energy companies the same tax benefits. According to Govtrack.gov, S.795 is still stuck in the Senate Finance Committee and has a less than 1% chance of becoming law. Still, the perception that the government is favorable toward the industry seems to have been enough to turn on the money flow. While there were certainly other factors at work -- including rumors of industry consolidation -- this potential shift in the tax code propelled the solars sharply higher following a multi-week period of consolidating earlier gains. The chart for CSIQ is representative of the group.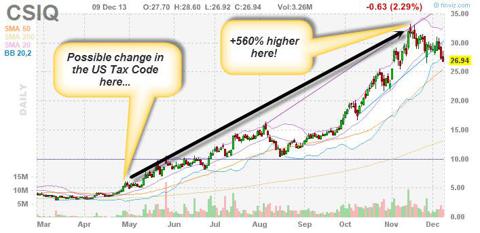 Source: Finviz.com.
Trend #2: Biotechnology Was Bubblicious! Biotechnology was the second-most represented sector on the list of 20. Biotech companies were probably the most closely watched industry group in 2013. Throughout the year, biotechs dominated the chat spaces and blogs, the IPO launches, and the M&A chatter. Biotech lovers had several good reasons to buy up shares: pipelines were active with Phase III trials, the FDA approval process was less sluggish than usual, and P/E ratios were trailing below historic peaks. The space was hard hit in October during the government shutdown and debt ceiling debacle. But a sharp three-day selloff that had a few wondering whether the bubble had burst quickly gave way to a late-stage rally that brought the Ishares Biotech ETF (NASDAQ:IBB) to new all-time highs.
The strongest biotechs on our list of 20 were #10, Insys Therapeutics (NASDAQ:INSY), with a one-year run of +425% and Acadia Pharmaceuticals, Inc. (NASDAQ:ACAD), which came in just a few basis points lower than INSY. Celldex Therapeutics (NASDAQ:CLDX) ranked #14 with a +357% return, and Puma Biotechnology, Inc. (NYSE:PBYI) just edged into the top 20 with a +345% performance, a fair bit of which came just last week on Phase II data news. If we include the two non-biotech companies in the healthcare sector that made the list -- drug developer Lannett Company, Inc. (LCI, #6) and medical research company Organovo Holdings, Inc. (ONVO, #17) -- we would have to say that 2013 was an excellent year to be a buyer of XLV, the Select Healthcare ETF (currently outperforming the S&P500 by 1000 basis points YTD).
There are at least three more noteworthy trends that can be observed in the top 20 stocks for 2013:
Three Lessons Learned From the Winners
As we look ahead to next year, then, what lessons can be learned from the greatest stocks of 2013? In good O'Neilian fashion, can we use the winning trends of 2013 to help us narrow the steps of our search for 2014's big winners? Perhaps, so long as we cling tightly to that often used disclaimer attached to all financial performance statements: That which worked in the past may not necessarily work again in the future.
As evidence of the need to be forewarned, consider the top 10 stocks of the S&P 500 for 2012. The list was dominated a year ago by homebuilders, banks and oil services companies. The average one-year return for the group was +108%, which is remarkable given that the S&P itself was only half as strong as it has been this year. Today, those same 10 companies are printing an average one-year return that can't even match the S&P 500 itself. Only one stock from the list has surpassed its 2012 returns -- Gilead Sciences (GILD, +105% vs. +73%). Several others are either showing returns in the single digits or are in the red (e.g., Lennar Homes, LEN) for 2013.
Buying last year's winners in the hope that they will also be this year's winners overlooks the wisdom gleaned from the study of key business and market cycles (e.g., see the work of James Stock and Mark Watson in 1993 and Victor Zarnowitz in 1992). Thus our analysis from here will focus, not on what the 20 companies have in common now, but rather what they had in common at the end of 2012 before they made their chart-dominating runs higher.
Lesson #1: Actual earnings don't matter much. Of the 20 companies on the list of the most successful stocks for 2013, only six had actual net EPS in 2012. The 2013 picture didn't improve much for our top 20: As of this writing, only five managed to grind out a positive EPS and, of those, only one company has a P/E ratio that shows a favorable valuation (NXST, 9.2), but it has to carry a debt/equity ratio of 89 (scary!) in order to maintain it.
To followers of O'Neil's CAN-SLIM system, this should come as no surprise. It is the growth of earnings, not the earnings themselves, that propels share price higher. O'Neil himself states of the famed P/E ratio that it has "little predictive value in spotting America's most successful companies" (How to Make Money in Stocks, 6th ed., McGraw-Hill, 2011).
The "C" of CAN-SLIM stands for "Current Accelerating Quarterly Earnings and Sales," and O'Neil wants to see big numbers in these categories. For minimum standards, O'Neil likes to see Q/Q sales growth above 20%, Q/Q EPS growth above 25%, and a three-year average EPS growth rate over 35%. With those numbers in mind, consider the following stats for a few of our top 20 stocks. Keep in mind that these numbers were reported before the stocks made their breakout moves:
In short, the lesson is this: Watch for sudden, positive shifts in EPS, sales and cash flow, even in stubbornly unprofitable companies, as signs of a potential longer-term turnaround story.
Lesson #2: Look for breakouts of low-level bases. O'Neil writes at length about the importance of buying high-level base breakouts, and for good reason. But sometimes the best price moves on a percentage basis are the breakouts, not of bases near 52-week highs, but those that print near 52-week lows. This is the case for every stock on our 2013 list of top performers. To a company, they all surged from long-term periods of flat price action, some not only near 2012 lows but also near all-time price lows.
The following six charts are representative of the group as a whole. One can see that low-level bases vary in terms of breadth and length; but once price clears the base to print new multi-month highs, the race is on.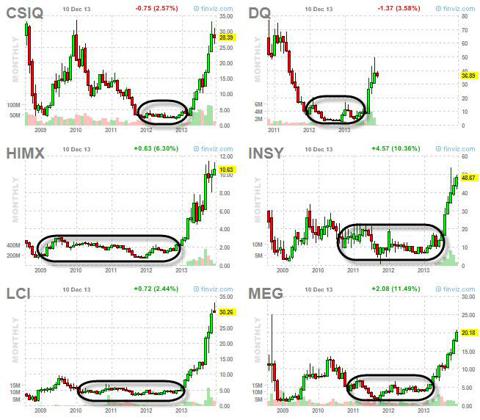 Source: Finviz.com.
Thus far our road map for 2014 looks this: We should be on the lookout for sudden positive shifts in earnings and sales growth in stocks that have been trading within a tight range over a significant period of time near their annual if not historic price lows. This brings us to our third and final lesson from the top winners of 2013.
Lesson #3: Pay attention to the news cycle. In nearly every case, our top 20 stocks began to really move higher once an identifiable event or series of events was announced that materially changed the public's perception of the company, or which demonstrated much stronger earnings potential than had previously been assumed to be the case.
We mentioned already the introduction of Senate Bill 795 as precipitous of the strong move in solar stocks during the second quarter of 2013 (see the charts of CSIQ and DQ above). Here are other news events that contributed to the strong returns seen in our top 20 stocks:
How to Find the Winners of 2014
From here our task is simple. To find the top performing stocks of 2014, we should be scanning for stocks that satisfy the following criteria:
1. They don't need to have actual earnings (forget P/E ratios for now), but they need to demonstrate recent and surprisingly strong quarterly growth in one or more of the following: earnings per share, sales revenue, and cash flow per share.
2. They should have been trading, up till now, in a tightly formed base. That base should be extended over several months following a sharp selloff from previous highs. The base should be situated at or near annual lows, and preferably near the all-time lows for the stock.
3. Within that base we should see both price and volume steadily rising until price closes above the base.
4. There should be some kind of hope-inducing, turnaround confirming, news event responsible for the breakout mentioned in step three above. The event should be one that constitutes a material change in the company's earnings potential going forward, as well as one that generates strong follow-up reportage that serves to bring the stock to the attention of retail investors.
This is no easy task, of course. Much work is needed to dig down beyond the charts, the headlines and the hype to weed out the flashy but unsustainable trading moves from the kind of constructive uptrends seen in our top 20 stocks for 2013. But it can be done. I'm presently working on my own list for 2014 -- I hope you are too.
Disclosure: I am long INSY, ONVO. I wrote this article myself, and it expresses my own opinions. I am not receiving compensation for it (other than from Seeking Alpha). I have no business relationship with any company whose stock is mentioned in this article.