In October 2012 Stephen Becker, for Drapkin Management purchased more than 2,000,000 shares of the Tuesday Morning Corporation stock at prices in the $3.76 to $5.97 range. Just 3½ years prior on March 6, 2009 TUES was traded for $.57 a share. Soon after his purchase Stephan joined and obtained control of the Tuesday Morning board. Stephan certainly caught a rising star because the stock price rose rapidly.
On August 23, 2013 Stephan sold 955,000 shares for $14.10 per share then proceeded to sell another 678,221 shares for $9.3 million, a total of $22.7 million.
In the past few years Tuesday Morning showed financial difficulties that still linger. During the reporting quarter ending June 30, 2013 they showed a loss before tax consequences of $63.4 million followed by the quarter ending Sept. 30, 2013, with a loss of $12.7 million. Although Tuesday Morning showed a cash balance of $13.2 million on September 30, 2012 its financial condition is encouraging in its freedom from long term debt. One wonders if the $13.2 million will be enough get them through the holiday season without attaching long term debt to its balance sheet.
Financial indicators are traditional measures of an organization's prospects. An important factor is evidence of retail effectiveness. This capability is the key element in evaluating Tuesday Morning's chance of regaining its past success.
Who is this retailer and why do we compare them to HomeGoods stores?
To best understand Tuesday Morning I compare its retail operations to HomeGoods stores owned by TJX Companies (NYSE:TJX). The similarity between these retailers is seen in their merchandise categories, an array of upscale, off-price decorative goods, including furniture, household linens and dinnerware, plus many other items used to beautify and make a home comfortable.
Tuesday Morning's atmosphere is uniquely unpretentious, and reminds one of John's Bargain Stores that existed in the 1960s.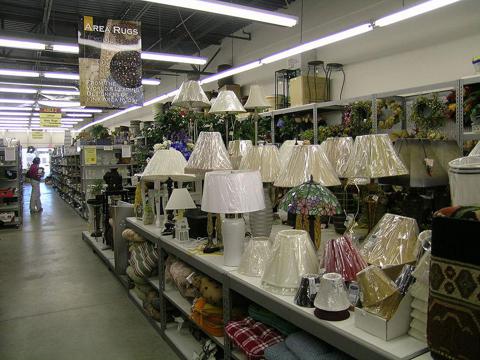 Today, there is no similar large organization.
The TJX stores include Marshalls and T.J. Maxx , which concentrate on soft goods. HomeGoods is the TJX specialty branch that sells decorative items used in the home.
HomeGoods operates stores that now exceed 25,000 sq. ft. in size. The stores are carefully appointed and display state of the art lighting, have an even distribution of merchandise, and, interspersed throughout their displays is an abundant assortment of extra discounted merchandise, which act as an inducement to draw customers into its stores. Price tags are easily read; merchandise is neatly displayed and pristine; and personnel are well trained. The fundamentals of retail promotion are strongly observed.
TJX is an especially well-run operation. Its organization has shown a steady and consistent growth pattern.
A Tuesday Morning store is about a third the size of a HomeGoods store. Its merchandise is placed, irregularly, on industrial shelving or is located in fiberboard display bins. Tuesday Morning stores are disorganized; merchandise poorly is displayed; packaging is tattered; and the stores are staffed by inexpert personnel
Tuesday Morning's prime merchandising technique is to offer a special 'Sale' period, usually on a Tuesday morning when it presents its latest merchandise acquisitions. At times it offers brand name merchandise at truly low prices. I have not seen any substantial change in Tuesday Morning's operating methods during the last 9 years, except for the installation of new cash registers.
Tuesday Morning appears to have a distinct pricing advantage over the HomeGoods stores because its capital investment cost is low, and store maintenance cost is kept to a minimum. It operates more than 800 stores compared to HomeGoods' 400.
Tuesday Morning experienced rapid growth since its origin in 1974. In 1984 it went public and in 1997 it reverted to private ownership. Two years later it again went public. Initially valued at $18 per share it fell to $5 in 2002, rose to $36 in 2005, fell to $.57 in 2009 then gradually rose to a high of $15.82 in 2013.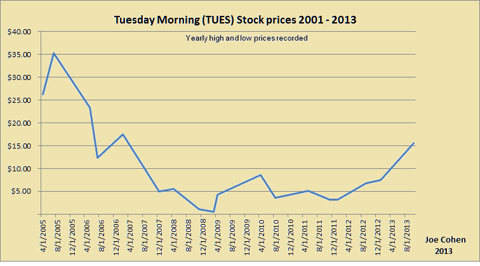 How do shopping experiences compare?
I am a long term observer of Tuesday Morning, since 2004 when in Poughkeepsie, New York, I operated a furniture store adjacent to its shop. Since that time I have visited one of its stores whenever I passed by. I habitually traded its stock and completed 286 transactions.
My view is not positive. A search through the internet will confirm my opinion.
On December 5, 2013 my wife and I traveled 24 miles from home to visit the Tuesday Morning store in Kingston, New York. I was not certain of the exact store location, but soon found it set in an older shopping center. My great surprise was that the store occupied the south-west corner of a furniture store that I occupied during the years of 1983 to 1993. My wife and I walked across the mall, and, as if by magic, there was a HomeGoods store.
As we entered the Tuesday Morning store my wife said, "We can buy a lot of things for our son," who had just moved to a new home. A young lady stood by the cash counter. She did not greet us nor did she attempt to pick up any of the many items, fallen on the sales floor. There was only one additional pair of customers within. Our shopping experience was not satisfactory, and reminded me of my experiences in the many other Tuesday Morning stores that I visited. Missing was the large amount of high profile, branded goods that I remember being prominently displayed. On the way out, I asked the young lady, still placed by the cash counter, where are all the bargains? She answered, "I have only been here a short time. We have not been getting much in lately."
A half hour later we crossed the mall and visited the HomeGoods store. The cash registers were serving a long line of customers. My wife mentioned, "Possibly we can buy a lamp our son." Immediately a man walked from behind us and said, "Let me show you where the lamps are located." He was the manager, and led us to the north-west corner and the lamp department. He told us that they had an unusually nice assortment of lamps because the Christmas inventory had just arrived. He was correct and we chose a lamp. The HomeGoods store was neat, clean, properly lit, unlike the Tuesday Morning store. The merchandise was well chosen and undamaged.
Earlier I had visited the Tuesday Morning web site. The site was fast, but it did not seem to offer merchandise that would attract crowds of people. I viewed 3 Barbie dolls flashing across my screen, a set of electronic drums and a hobby table, all items that have limited markets. The sales associate could not find the hobby table nor the Barbie doll but I did find one lone, unwrapped Barbie as I walked through the store.
I periodically receive a Tuesday Morning flyer. It is usually 2 pages, printed on low quality newsprint that presents a few items that would not draw me to its store. I had only made one purchase from Tuesday Morning since 2004, yet they persistently send me a flyer even though I am twenty four miles distant from them.
A little over a year ago Tuesday Morning discontinued its interactive web site and no longer allowed actual purchases on the Internet. I expected that the remnants of this Web site would still nicely present its stores. It does not. I, again, on Dec. 10th looked at their web site. It now displayed some pretty merchandise pictures that did not seem to represent exact items offered.
Is there hope?
I see this Christmas season as the critical turning point for Tuesday Morning. If sales and profits don't turn around I have little hope.
I can find no evidence of operational changes that would account for the large recent increase in its stock value, and don't find evidence that Tuesday Morning had implemented any changes in its operation except for the words of their new CEO, Michael Rouleau who said:
"Tuesday Morning is a treasure"
and that it (Tuesday Morning) has gone back to reclaim a policy of back to basics. He talks about strategies such as "Some (ideas) are just stolen from others, like putting all the clearance merchandise in the back of the store,"
Words are not enough to reverse falling sales and stabilize existing losses.
I see no evidence that Board member, Steven Becker, has enhanced operations.
The recent increase in stock value baffles me. Its prime beneficiary was Stephan Becker and his company. I doubt that I will ever understand why the stock value so rapidly increased nor do I understand why Credit Suisse has recently given Tuesday Morning an outperform rating .
Perhaps Credit Suisse's recent prediction that gave J.C. Penney JCP a target price of $15 was wrong. It closed today, Tuesday December 10th at $8.73
Disclosure: I have no positions in any stocks mentioned, and no plans to initiate any positions within the next 72 hours. I wrote this article myself, and it expresses my own opinions. I am not receiving compensation for it (other than from Seeking Alpha). I have no business relationship with any company whose stock is mentioned in this article.