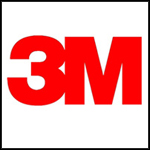 Industrial conglomerate 3M (NYSE:MMM), the maker of Post-It Notes and Scotch Tape, became the latest member of the Dow Jones Industrial Average to raise its dividend, announcing a 3% increase to its quarterly dividend. The new dividend will be 52.5 cents a share, payable on March 12 to shareholders of record on February 19.
Minnesota-based 3M has a dividend history that is really something to behold. The company was founded in 1902 and has paid a dividend for 374 consecutive quarters. Assuming 3M doesn't raise its dividend again this year, the company will have paid a dividend for roughly 75% of the quarters since its founding. Of course, we cannot forget that the new dividend represents the 52nd consecutive year in which the company has boosted its payout.
Over the past five years, 3M has returned $16 billion to shareholders in the form of dividends and share repurchases and we think the most recent increase would have been even higher had the economic climate not been so cold in 2009. 3M's new dividend yield will be around 2.6%. With 3M's dividend hike, this week has already seen two dividend increases from Dow members, after United Technologies (NYSE:UTX) announced a 10.4% dividend hike on Monday.
Disclosure: No positions