Fossil Inc. (NASDAQ:FOSL) sells a variety of lines of merchandise that reach from mid to high-end. There are reasons to be optimistic about this name, but how optimistic. Will it disappoint like other mid and low end retailers, or will it remain strong like the high end retailers? After all, it kind of crosses both lines.
Fossil offers watches under its own name as well as many others, including Diesel, Burberry, DKNY, Skagen, and Michael Kors (NYSE:KORS). They also offer handbags, jewelry, sunglasses, and gloves for men and women. Similar to the watch division, they make their own brand of accessories, as well as the other brands listed for the watches. The company also offers Fossil brand clothing for men and women and sells it online and at company owned stores in the USA and abroad.
Based on the companies that they make products for you can tell that they sell some high-end merchandise. High end sales have remained resilient, mainly because those retailers have not had to mark down merchandise to entice buying like the lower end has. This fact, combined with their growing exposure to international markets, should provide strength into the future.
Concerns
United States growth is still not robust for low-end products. As stated above, Fossil has a mix of products -- low end and high end -- although it leans to the high end. Despite that, the lower end products could affect quarterly numbers. The CEO had the following to say during last quarter's earnings call:
In the United States, traffic remains a headwind, and there are concerns about consumer confidence as we go into the holiday season. That can certainly impact our business and our near-term expectations.
The company also see the potential for markdowns at its stores, so the potential for holiday sales disappointments are present. What other concerns are there? Well, the company has increased debt -- $482 million this 3Q versus $185 million last 3Q. However, that coincides with an increase in cash -- $229 million this 3Q versus $143 million in prior 3Q -- so that makes it more palatable. Additionally, the costs of expanding into Asia make that money well spent due to the increasing Asian appetite for high end, high margin goods. So the concerns are relative.
Positives
The positives for this company are its growing exposure in Europe and Asia; its high end products; and its growing margins.
As noted above, retailers of high end products haven't seen the need to cut prices to get customers to buy, so this portion of Fossil's business is a strength going forward.
Another positive for the company is its margin growth. Gross margin increased 160 basis points in the third quarter. The company noted that the margin benefited from expansion into the international market along with offering more high margin products. Focusing more on its high end, high margin goods, will only continue to help its bottom line.
Then you have its growing exposure in Europe and Asia. One of its stronger brands in Europe is Skagen. That brand showed a 29% increase in sales for the quarter. As the CEO noted (about Skagen):
The brand continues to benefit from its integration into our global network, with stronger overall sales and margins and expanded distribution through new doors in Europe and Asia. Our goal is to strike the right balance between owned and licensed brands, and our entire global team is increasing their focus on SKAGEN.
The CEO also mentioned the company's headway into Asia. He specifically mentioned the new Hong Kong store:
As we continue our expansion into China, which, again, grew more than 50% in the quarter, we took another major step in building brand awareness in that country with the opening of our first FOSSIL flagship store in Hong Kong at Causeway Bay. We feel this high-traffic, important location in Hong Kong will introduce the FOSSIL brand to a new customer and give us access to millions of tourists in this heavily traveled pedestrian area that is a gateway to China.
The expansion into Asia also allows Fossil to focus even more on high end, high products.
I believe there is enough positives to keep revenues and EPS growing. The potential hiccup could come due to Christmas sales missing, but based on the non-official evidence that I have seen -- huge customer turnout ever at shopping place I've seen -- I don't foresee any major sales disappointments related to Christmas shopping.
Metrics
Fossil has a P/E of 19.1, and a forward P/E of 16.99. That is not low, but it is reasonable for a company expected to post annualized earnings growth of 14.33% over the next five years.
The company is quite profitable thanks to its higher margin, high end goods. You can see that in its margin and in its return on shareholder investments. Its return-on-equity of 32.8% and gross margins are 57%.
Its long term debt-to-equity ratio is a reasonable .46, so it can continue its share repurchase program and overseas expansion at its current pace.
All in all, Fossil is in good financial shape at a reasonable valuation.
[metrics from finviz.com]
Chart
Below is a weekly chart going back to the Summer of 2012. You can see a steady uptrend, just like the broader market. The price has stayed in this upward channel, and seems to have set its target on resistance above it at $136 and $140. However, I don't expect that it will break through these levels on the next try, so I will watch how it reacts to the upward trend line support below it.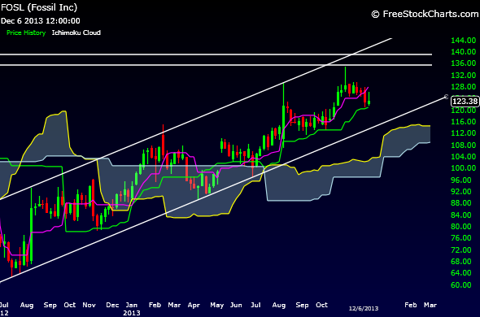 The Play
Despite the solid financials and reasonable valuation, I don't see a ton of upside in the near future. I would buy this if it breaks out above $140, but that could be weeks from now. I'm in a holding pattern on this one. However, if I already owned it, I wouldn't look to sell. In that case I may sell covered calls on it.
Disclaimer: We do not know your personal financial situation, so the information contained in this article represents an opinion, and should not be construed as personalized investment advice. Past performance is no guarantee of future results. Do your own research on individual issues.
Disclosure: I have no positions in any stocks mentioned, and no plans to initiate any positions within the next 72 hours. I wrote this article myself, and it expresses my own opinions. I am not receiving compensation for it (other than from Seeking Alpha). I have no business relationship with any company whose stock is mentioned in this article.