For thirteen years, brewing, transporting and consuming alcohol was illegal in the United States. The years between 1920 to 1933 are now identified as "prohibition". Naturally, the law had not stopped Americans from enjoying strong beverages. Prohibition just moved the process underground and away from law enforcements eyes.
The Twenty-first Amendment to the United States Constitution was ratified 80 years ago this month. With its passage, the end to the legal prohibition on alcoholic beverages was official. Today, in most any fair sized town, you may find a bar, tavern, hotel, or golf course serving up wine and spirits.
If you're seeking more than just a drink, you may be headed to a wine and spirits store. Finding your favorite brand of spirits on sale is always a pleasant surprise. Who doesn't want to see their preferred rum or vodka marked down several dollars? If you enjoy the libation, you may want to own the company behind it. Not a drinker? That doesn't mean you can't invest in a liquor maker if the value is right. With that idea in mind, let's see if we can find any bargains in the liquor industry.
Diageo Is a Big Distiller And Is Hard To Miss
You won't get far without seeing a Diageo PLC (NYSE:DEO) product. It makes Johnnie Walker, Crown Royal, Tanqueray, Captain Morgan, Smirnoff, and various other liquors along with Guinness & Red Stripe beer. DEO is the brewer of the number one or two best selling products in many liquor categories. With all those brands under their belt, it's not hard to see how Diageo has a market cap of $86 billion. If the liquor industry had a Coca-Cola (NYSE:KO), DEO would be it.
Currently, DEO has an earnings per share of $6.34 giving us an earnings yield of 5.07%. Compare that to the 10 year treasury paying you 2.75% for minimal risk. Of those earnings, you're receiving a 3% dividend.
DEO has grown its dividend every year since 2009, though there are two quirks to that dividend payment. First, Diageo is based in the UK and it trades as an American Depositary Receipt or ADR. You will be paid in US Dollars, however, currency conversations between the British Pound and the US Dollar could affect your payment amount and yield. Second, akin to many other ADRs, it only pays a semiannual dividend, not the quarterly payout as many American investors are accustomed to.
The emerging markets is where Diageo has been placing their chips. Its largest bet to date has been on India, where it has acquired just over 25% of United Spirits, the sub continent's largest liquor company. So far, the plan has paid off with growth in sales and operating profits. The hope is that a growing middle and upper class in the emerging world will develop a taste for premium liquors.
With the biggest dividend and largest presence among the competition, does DEO belong in your portfolio? Looking at Fast Graphs, it may be more suited for your liquor cabinet. Shares have run ahead of earnings for the last two years. A current PE ratio of 19.8 is outpacing its historic PE of 16. Given the mild overvaluation, I'm keeping it on my watch list.
Diageo 10 Year Fast Graphs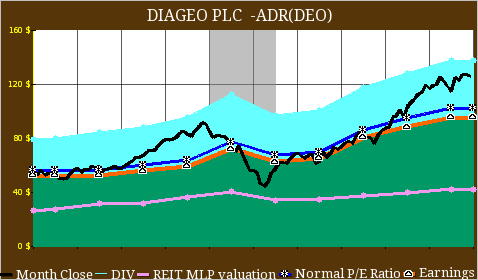 Paying a visit to gentleman Jack
If the emerging markets aren't your tastes, you still have options. Jack Daniel's is the best selling and widest known American made whiskey throughout the world. It was first brewed by its namesake around the year 1875 in Lynchburg, Tennessee. Today its home distillery is recognized on the U.S. National Register of Historic Places. If you are ever down that way, I'd highly recommend a visit to see it.
This iconic American brand is part of the Brown-Forman Corporation (NYSE:BF.A) (NYSE:BF.B). (Lesser trading A shares carry voting rights, while B shares do not.) Along with Jack, BF.B also distills Southern Comfort, Finlandia Vodka, Early Times, and Korbel champagne, among other spirits.
While not anywhere the size of DEO, Brown still has a market cap of almost $16 billion dollars. The dividend yield is smaller by almost half at 1.6% Notably smaller yet is its earnings yield of just 3.66%. Brown has a very small margin of safety compared to the to the 10 year treasury of 2.75%. That earnings level puts it at a PE ratio over 27, well outpacing its 10 year historic level of 21.
Brown Foreman 10 year Fast Graphs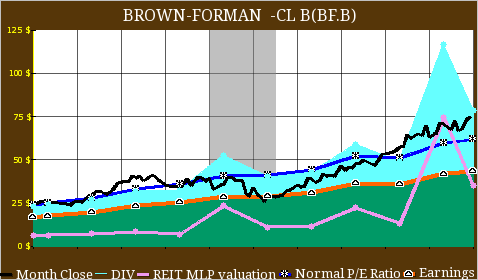 Investors may have already sensed that BF.B has run too high for its own good. Its last quarterly earnings (Q3 2013) of $0.96 per share was 20% higher compared to last year. It also beat the analyst consensus EPS forecast of $0.92. News of the earnings beat did raise share prices but not by much.
My feeling was that DEO was a little overvalued. Comparing Brown to DEO, the former looks way too pricey compared to its earnings to consider it at this time. Despite that, I made an investment into Brown. I acquired a single share of it, to obtain its lovely stock certificate. Right now, that's the only share I plan on holding. Brown hasn't offered any reason why its stock price should trade at this level compared to earnings.
If not Jack, maybe Jim?
Bourbon whisky has been making a big splash, and Beam, Inc. (NYSE:BEAM) is here to fill the demand and glasses. The makers of Jim Beam, Makers Mark, and Knob Creek bourbons have rode high on consumer demand lately. They brew more than bourbon, including brands Courvoisier, Canadian Club, Pinnacle, Hornitos, and others in their lineup.
You may remember Beam as Fortune Brands, Inc. before it split apart in 2011. Fortune sold spirits along with golf gear, house wares, and other consumer products. Those days are long gone, as BEAM was formed to focus solely on its beverage line and is a pure play on liquor now. Let's take a look at how that has worked out so far.
Beam Inc. 10 Year Fast Graphs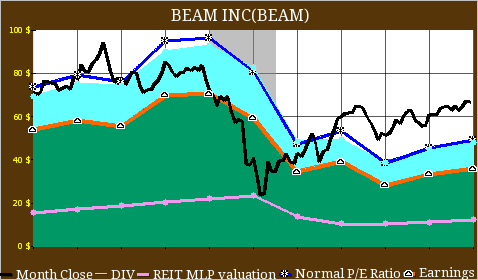 The Fast Graphs may be in question. I cannot say if it considers just BEAM itself or as part of the larger Fortune Brands over the previous 10 years. What is not in doubt is that BEAM has a PE Ratio of over 28 with a dividend yield of just 1.3%, giving it a higher PE and smaller yield then both DEO and BF.B. Those numbers alone make me wary of buying a distiller without a major catalyst.
Since becoming independent in 2011, talk has centered on BEAM being acquired. Naturally, much larger Diageo was considered the prime acquirer. This notion may have kept the stock price artificially high during this period. That doesn't appear to be in the cards at this time, however. Recently, Reuters reported Diageo's CEO Ivan Menezes was quoted as saying, "We don't need to buy", when asked to address rumors that it may purchase smaller rival BEAM. In this case, I agree, no need to buy right now.
Is it in the stars?
Constellation Brands, Inc. (NYSE:STZ) is often lumped in with the liquor companies. Its spirits brands are quite limited as its more focused on the wine industry, touting brands such as Robert Mondavi, Arbor Mist, Rex Goliath, and others. The company name is fitting, as in 2013 STZ share price has been shooting for the stars. Its shares have soared 98% year to date.
Constellation Brands 10 Year Fast Graphs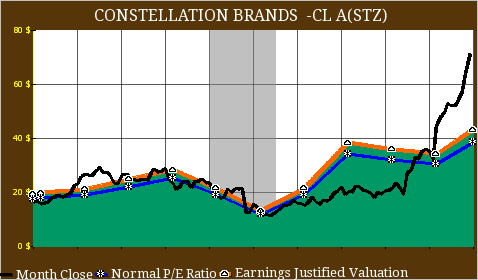 With a PE of over 25, that is almost double that of its 10 year average of 13.4. Unlike the other companies mentioned, there is no dividend being paid by STZ. What has powered this wine maker's run this year has been a major acquisition from Anheuser-Bush InBev.
For $4.75 billion dollars, they received the U.S. rights to six popular imported beers, including Mexican giant Corona Extra. The acquisition has raised both sales and profits, but it has also significantly raised debt levels. Long term debt now stands at $7.32 billion dollars, with under $121 million in cash.
STZ could move higher yet if it keeps showing growth in sales and earnings. Having missed the major run in shares, you may be dipping a glass into the bottom of the barrel, hoping you can still partially fill your glass. Constellation's wines will likely be on my holiday dinner table, yet at these lofty levels, it won't be appearing in my portfolio.
Conclusions
After reviewing the options, only DEO seems worthy of being on the watch list at this time. The other names in the spirits sector are simply too overvalued to consider at this time. I am a stockholder of Diageo, and would consider adding to my position on a pullback or correction. You're getting a decent dividend yield and the potential to tap lucrative overseas markets and still have a strong US and European consumer base.
As for my tiny investment in Brown Foreman, I still think it's a lovely stock certificate. I'd recommend it adorning any home bar or office when framed neatly. After all, some assets were made not to appreciate but to be appreciated. Who says paper can't be enjoyed just the same as a fine whiskey?
Brown Foreman Stock Certificate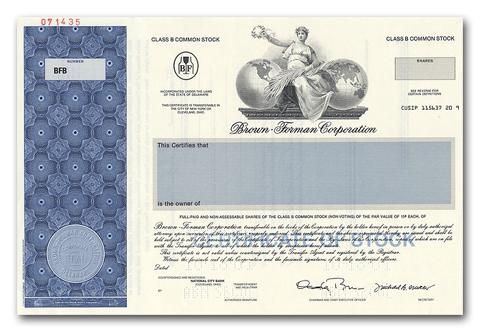 Sources: Yahoo Finance, F.A.S.T. Graphs, Wall Street Journal, Chicago Tribune, and Reuters
Disclosure: I am long DEO, BF.B. I wrote this article myself, and it expresses my own opinions. I am not receiving compensation for it (other than from Seeking Alpha). I have no business relationship with any company whose stock is mentioned in this article.