Telefonica SA (NYSE:TEF), is continuously shedding its debt. At the end of September, its debt reached about $62.73 billion and the company achieved its target of cutting its debt below $64 billion by the end of this year. To reduce its debt further, the company sold its 65.9% stake of its Czech unit to PPF Group.
The Spanish economy is showing signs of recovery, which is a good sign for the country's telecom operators like Telefonica and Vodafone (NASDAQ:VOD). Telefonica and Vodafone are market leaders in Spain, but their market shares have gone down due to loss of subscribers during the recession. Currently Telefonica's market share is 34.1% in comparison to 37.3% in 2012. Similarly, in the last one year, Vodafone's market share decreased to 25% from 27.6%. Improvement in the economy should help these companies regain customers. In Spain, about 26% of the population was unemployed, which is why consumers were switching their connections to smaller operators that generally offers discounted deals.
Telefonica's product, "Movistar Fusion," which is a package of landline, mobile telephone, fixed and mobile broadband connection, and TV service on the same bill, received 2.5 million customers in one year, completed in October this year.
| | |
| --- | --- |
| Quarter | % of new customers and up selling Movistar Fusion |
| Q4'12 | |
| Q1'13 | 47% |
| Q2'13 | 56% |
| Q3'13 | |
Additionally, existing customers who are switching to higher tariff plans are also increasing. Movistar Fusion has shown good momentum in its first year. It has been a driving force in Telefonica's 50.2% OIBDA margin. With this upward trend, we can expect this product will continue to experience an increasing adoption rate in the coming quarters.
Telefonica is also focusing on Spain's 4G market, which is in its nascent stage. At present, 4G penetration in the country is just 3%. Only the UK with 7% and France with 4% have higher 4G penetration than Spain in Europe. By 2015, 4G penetration in Europe is expected to reach to 11% and a similar trend can be expected from Spain.
To capture this market, Telefonica has already deployed its 4G network covering around 20% of the country's population, and plans to extend it to around 50% of the population. Telefonica is the fourth company to launch 4G in Spain. Before Telefonica, Vodafone, Orange (NYSE:ORAN), and Yoigo have already deployed their 4G network.
Vodafone, being the first to launch a 4G network in Spain, received the first mover advantage and has grabbed 86% share of this market. At present, it has covered 15 Spanish cities and has plans to expand its market. Telefonica's 34% market share and increasing 4G penetration will help it increase its customer base and catch up with Vodafone.
Brazilian Dilemma: What to choose?
The Brazilian antitrust authority has ruled against Telefonica; it has to choose one of two options-- either it can keep a majority stake in Brazil's largest operator Vivo or reduce its stake in Telco, which is the holding company of Telecom Italia (NYSE:TI). Telecom Italia owns 67% stake in TIM Brasil, which is the second largest operator in the country. The authority has also imposed a fine of $6.5 million on Telefonica for increasing its stake in Telco from 46% to 66%.
Scenario 1:- If Telefonica reduces its majority stake from Vivo
Telefonica acquired full ownership of Vivo in 2010. Before that, its stake was only 50%. At present, Brazil is its second largest market with respect to EBITDA, and it has maximum market share. Therefore, the company may not want to sell its stake. Moreover, Telefonica increased its stake in Telco, to increase Vivo's market share, as TIM Brasil is giving stiff competition to the company.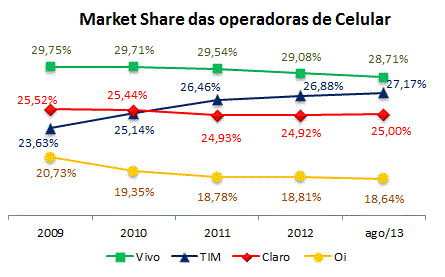 Scenario 2:- If Telefonica reduces its Telco stake
If the company chooses this option, its control over Telecom Italia will reduce, and it may not be able to persuade it to sell its TIM Brasil stake. This will not change much from the current situation, and its market share will not change. Also, Telefonica can use the proceeds to cut its own debt. It is trying to improve Telecom Italia's financial condition, and it already had plans to inject $2.70 billion in it.
Chances of Telecom Italia selling its TIM Brasil stake
The company can solve this issue through the break-up of TIM Brasil among Telefonica Brasil and the other two rivals, America Movil (NYSE:AMX) and Oi SA (NYSE:OIBR). For this, Telefonica has to persuade Telecom Italia, which is reluctant to sell its stake despite its debt of $38 billion. Telecom Italia has to reduce its debt by at least $3 billion this year, and in the longer-term, it must raise about $9.9 billion to prevent its credit rating from being downgraded to junk. The market capitalization of TIM Brasil is $11.9 billion. Therefore, by selling its 67% stake, Telecom Italia can generate about $8 billion, but the company doesn't want to sell since 20% of its EBITDA is contributed by TIM Brasil.
Telecom Italia is looking for other options to reduce this debt before choosing TIM Brasil's sale. In November this year, Telecom Italia's CEO announced to sell wireless towers, one broadcasting unit, and some other assets. The company has also agreed to sell its Argentina business for $960 million. The projected proceeds from these sales are $5.4 billion. With this amount, the company can delay TIM Brasil's sale for the time being.
Conclusion
TIM Brasil's breakup will increase Telefonica Brazil's market share, which is already a leader in the country. However, there is a dilemma around the deal due to the Brazilian antitrust authority's ruling, and it isn't clear what step the company will take, and the deadline for its compliance is also undisclosed. Until further developments occur with this deal, I recommend investors not take any new investment position in this stock, and continue holding their position.
Disclosure: I have no positions in any stocks mentioned, and no plans to initiate any positions within the next 72 hours. I wrote this article myself, and it expresses my own opinions. I am not receiving compensation for it (other than from Seeking Alpha). I have no business relationship with any company whose stock is mentioned in this article.