Linn Energy (LINE) is a US oil and natural gas MLP. Linn Energy and Linn Co (LNCO) have been trying to complete a merger with Berry Petroleum Co. (BRY) since the beginning of 2013. All SEC hurdles have now been cleared. Meanwhile LINE has improved its overall position through organic growth, sales, and strategic acquisitions. In Q3 2013 LINE had a much more positive earnings report than in sequentially previous quarters in 2013. The Q3 2013 result was also much better than the year ago quarter in 2012.
LINE production was up 5% year over year to 823 MMcfe/d in Q3 2013 from 782 MMcfe/d in Q3 2012. LINE guided for production of 850 MMcfe/d for Q4; and it reaffirmed that guidance on December 3, 2013 with guidance for 840 MMcfe/d to 860 MMcfe/d for Q4 2013. This included the impact from recent severe weather in the Permian and the Mid-Continent operating regions. As importantly LINE guided for distributable income to be 5%-10% above the company's current distribution. Prior guidance had been for distributable income to be 0% above the company's distribution. This last is significant because LINE's distribution coverage ratio was below 0.9x in both 1H 2013 quarters. Both of the above estimates are without the benefit of any positive impact from the completion of the Berry Petroleum merger. Further LINE noted on December 3, 2013 that NGLs prices have continued to increase in Q4 2013. This is another big positive as NGLs are hard to hedge.
With LINE results improving. LINE and LNCO do not have to complete the Berry Petroleum merger to be successful companies. The question then becomes whether or not unitholders and shareholders of LINE, LNCO, and BRY should vote to approve the merger. Much of this vote is probably over already, but some are likely still waiting for the December 16, 2013 unitholder and shareholder meeting to vote (or even to decide). In regard to this, LINE announced that Institutional Shareholder Services ("ISS"), a leading independent proxy voting and corporate governance advisory firm, recommends that unitholders and shareholders vote "FOR" all proposals.
BRY's results improved over the same period. For Q3 BRY reported net earnings of $28 million (or $0.50 per diluted share). Adjusted net earnings were $53 million (or $0.95 per diluted share). Oil and natural gas revenues were $306 million in Q3 2013; and discretionary cash flow was $173 million, with net cash provided by operating activities of $173 million. Operating margin was $51.45 per Boe. Total production was 41,413 Boe/d. This was up 14% year over year. Oil production alone was 32,997 Bopd (nearly 80% of total production). This was up 20% year over year. This level of growth far exceeded LINE's growth over the same period. Plus BRY's production growth was much oilier growth. Further BRY raised its 2013 average production forecast in its Q3 2013 report from 38,000 to 40,000 Boe/d to 40,500 to 40,800 Boe/d.
Originally the merger deal specified 1.25 LNCO shares for every share of BRY. However, quite a long time has elapsed between the date the original deal was struck and the present; and the merger was not done before the back out date, October 31, 2013. Therefore any of the parties BRY, LINE, and/or LNCO could back out of the deal.
In February 2013 when the deal was originally struck, LNCO stock fluctuated between $36.66 per share and $40.10 per share (with a midpoint of $38.38). LNCO stock closed at $33.21 per share on October 31, 2013. In February 2013 BRY stock popped up from about $40.50 to about $47 per share on the offer. On October 31, 2013 it was $47.75. In other words the former agreement was negotiated based on an approximate $38.38 price for LNCO and an approximate $40.50 price for BRY. 1.25x represented an about 18.46% premium to its stock price. The same premium using the October 31, 2013 stock price would yield a BRY buyout price of $56.56. This would be a 1.70x multiple of the LNCO price on October 31, 2013. Actual negotiations to address all of the above changes decided on a 1.68x multiple of LNCO's stock price On November 1, 2013.
This 1.68x multiple of LNCO's stock price was an approximate 14% premium to BRY's stock price on November 1, 2013. It was approximately a 24% premium to BRY's 30-day average price immediately on November 1, 2013. On the surface this seems fair enough. BRY has had demonstrably better earnings results than LINE between the February 2013 original agreement and the end of October 2013. LNCO shareholders are definitely getting less of a deal than they would have; but the deal still does appear to be fair in normal buyout negotiation terms. The revised price for BRY amounts to approximately $55.79 per BRY share as of November 1, 2013.
All told LINE/LNCO is paying approximately $4.9B for BRY, including assumed debt. Using the 2012E proved reserves figure for BRY of 276 MMboe, this means LINE is paying about $17.75 per BRY 2012E proved Boe. About 80% is oil though, which is very good for LINE/LNCO's current cash flow. Further the 20% year over year production increase by BRY in Q3 2013 seems likely to have added to BRY's proved reserves. I haven't found this figure. However, a guesstimate of 10%+ seems appropriate. This would yield about 304 MMboe of proved reserves. This in turn would yield a figure of $16.12 per proved reserves barrel of oil, which makes the deal look a little better to LINE.
BRY also has approximately 630 MMboe of probable and possible reserves. Given BRY's performance over the last year, these too are likely very good reserves. If you give BRY credit for just one half of these as proved reserves, you get a total of 304 + 630/2 = 619 MMboe of relatively proved reserves being bought. Using this figure, the cost per Boe is just $7.92 per Boe; and these Boe's are approximately 80% oil. This seems like a much better deal for LINE/LNCO in this light.
Does this mean it is a bad deal for BRY? I don't think so. BRY shareholders get the approximate 14% premium to the current share price; and really the BRY stock price is already higher than it would be without the buyout offer. The real premium may be closer to 20%. On top of this BRY shareholders will get a huge bump in their dividend payout. The chart below shows the distribution/dividend comparison of LINE and BRY since 2006.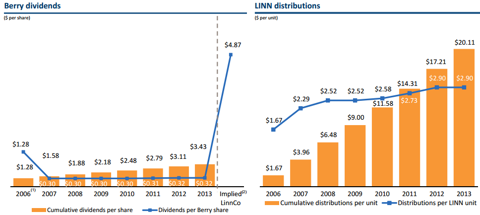 Any sane person would greatly prefer LINE's distribution payouts and payout growth to BRY's dividends and dividend growth. There really is no comparison. From LINE's IPO in 2006, LINE has distributed a total of $20.11 per unit in distributions, while BRY has distributed only $3.43 in dividends. All BRY shareholders should be delighted with the expected increase in their dividends and in their dividend growth rate. On top of this BRY shareholders will not actually lose their BRY assets. All BRY assets will become part of LINE/LNCO; and former BRY shareholders will own a big part of the company.
Some people worry about the dilution effect on LINE shares. This is a legitimate worry. Currently there are 235.18 million LINE shares outstanding. LNCO shares don't count because they are essentially pass through vehicles for LINE shares to pay regular dividends(ownership of one LNCO share indicates ownership of one LINE share). There are 54.48 million BRY shares outstanding. This merger deal would create 1.68 * 54.48 million new shares -- about 91.5 million new units of LINE. The new shares would amount to about 28% of total LINE shares. The 2012E 276 MMboe of proved reserves that LINE is getting for its units would amount to only about 24.9% of total proved reserves. However, if you use my previous guesstimate of actual BRY proved reserves through Q3 2013 of 304 MMboe you get a figure of 26.8%, which is very close to the dilution factor. When you factor in the quality of BRY reserves (80% oil), the comparison may be far better. When you factor in BRY's 2013 growth rate (and the ease of its growth), the deal looks even better for LINE.
In sum, ISS appears to be correct that this is a good deal for all parties. On the deal LINE is a buy. It will have gotten a large amount of very oily assets relatively cheaply. These assets will help it grow organically for many years to come. Plus LINE's own natural gas assets are likely to become more profitable over the next several years as US natural gas liquefaction plants -- LNG (liquefied natural gas) export plants -- go into operation beginning in late 2015 or early 2016. LINE's hedging strategy is also attractive to income investors, who seek safety when they ponder whether or not the bull market is about to turn into a bear market after about 4.5 years of bullish behavior.
The two year chart of LINE provides some technical direction to this trade.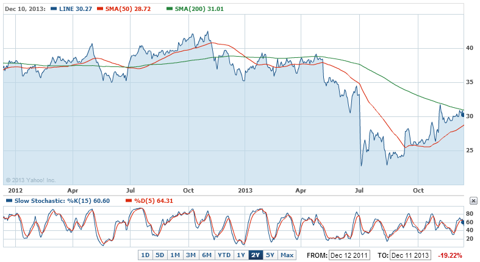 The slow stochastic sub chart shows that LINE is close to overbought levels. The main chart shows that LINE started an uptrend in mid-August 2013. This uptrend appears to be quite strong. The pending deal should go through. It looks like a good one for all concerned. The deal should help LINE continue its uptrend.
The only worry then is the overall market. Given that we may be in the late stages of a bull market, investors may wish to average in if they are considering buying LINE. Speculators may wish to buy BRY now to get the 14% premium. Of course, there will always be the chance LINE will fall on the announced merger; but if you are considering buying LINE, this may be a cheaper way to do it. Remember the December 16, 2013 deadline.
NOTE: Some of the above fundamental financial information is from Yahoo Finance.
Good Luck Trading.
Disclosure: I have no positions in any stocks mentioned, but may initiate a long position in BRY, LINE over the next 72 hours. I wrote this article myself, and it expresses my own opinions. I am not receiving compensation for it (other than from Seeking Alpha). I have no business relationship with any company whose stock is mentioned in this article.