On December 20, 2013 BlackBerry (BBRY) will report results for the quarter ended November 30, 2013. No one cares. Maybe no one should care.
Blackberry's last quarter was an absolute bloodbath with revenues falling to $1.6 billion and a $1 billion loss arising in large part from the write down of BB10 devices inventories and a change to accounting policy to recognize sales only when devices were sold to end users rather than shipped to the trade.
Since that time, a lot has happened. The Fairfax Financial led "buyout" idea fell through; Thorsten Heins was shown the door at great expense; and, BlackBerry issued $1 billion of convertible debt to shore up its balance sheet.
Along the way, BlackBerry finally executed the much ballyhooed cross-platform launch of its BBM messaging service and followed that by launching BBM channels. Early indications are positive, with over 20 million new users signing up in the first week following the release.
That growth should continue with a host of Android smart phone suppliers deciding to pre-install BBM on their phones beginning this month in Africa, India, Indonesia, Latin America and the Middle East. Over time, BlackBerry may find ways to monetize this user base. BBM Voice and Video make the messaging service rich and useful offering the potential to challenge Skype, WhatsApp and Kik for ease of use with the added benefit of BlackBerry's high degree of security. BBM Voice and Video are coming to Android and iOS in the near future according to reports.
BlackBerry also launched its "phablet" Z30 with very high end specifications. I have yet to see one in the wild but I do see them advertised here in Canada now and then. I would buy one if I could get an unlocked one but it seems what Z30's there are continue to be supplied by the Canadian carriers who have the abhorrent practice of locking them to their network.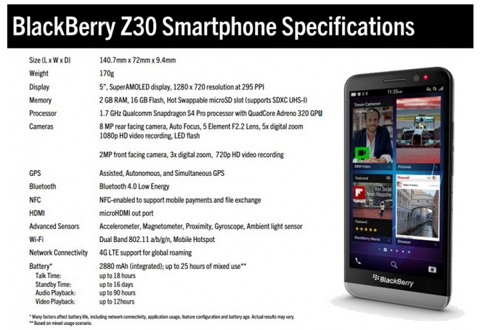 While customers may have lined up overnight to avoid buying a BlackBerry device, enterprise customers seemed content to test and some to deploy the BlackBerry BES 10.1 mobile device management software the company introduced earlier in the year. On December 4, 2013, BlackBerry upgraded the software with the release of BES 10.2.
Some 30,000 customers are now using or testing the BlackBerry Enterprise Service which provides support for iOS, Android and BlackBerry devices.
The BlackBerry Enterprise Service recently became available on the U.K. government's hosted G-Cloud program.
What does it all mean to investors?
First, it means that the death of BlackBerry is greatly exaggerated.
With another $1 billion added to the treasury and the sting of the write down of BB10 inventory behind it, BlackBerry can trim its expenses and focus its resources on areas where it has a chance to succeed. Those areas probably exclude the handset market, unless BlackBerry decides to opt for the Android OS and join the numerous suppliers who seem to enter the market on an almost daily basis in Asia. I don't see any evidence of this happening, but I do believe that any emphasis BlackBerry puts on handsets going forward will be very muted.
For the November quarter, I think investors will be surprised by how non-dramatic the results will be.
I think BlackBerry will sell over 5 million phones in the quarter and enjoy reasonable margins having written down their costs substantially. The result should be a quarter close to break even.
Blackberry November 30, 2013 Sales and Profit Estimate

 

Units (millions)

ASP - $

 

Product

 
 
 

Z10

0.75

$ 300.00

$ 225

Q10

1.1

$ 350.00

$ 385

Q5

1.4

$ 275.00

$ 385

Z30

0.8

$ 500.00

$ 400

BB7

1.5

$ 200.00

$ 300

Playbook

nil

$ -

$ -

Software & Services

 
 

$ 770

TOTAL REVENUE

 
 

$ 2,465

Margin - %

 
 

37%

Margin - $

 
 

$ 912

R&D

 
 

$ 325

Amortization

 
 

$ 160

G&A

 
 

$ 475

EBIT

 
 

-$ 48

Tax

 
 

-$ 14

NET INCOME

 
 

-$ 34

E.P.S.

 
 

-$ 0.06
More interesting than the financial data (which hopefully will show some stabilization), the earnings call might give us an idea where John Chen wants to take the company. Trading at a 52-week low below $6.00 a share and with a market capitalization of about $3 billion, today's BlackBerry is a speculative stock in either direction. If Chen can turn the company around, the bulls will be rewarded. If not, the downward spiral will grind on until there is nothing left.
I can't call which way it will go. I own calls on the stock, a legacy of a bad investment made earlier, but I am neutral about its prospects. I use BBM daily and still use my old BlackBerry Bold 990 which is a really fine device, even if outdated, and as a long time admirer of the company I would enjoy reading about a comeback. But would I bet money it? Not this lad.
Disclosure: I am long BBRY. I wrote this article myself, and it expresses my own opinions. I am not receiving compensation for it (other than from Seeking Alpha). I have no business relationship with any company whose stock is mentioned in this article.
Additional disclosure: I am long BBRY calls, but they are a legacy of a bad investment decision and do not reflect a bullish call on the stock