Mention orphan drugs and the image that comes to most people's mind is a $350,000 per year enzyme replacement therapy for some universally fatal genetic disorder. On the contrary, the orphan drug landscape is remarkably diverse, encompassing drugs for disorders as wide-ranging as cancer, viral, bacterial and fungal infections, exposure to radioactive and other noxious chemicals, snakebites and multiple sclerosis.
In this article, we provide a brief overview of the provisions of the Orphan Drug Act of 1983, its impact on new drug development, and its implications for investors using data from the Sagient Research Systems BioMedTracker database. A more comprehensive version of the report is available from Sagient.
The Orphan Drug Landscape - Diverse Indications, With Varying Developmental Difficulty and Revenue Opportunities
Figure 1 shows the qualitative spectrum of orphan diseases, as grouped by disease duration and druggability, with approximate prevalence values for each disease given by the area of the circles. The Y axis is a composite representation of disease etiology and treatment paradigms, disorders for which drug targets are clear, including diseases known to be caused by mutations in particular genes and proteins, are ranked higher.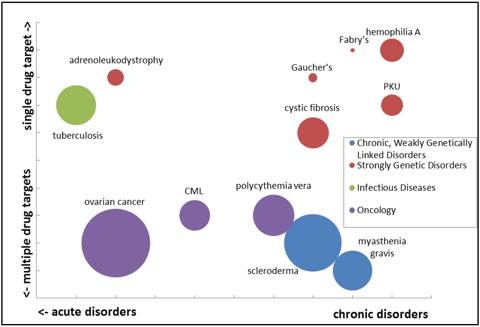 Factors impacting revenue potential include the prevalence of the disorder, whether it is chronic, the implications of non-treatment, whether the drug is approved for other, non-orphan indications, and the extent of off-label use. In general, reimbursement will be higher for drugs that prevent or delay death and severe disability and for which there are no alternative treatments. Many enzyme replacement therapies for inborn errors of metabolism sell for $150,000 to $350,000 per year, as the outcome of non-treatment is death. At the other extreme, Novartis' (NYSE:NVS) CarnitorTM (levocarnitine) for primary systemic carnitine deficiency competes with over-the-counter carnitine nutritional supplement products. A year's treatment costs about $700. A recent study found that some drugs approved solely for orphan drug indications derive the majority of their revenue from off-label use.
The Orphan Drug Act - FDA Guidance, 7 Year Exclusivity, Tax Breaks and Government Grants
The Orphan Drug Act (USC 360 Title 21) was passed by Congress in 1983 with the goal of providing financial incentives for and reducing the cost of developing drugs for rare diseases and disorders. A "rare disease or disorder" is defined in the Act as one affecting fewer than 200,000 Americans at the time of designation or one for which "there is no reasonable expectation that the cost of developing and making available in the United States… will be recovered from sales in the United States." Sponsors may request that the FDA designate a drug as being for a "rare disease or condition," and if the FDA agrees that the drug and indication meet the criteria of the Act, certain incentives become available. These include:
The agency must provide the sponsor with "written recommendations for the non-clinical and clinical investigations (based on the information available at the time of the request)… that would be necessary for approval of such drug for such disease or condition…"
For a period of seven years post-approval, the FDA may not approve an application from a different sponsor for the "same drug" for the same disease or condition. In the case of small molecules, the FDA defines "same drug" to include different salts and esters of the same "active moiety" (CFR 21 316.3). In this case there is often no benefit associated with the orphan drug exclusivity period, as it runs concurrently with patent protection. The obvious exception will be repurposed drugs and other drugs for which strong patent protection is not available. For biologicals, the FDA defines same drug to mean as one that contains the "same principle molecular features." Drugs differing only in post-translational modifications, glycosylation pattern, or minor differences in amino acid sequence are considered to be the same. In the case of biologicals, the 7-year exclusivity period conferred by orphan drug status is important because patent protection and Hatch-Waxman data exclusivity have limited effectiveness in excluding competitors from introducing equivalent drugs with slightly different structures. An exception to both definitions is provided by any change that leads to improved safety or efficacy.
Grants and contracts are available to defray the costs of development. For financial years 2013-2017, the amount appropriated is $30 million per year. As the amounts available are fairly modest, these grants are likely to be most attractive to small, pre-revenue companies.
A tax credit in the amount of 50% of qualified clinical testing expenses is established by related legislation (Title 26 Part 1-28). The tax credits can be rolled forward by up to 15 years for companies that have no tax liability in the year in which the expenses are occurred (e.g., pre-revenue biotechs). BioMarin's (NASDAQ:BMRN) 2012 10-K lists $32.6 million in Orphan Drug tax credits, equal to 10.8% of its R&D budget of $118.4 million.
Waiver of PDUFA fees. For 2014, these are $2.17 million for full NDAs, and $1.08 million for sNDAs.
Similar laws have been passed in other major markets. In Europe, orphan drug status is not associated with tax breaks or subsidies at the European Union level, but the exclusivity period is longer. Orphan drugs receive 10 years marketing exclusivity which can be increased to 12 years for drugs that have been developed in compliance with an agreed upon pediatric development plan. The exclusivity period can be reduced to at the end of a five-year evaluation period, depending on the profitability of the drug. EU exclusivity extends to drugs that are merely "similar" and not the "same." Similarity is assessed taking into consideration the degree of structural similarity, the mechanism of action, and the therapeutic indication.
In Japan, orphan drug exclusivity extends for 10 years, and takes special significance as the approval times are so long that many drugs are reaching the end of their patent life when finally approved.
Improved Likelihood of Approval Relative to Non-Orphan Drugs
Figures 2, 3 and 4 compare the likelihood of approval of drugs with an orphan drug designation to that of all drugs in the BioMedTracker database. Figure 2 focuses on non-oncology indications.
For indications outside of oncology, the likelihood of eventual FDA approval for orphan drugs is higher than for non-orphan drugs at all stages of clinical development. The average non-oncology Phase 1 drug in the BioMedTracker database has a 10% chance of eventual approval; the subset that are in development for orphan indications has a historical approval rate of 30%, and those that have received orphan drug designation have a historical approval rate of 44%. Remarkably, this comparison shows that a non-oncology Phase 1 drug having an orphan designation has a likelihood of eventual approval that approaches that of a non-orphan Phase 3 drug (63%).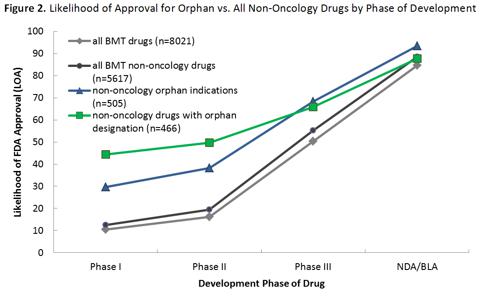 A similar comparison is drawn for oncology drugs in Figures 3 and 4. As in the case of non-oncology drugs, the likelihood of approval for orphan-designated oncology drugs is remarkably high. An important difference from Figure 2, however, is that the approval likelihood of drugs that are being developed in orphan oncology indications, but which have not been officially designated as orphan drugs, is very similar to that of oncology drugs overall.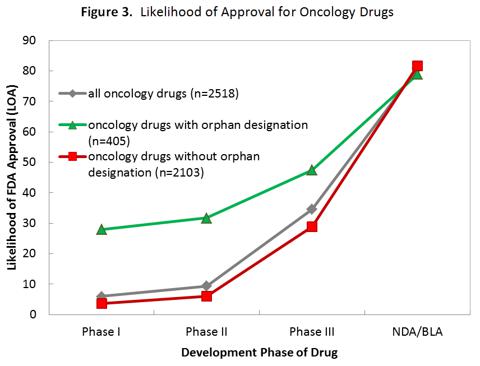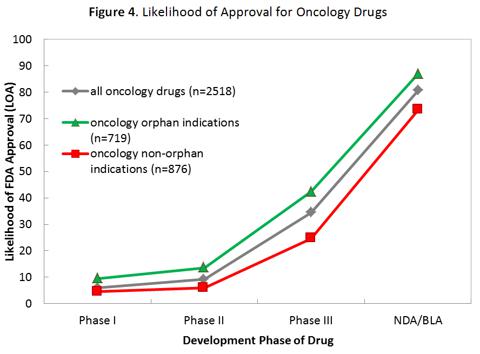 Several possible explanations can be offered for the higher rate of approval of orphan vs. non-orphan drugs. The following possibilities fit with the observations in Figures 2 through 4.
The unmet medical need for many orphan diseases is very high. Drugs for otherwise universally fatal diseases such as certain congenital disorders of metabolism are unlikely to be derailed by side effects such as a small increase in the risk of cardiovascular events, nausea or rash. Therefore, less orphan drugs fail due to side effect or tolerability issues.
Many non-oncology orphan diseases have a very clearly understood etiology, and thus avoid the complexity of multi-factorial and multi-gene diseases such as cancer, obesity and cardiovascular disease. Problems and variability in response due to treatment patient heterogeneity can in many cases be avoided.
Well-established biomarkers are available in many cases that may be accepted by FDA as an efficacy endpoint in pivotal trials; even when not the case these biomarkers may be very helpful in early stage development.
These biomarkers provide objective endpoints, and thus the problem of high placebo effects seen in pain and many psychiatric illnesses is avoided.
Notably, 73% of orphan drug designations occurred prior to the initiation of Phase 3. This is important from an investor standpoint because the increased likelihood of approval is greater at earlier stages of development.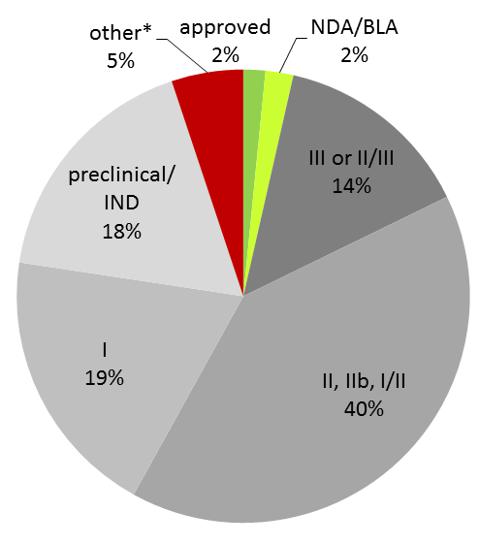 Valuation of Orphan Drugs
In order to evaluate the extent to which the financial incentives provided by the Orphan Drug Act and the higher rates of approval described above are recognized by investors, we examined share price changes occurring after company announcements of orphan drug designations. The analysis shown in Figure 5 includes only companies with market capitalization <$10 billion. Three outlying microcap companies whose share prices rose by 3-fold or more were removed from the data set prior to analysis as outliers. In our analysis of the remaining 191 orphan drug designation announcement events, the associated geometrical mean increase in share price was about 4%. There were 114 positive returns on the day of the announcement and 77 negative returns. In spite of significant day to day variability, the 4% increase seems to persist for at least 90 days. Similar results were obtained when the oncology (N = 93) and non-oncology drugs (N = 98) were analyzed separately.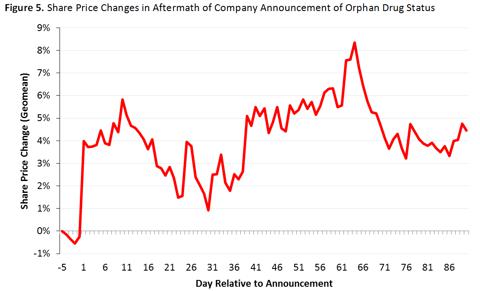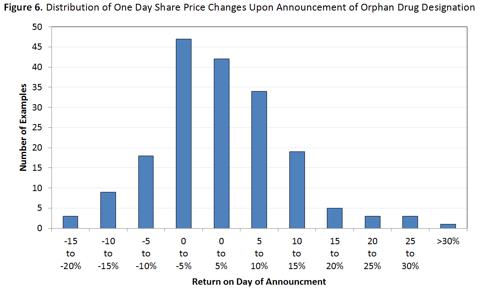 Implications for Investors
The orphan drug space has exploded in recent years in part due to companies seeking shelter from pricing pressures from payors and from liability associated with widespread use of primary care drugs for non-life threatening conditions. Given the extraordinary diversity of the orphan drug space, investors should recognize that the revenue potential of these products will vary widely. Key considerations include the severity of the implications of non-treatment, the availability of competing treatments, the difficulty of practicing price discrimination across orphan and non-orphan indications (for those drugs with multiple approved indications), the potential for off-label use, and chronicity.
The BioMedTracker report that forms the basis of this article found that FDA-designated orphan drugs have a higher likelihood of approval relative to other drugs. This was true even when the drugs lacking an orphan drug designation were in development for an orphan indication. While the difference for this latter difference is not entirely clear, it seems to be appreciated at least in part by the market, given the share price increases that occur and persist in the aftermath of an orphan drug designation.
In October of 2013, the pharmacy benefits management company Express Scripts announced that it would no longer provide reimbursement for certain respiratory, diabetes and autoimmune disease drugs, citing cost effectiveness and the manufacturer's use of co-pay assistance programs to circumvent Express Script's efforts to disincentive their use. This is a sea change in reimbursement policy, potentially in time bringing to the U.S. an aggressive cost-effectiveness criterion for reimbursement similar to that of the National Health Service in the United Kingdom. It is notable that none of the drugs in the excluded list treats a life-threatening condition. Indeed, given the strength of a recent campaign against BioMarin by activists who sought access to its Phase 1 ovarian cancer drug for a single patient, the political barrier to such a move would seem extremely high. Given these developments, we expect the industry to continue to ramp its investment in treatments for severe, life-threatening orphan diseases, and for companies with a strong investment in the area to be good investments over the long haul.
Some Notable Big Players
While a detailed valuation of these companies is beyond the scope of the current article, some of the of the companies that meet the criteria of "big players" in Orphan diseases include BioMarin, Actelion (ATLN), Isis Pharmaceuticals (ISIS) and Synageva (NASDAQ:GEVA). BioMarin currently markets Naglazyme for mucopolysaccharidosis VI (MPS VI), Aldurazyme for mucopolysaccharidosis I, and Kuvan for phenylketonuria. Up and coming products include Vimizim for mucopolysaccharidosis IV (BLA filed), BMN-701 for Pompe disease, and BMN-673, a PARP inhibitor for breast cancer. BioMarin sports a market capitalization of $9.6 billion.
Actelion is a dividend-paying Swiss company with U.S. approved treatments for pulmonary arterial hypertension (Tracleer, Ventavis, and Veletri), Gaucher's disease, T-cell lymphoma, Peyronie's disease and HIV lipodystrophy. Its Phase 3 stable includes treatments for scleroderma, Niemann-Pick disease, Clostridium difficile infections, and a long-acting prostacyclin for pulmonary arterial hypertension. Actelion's market capitalization is $9.6 billion, including $1.3 billion cash.
ISIS receives royalties from GSK for the recently approved antisense antihyperlipidemic Kynamro (approved for the treatment of homozygous familial hypercholesterolemia), and owns chemistry intellectual property that is licensed by almost every company operating in the antisense space. Although the required parenteral administration of antisense drugs, and the side effects of activation of the alternate complement system and prolongation of the activated partial thromboplastin time may limit the utility of antisense in less serious disorders, the approach seems custom made for many serious orphan diseases. Promising programs in transthyretin-related hereditary amyloidosis (ISIS-TTRrx, Phase 2), spinal muscular atrophy (ISIS-SMNrx, Phase 2), and Cushing's syndrome (ISIS-GCCRrx, Phase II). The current market capitalization is $4.3 billion, of which $344 million was cash at the end of Q3 2013.
Synageva markets the HIV medication Fuzeon and is developing Sebelipase Alfa, an enzyme replacement therapy for lysosomal lipase deficiency. The company's current market capitalization is $2.0 billion, including $223 million in cash at the end of Q3.
The general conclusion from this section is that if you are successful at developing Orphan drugs, you move from the reigns of "small-cap biotech" to "mid-cap pharmaceutical" pretty quickly. The average market value of the four companies mentioned above is $6.4 billion. Finally, let's not forget that one of the biggest, if not the biggest player in Orphan disease, Genzyme, was scooped up by Sanofi (NYSE:SNY) in February 2011 for over $20 billion.
Seeking Alpha From Orphan Drugs
Above we provide evidence that Orphan Drug status does matter and that stocks tend to react positively when Orphan Drug designation is granted. Not only do Orphan Drugs succeed at higher rates in all clinical trials than non-orphan drugs, but designations early-on in the development process is associated with success rates similar to much later-stage non-orphan drugs (see Figures 2 and 3). Stock prices for the days following an announcement on receiving Orphan Drug Designation trend positive by almost 3-to-1. The movement can be as positive as 30%, and averages 4-5% over the next week of trading (see Figure 4 and 5).
Applications for Orphan Drugs are not always made public by the filing companies. And because the announcement often comes directly from the regulatory agency, it is easy for investors to lose track of pending decisions. However, we note that the application for Orphan Drug designation in the U.S. has been standardized with the EU. It's essentially one application that can be filed in both regions. As such, we've identified several companies that have recently received Orphan Drug designation in Europe, with no publicly announced verdict yet from the U.S.
We believe the names below offer good potential for a positive Orphan Drug announcement in the next few months from the U.S. FDA and thus represent attractive opportunities to capture positive return. The names in Figure 7 below are Infinity Pharmaceuticals (NASDAQ:INFI), Spectrum Pharmaceuticals (NASDAQ:SPPI), Threshold Pharmaceuticals (THLD), NicOx SP (OTCPK:NICXF), Gentium SpA (GENT), and Dyax Corporation (NASDAQ:DYAX).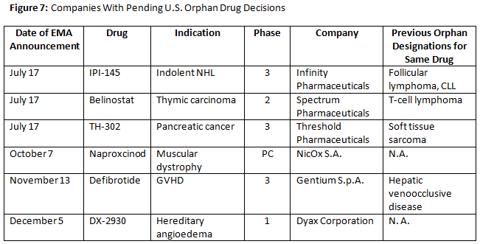 This article was co-authored by John Tucker, PhD & Jolene Lau, PhD
Disclosure: I have no positions in any stocks mentioned, and no plans to initiate any positions within the next 72 hours. I wrote this article myself, and it expresses my own opinions. I am not receiving compensation for it (other than from Seeking Alpha). I have no business relationship with any company whose stock is mentioned in this article.