(Editors' Note: This article covers a micro-cap stock. Please be aware of the risks associated with these stocks.)
What Mark Cuban and George Soros Have in Common: Marathon Patent Group
I follow the intellectual property space closely as I find it has similarities with my other primary field of focus, biotech. There is large potential for upside in IP as well, which I have been fortunate to experience in a few different investments. Some eye-opening ownership filings hit this week in a company I just started following more recently. Marathon Patent Group (NASDAQ:MARA) had three Schedule 13G's filed this week by prominent investors: Sandor Capital and its owner John Lemak filed an aggregate amount beneficially owned of 268,864 equating to 5.03% of the company; Jeffrey Feinberg filed an aggregate amount beneficially owned of 740,326 equating to 13.3% of the company; and Barry Honig filed an aggregate amount beneficially owned of 388,295 equating to 7.22% of the company.
A little digging into these names and it becomes even more intriguing. John Lemak was a founding investor of Broadcast.com alongside Mark Cuban. Lemak via Sandor Capital was an early investor in Vringo, Inc (VRNG) as well, which also paid off handsomely as an investment. Vringo received much publicity when Cuban filed that he owned a stake in the company, which would make sense with Marathon based on the above. Jeffrey Feinberg was a former Managing Director under George Soros and branched off to run his own fund, JLF Asset Management. Barry Honig was former Co-Chairman of interClick, which sold to Yahoo in 2011 for $270 million. His name has appeared in several 13G filings at what ended up being a low point for the stock, a prime example being Neuralstem (NYSEMKT:CUR) in which he filed his position via 13G when the stock was at $0.50 in August 2012. Neuralstem closed yesterday at $2.44
These filings caught my eye, but what caused me to invest was a closer analysis of Marathon Patent Group as a company and how it stacks up in relation to its peers. I find Marathon Patent Group with only a $30 million market cap to have both the best business model of any publicly traded intellectual property stock and also possibly the most upside of any stock across the board. Marathon Patent Group is extremely undervalued utilizing any comparable metric. Trading at just a $30 million market cap with $6 million in cash and no debt, a look at what Marathon has accomplished so far in nine months of operations is quite impressive. There are a few reasons why Marathon is still relatively undiscovered, predominantly due to just starting operations in March 2013. As the company continues to execute and as its existing pipeline of patent assets continues to come to fruition, I believe Marathon Patent Group should conservatively trade at over $100 million market cap which would equate to roughly $20/share.
As a quick comparison, a few of Marathon's peers that have generated less revenues over the past 9 months than Marathon such as Vringo, Inc. , Parkervision, Inc. (NASDAQ:PRKR), VirnetX Holding Corporation (NYSEMKT:VHC), and Document Security Systems (NYSEMKT:DSS) support market capitalizations ranging from $100 million to over $900 million.
Marathon's Impressive and Undervalued Accomplishments in 9 months
In its last nine months of operations, Marathon has grown its patent asset base from 3 patents and 1 patent application to 99 patents and 5 patent applications. This type of continued diversification is exactly what an investor should be looking for in an intellectual property company. Particularly with Marathon's business model of acquiring existing portfolios, it gives investors broader diversification and eliminates the dependence on one larger lawsuit as a binary event whose outcome can make or break the company. This assertion from Marathon's latest presentation that was just released last night really spells out exactly what Marathon is already sitting on: "Over the next 3 to 5 years our current asset base may generate aggregate revenue in excess of $100 million." No other publicly traded intellectual property company lays out its business model so clearly allowing investors complete transparency. Marathon's latest investor presentation allows for this and I believe will be the kickoff to more and more investors flocking to the company.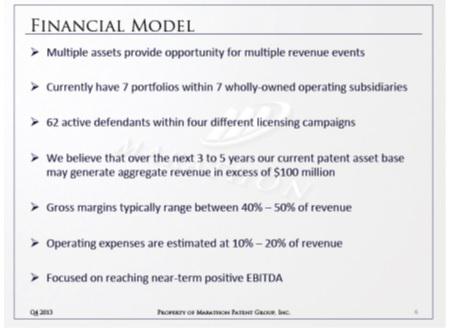 Marathon currently has 54 active lawsuits with 62 different defendants. Marathon has continued to prove out its business model: since commencement of its initial licensing campaign in March 2013, the company has announced 12 settlement and licensing agreements. Ongoing active cases include ones against behemoths such as Apple, Amazon, and Samsung among others.
The Company's wholly owned subsidiary, Vantage Point Technology, Inc., recently filed 5 patent infringement lawsuits against Apple, LSI Corporation, MediaTek USA, Panasonic Corporation of North America and Sharp Electronics related to the U.S. patent entitled "Method and Apparatus for Translating Virtual Addresses in a Data Processing System Having Multiple Instruction Pipelines and Separate Translation Lookaside Buffers for each Pipeline."
In July, 2013, another wholly owned subsidiary, CyberFone Systems, LLC, entered into a license and settlement agreement with Telecommunications Equipment Company. Telecommunications Equipment Company is one of the largest mobile phone and telecommunications equipment manufacturers in the world.
A look at this graph from Marathon's investor presentation presents a strong visual as a hypothetical example of the revenue effect from a various licensing campaigns as they start to coincide: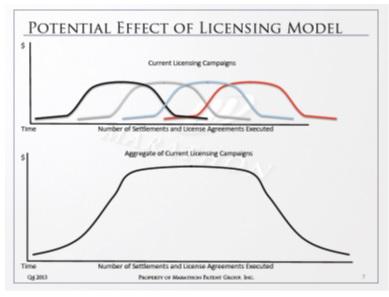 It shows a bell curve distribution of settlement and licensing agreements for a hypothetical portfolio. The beauty of Marathon's business model is even just with its existing patent portfolios, a look at the graph shows what is possible as settlements and licensing agreements begin to ramp up in any given portfolio. Each individual portfolio's "bell curve" will then begin to simultaneously overlap with the ramping up of the other portfolios under Marathon's helm. This has the potential for tremendous amplification of cash flows and demonstrates that Marathon is only in the first inning compared to where I think the company will be in six months to a year, just with what the company already has. Even better is that the company has shown it will continue to add more and more portfolios and commence further settlement and licensing campaigns. Marathon has the solid foundation of consistent and reliable cashflows that lays the base for it for to go after larger settlements as well.
MARA as a Pseudo-Biotech Play
I am primarily a biotech investor, and I see the intellectual property space in general as having similarities to the biotech space. Marathon Patent Group is an appealing investment to me as a pseudo-biotech play that has multiple shots on goal with its viability not being tied to one outcome. What makes it even more attractive is that in addition it has consistent cash flow from its performing portfolios that continues to grow as it executes on licensing and settlement agreements.
In this regard Marathon strikes me as having some fundamental factors in common with another company I covered here on Seeking Alpha in Cancer Genetics (NASDAQ:CGIX). Cancer Genetics shot up from $9.85 when I first wrote about it to over $23/share, and has since settled in to $13/share after having raised $45 million.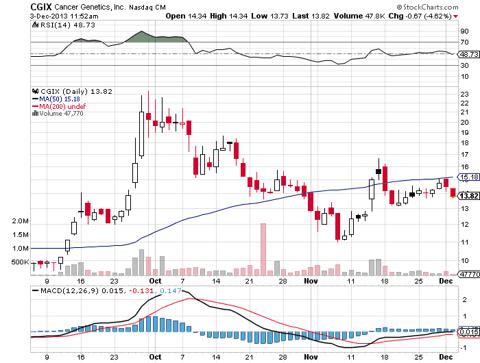 At the time of my article, Cancer Genetics had 5.9 million shares outstanding with growing revenues that amounted to $3.1 million for the first half of 2013. From this perspective, Marathon looks even better positioned for take off than Cancer Genetics looked at the time. Marathon has 5.3 million shares outstanding and just 3.2 million shares on the float. Its largest, most prominent investor in Spangenberg just re-filed his holdings and hae has been increasing his position. Three more prominent investors filed their positions this week: Sandor Capital, Barry Honig, and Jeffrey Feinberg. Marathon has $1.16/share in cash and no debt, while Cancer Genetics did have debt on the balance sheet and also sported more than double the market cap of Marathon at the time I wrote about them. Marathon's revenues have consistently grown since kicking off operations and totaled $2.23 million for the past 9 months with the company looking poised for profitability next quarter. Having the tight share structure that Marathon has with growing cash flow and large upside will cause this stock to wake up one day and never look back below $10.
This tight share structure and growing cash flows is also reminiscent of what I spotted in MFRI, Inc (MFRI), which is up 30% since my article here three weeks ago.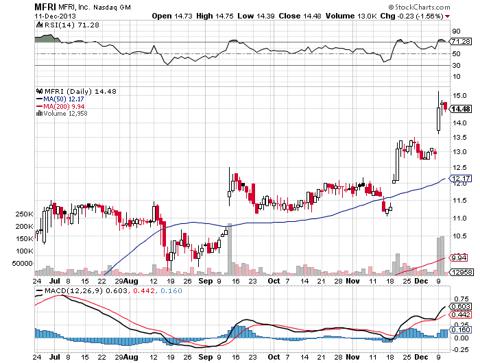 Industry Comp Analysis Shows MARA's Mispricing
Since beginning operations as a patent licensing company earlier this year, Marathon Patent Group's revenues have totaled $2.23 million. Its market cap sits at just over $30 million.
Since inception on July 19, 2012, Vringo has total revenues of $1.645 million. Vringo has a market cap of $250 million.
VirnetX revenue for the first nine months of 2013 is $1.9 million. VirnetX has a market cap of $900 million.
Parkervision was recently awarded $172.7 million in damages for infringement of four patents by Qualcomm, Inc. as well as potential ongoing royalties for future infringing sales by Qualcomm. This will be recognized upon final disposition of all litigations which could be years. Parkervision has never had any revenue, has an accumulated deficit of $282 million, and supports a $400 million market cap.
The chart below shows the comparative operating profit margin, return on equity, return on assets and revenues of Marathon Patent Group along with selected competitors. Due to the presence of non-patent-licensing activities that tends to distort comparability, the operating results were used in the calculation of the returns instead of the net income or loss. For instance, Document Security Systems reported a net profit simply because it used tax benefits of $9.2 million turning its operating loss of $5.6 million into a net income.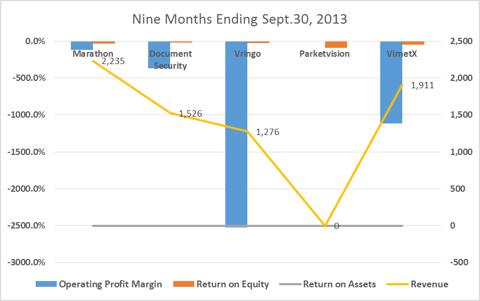 Note: Revenues of Document Security Systems has been adjusted to reflect only patent licensing-related revenues.
Marathon Patent Group, Inc. had the highest revenue amount for the first nine months of the year out of this group. Considering that this is technically its first year of operation in the field of patent licensing services, it is impressive that Marathon has gotten to this stage this quick.
| | | | |
| --- | --- | --- | --- |
| | Shares in thousands | Share Price | Market Cap in Millions |
| Marathon | 5,339.31 | 6.13 | 32.73 |
| Document Security | 49,227.98 | 1.93 | 95.01 |
| Vringo | 84,123.75 | 2.99 | 251.53 |
| Parkervision | 92,963.41 | 4.10 | 395.03 |
| VirnetX | 51,203.25 | 19.09 | 905.27 |
Another takeaway is that Marathon has the lowest accumulated deficit out of the group at $9.4 million. This compares with Document Security System's $44 million accumulated deficit, Vringo's $57 million accumulated deficit, Parkervision's $282 million accumulated deficit, and VirnetX Corporation's $83 million accumulated deficit. Marathon is the only one of the group that appears poised for profitability as early as next quarter.
The selected intellectual property companies listed other than Marathon have all received buy recommendations from various analysts. The intellectual property industry is still early as a whole, so I agree that there is still room for plenty of growth in the industry. I am not arguing that any of these other companies are anything but fairly-valued or possibly even undervalued. I just think a close examination of Marathon with its peers exemplifies how mispriced and overlooked it is currently. In a sector with upside, Marathon possesses true potential for exponential returns for the savvy investor. The smart money is already starting to make its way in, as shown by the three different filings this week by successful investors disclosing large positions.
MARA's CEO has Prior Success and Strong Industry Relationships to Feed its Pipeline
When investing in small-cap companies, I believe it is imperative to bet on the management and large shareholders. Marathon's CEO, Doug Croxall, and its largest shareholder, Eric Spangenberg, have prior success in intellectual property. Spangenberg and his private company IPNav's relationship with Marathon appears to be part of the reason why Marathon has been able to accomplish so much so fast. Spangenberg is one of the most recognizable names in intellectual property with IPNav having negotiated over half a billion dollars in direct licensing revenue and cash settlements. Spangenberg and Croxall have had a long and prosperous relationship. Specifically, Croxall has a 14-year working relationship with Spangenberg. Croxall was formerly Chairman and CEO of Firepond, a configuration software company with a patent portfolio enforced by IP Nav for $93 million in gross revenues. Spangenberg owns 813,463 shares of Marathon according to his latest filing.
Risks and Conclusion
Risks abound when investing in intellectual property. The biggest risk is typically that there are limited cashflows and the company expects to incur significant operating losses pending the outcome of a big lawsuit. This risk does not apply to Marathon. For Marathon it is a question of being able to continue to grow its pipeline of portfolios and to show continued revenue growth as settlements and licenses align more and more. Marathon must be able to continue to enforce its existing portfolios as well, something to which government regulation may pose a risk. There has been increasing talk in the media regarding the government potentially cracking down on Non-Practicing Entities (NPE's) such as Marathon. Any action of this sort would most likely take years but could put a damper on Marathon's prospects down the road if anything were to come of it. Potential litigation length and costs are another risk to factor into the equation. For a full list of risks as outlined by the company see here.
Marathon's quick trajectory has been overlooked due to having just started operations this year. A closer look at several peers shows just how mispriced Marathon is. I also think some investors are getting it wrong when analyzing various companies in the intellectual property industry. The argument may be that some of the portfolios owned by these peers have more blue-sky upside that investors find appealing, hence their significantly higher market caps than Marathon. This is the wrong way to look at it. Marathon as a company has the most upside based on its current valuation alone (along with where it is already positioned). Marathon appears looking to fortify itself as a company building a growing stream of cashflows alongside its strong balance sheet. Marathon may already possess that type of homerun caliber lawsuit in one of its seven portfolios and looks ready to add more blue-sky shortly as it continues to acquire more portfolios. The emergence of several prominent investors disclosing large positions in the company this week further validates my opinion on where this stock is heading.
Disclosure: I have no positions in any stocks mentioned, but may initiate a long position in MARA over the next 72 hours. I wrote this article myself, and it expresses my own opinions. I am not receiving compensation for it (other than from Seeking Alpha). I have no business relationship with any company whose stock is mentioned in this article.