Have you seen this movie before? Let me tell you the plot:
An entertainment company has great content…
…but has inconsistent profitability…
…and a stock price that has languished for years.
Its stock runs up prior to release of its biggest franchise.
The franchise outperforms everyone's wildest expectations.
The stock sells off a bit and goes nowhere for months.
Unexpected Twist: At some point, Carl Icahn, seeing no acquisition of the company, sells his large stake.
The company is… Lions Gate (LGF) in 2011-2012 up to the release of The Hunger Games. The Hollywood ending was that LGF was essentially flat for 5-6 months after The Hunger Games opened, but since August 2012, the stock has more than doubled. This is a classic example that even a superstar investor like Carl Icahn can sell too early and miss the bulk of a stock run up.
Take-Two Interactive (NASDAQ:TTWO) will be the sequel to LGF. Of course, the plot and timeline above could easily be describing TTWO today. We are currently in the "Sell the News" part of the story but I think the market has underestimated the power of the Grand Theft Auto 5 (GTA V) earnings potential. I will outline why I think TTWO could easily double from just under $17 in the next 6-12 months.
TTWO is a different company than in 2008. Take-Two Interactive has been under a slow but steady transformation under CEO Strauss Zelnick. He has kept much of what has made TTWO great - world class franchises, talented creative and product teams and uncompromising quality. Over time, however, the company has added additional franchises, strong annual sports titles, growing digital sales and ever more efficient distribution of catalog titles. Coupled with the secular tailwind of a new gaming console cycle, TTWO is at its strongest creative, business and financial position ever. The operating leverage inherent in content businesses will finally become apparent for TTWO as its franchises perform and new ones emerge.
TTWO has the best games in the industry. Exhibit A is GTA V, which will be the best selling console game of all time for the Xbox and PS platforms. Why? Because players think it is amazing - garnering the second best Metacritic score of any game on both platforms (97). What beat it? You guessed it: GTA IV. Beyond that, TTWO just won three top awards at the Spike Video Game awards: Game of the Year for GTA V, Best Shooter for BioShock Infinite and best Sports title for NBA 2K14. Lastly, the company is quick to point out that TTWO has the highest average Metacritic score of any third party publisher. See the chart from the latest TTWO Investor presentation below: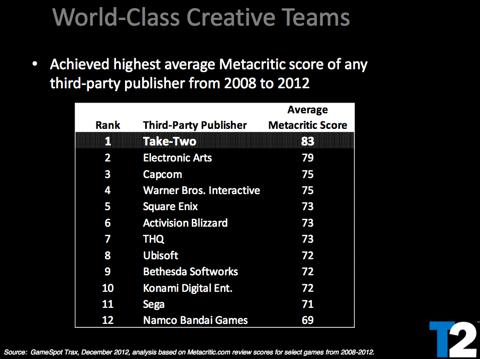 GTA V will be the gift that keeps on giving.
There is a criticism often given of TTWO as an investment: "It is a one trick pony." The pat response is apt: "But what a trick!" Grand Theft Auto 5 has sold about 26 million copies to end users in its first 10 weeks (source: VGChartz - Xbox and PS3). It will inevitably be a bestseller when released on the PC and Steam as well. I estimate that over the next four years TTWO could sell an additional 26+ million copies across all platforms, albeit at lower prices. I used VGChartz to do an analysis of previous TTWO games and some other bestsellers from the current console cycle to estimate the potential additional sales after the first 10 weeks.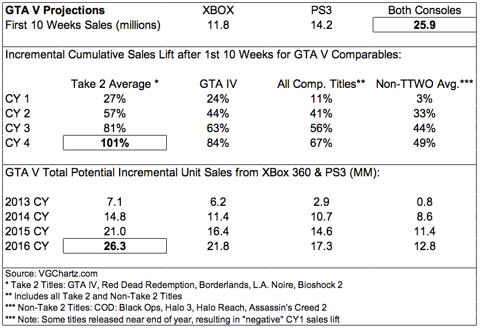 Looking at just the Major recent TTWO titles, all but one eventually sold more than twice as many copies than in the first 10 weeks (source: VGChartz):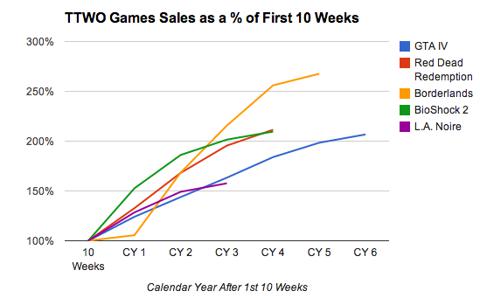 And the competitive mega titles, none of which achieved twice as many (source: VGChartz):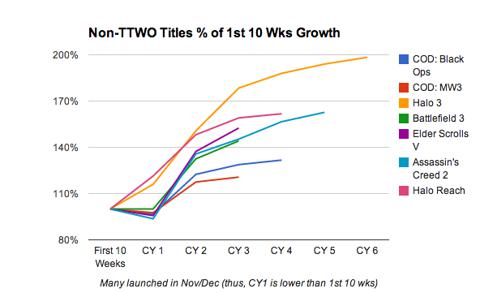 This analysis is clearly complicated by the fact that GTA V has already sold so many copies, but I think it is safe to say that this game is a must own title for serious gamers. I think there is one big factor working in TTWO's favor for future sales: lack of backwards compatibility for the Xbox One and PS4. Sometime in the next 18 months, TTWO will almost certainly release versions of GTA V for the next generation consoles. When they launch it will be one of the biggest sellers of the year. Why? Convenience, better graphics and perhaps even improved gameplay. Inevitably, many of the same people that forked over $60 for GTA V this go around will pay another $40-60 to buy a copy for their newer, faster, plugged in console so they don't have to keep their old PS3 hanging around. The bottom line is that highly rated games from TTWO sell well for years after their initial release - and then they release a newer version.
Beyond the initial upfront game purchase, some analysts estimate they will garner an additional $200-400 million in FY15 (sources: Superdata and Merrill Lynch) in in-game purchases and downloadable content. Given how engaging the game is you could argue that people will as happily pay for guns, cars, planes and houses as Zynga (ZNGA) gamers are willing to pay for poker chips, cows and seeds.
TTWO is cheap and the company is aggressively buying back shares.
TTWO is as inexpensive as it has ever been and is getting serious about shareholder value. As it stands, the company is valued on a ridiculous 4x EV/Earnings basis for the current year. In addition, it is trading for less than 10x EV/Projected Earnings - significantly below its peers and the market. For FY15, analysts are projecting earnings of $1.06 on average (range: $0.50 - $2.34), but seemingly have not updated their models for GTA V outperformance or reduced share count since 90 days ago the average was $1.03 (Source: Yahoo Finance). I will not be surprised if the earnings come in closer to the analyst projecting $2.34. As TTWO continues to perform, analysts will adjust their models upwards and it could be a boost for the stock.
Here is Piper Jaffray's valuation comparison excluding cash (see below for my quibble about cash per share):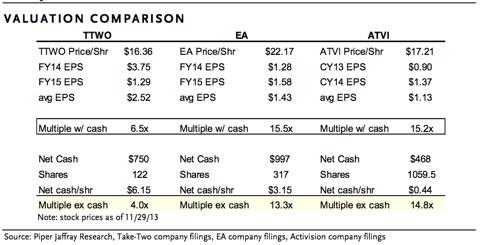 Over a longer time horizon, Valueline surveys provide a great statistic for companies with inconsistent profitability: Revenue per share. Going back to 1997, TTWO's revenue per share has never exceeded $20. In FY14, with revenue surging and share counts falling, it will be close to $30 and more than $20 a share is a strong possibility next year. While this is simplistic given that the company has convertible debt and historically rising share counts, the data is directionally correct and quite startling.
TTWO Revenue per Share: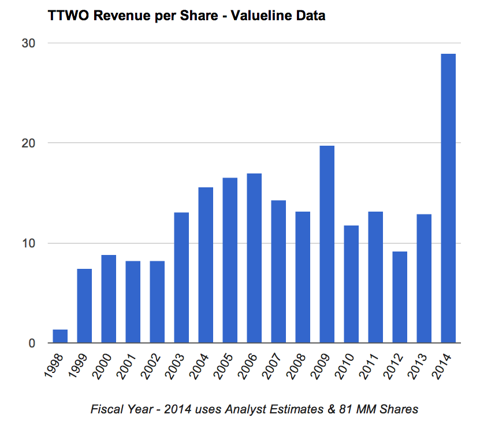 Looking at the data for a Price / Revenue analysis shows that TTWO has only been this inexpensive a few times in the last 11 years: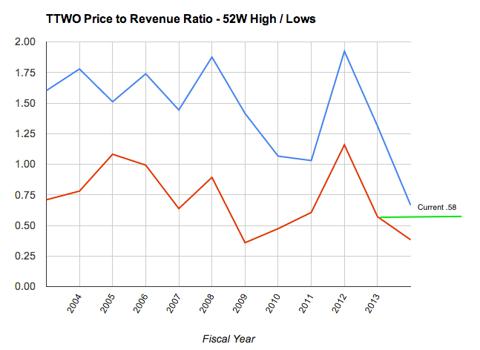 Recently, the company repurchased a total of 16.2 million shares (12 million from Carl Icahn) for around $17 a share. This reduced the basic shares outstanding to 81 million shares. This signals a stronger commitment to shareholder value from a company that historically is quite dilutive. It is also a coup given that the company sold convertible notes just 6 months ago with a conversion price of $21.52. During a recent investor presentation, CEO Zelnick pointed out that while most CEOs will say their stock is undervalued, TTWO just "voted with the company's wallet."
TTWO has ample cash for buybacks and strategic acquisitions.
Even after TTWO spent $273 million in share buybacks, the company is projected to have about $1.05 billion in cash by the end of March 2014 based on the average of four analysts. Given that the enterprise value of the company is $1.9 billion, the company will have more than half its EV for share buybacks or strategic acquisitions. While these analysts have detailed financial models maintained for years, I found the cash numbers at a couple of analysts to be remarkably high so I added an additional "Simple Calculation" using reported cash + cash from the notes swap + TTWO's forecasted earnings for FY13 - cost of shares repurchased. This calculation excludes adjustments for things like accounts receivable (apparently high on 3/31/13) or amortization of capitalized software expenses (clearly high for GTA V) but still gives a likely floor for cash at the end of the fiscal year. I expect cash will be between the two projections. Bottom line: there is a lot of cash left for TTWO.
I have calculated the projected cash per share of $7.01 or $9.30 (or $3.63 or $6.71) depending on your expectations of the conversion of TTWO's convertible notes. If you are bullish, you would expect the company's notes to convert and vice versa if bearish. I have noticed that some have projected cash per share using net cash but also assuming the notes will convert. If the notes convert into equity, they will no longer be debt so you either need to analyze (Cash / Diluted Shares with Conversion) or (Net Cash / Diluted Shares with No Conversion).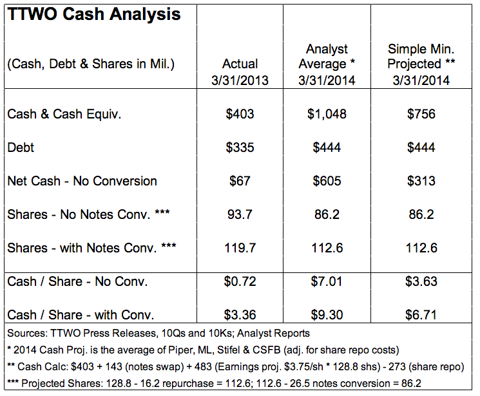 TTWO has achieved sustainable profitability.
Perhaps the most important criticism of TTWO has been inconsistent earnings. EA (EA) and Activision (ATVI) have more consistent earnings because they are more willing to milk franchises with annual updates. Zelnick has stated that on an ongoing basis the company will be profitable. I can understand many investors taking a "show me" attitude, but by the time TTWO proves it the stock will be much higher. I think the operating leverage provided by more franchise titles, the GTA V ongoing gift, digital sales and the tailwinds from the new console generation will make Zelnick's prediction very realistic for TTWO.
TTWO provides optionality.
Nassim Taleb, author of Antifragile, makes a great case for investing for optionality. TTWO is a great play because it is inexpensive on an ongoing basis, but you still get to participate if the company scores one or two more franchise hits in the coming years. Another unexpected twist could be an acquisition offer for the company. In March of 2008, EA made an offer to buy TTWO at $26. Another run on the company would boost the stock considerably. Beyond that we could see a powerful short covering rally when the substantial short positions realize they have a losing bet.
TTWO does have issues.
The company is not perfect, but a lot of issues are related to churning out great products. The company is obsessed with quality, which means they won't ship until a product is "ready." For investors this translates into unpredictability and lack of transparency. As examples, GTA V was over a year late and there is currently no published timeline for next gen releases. Unpredictable release schedules create very lumpy revenue and earnings. There have been many years where TTWO loses money, sometime a lot, when a major release is delayed.
Also concerning is the high dilution that the company has experienced. Some of the dilution comes from acquisitions but a lot comes from compensation. TTWO's teams are top notch and are paid accordingly. The hope is that these teams are motivated to succeed but it also means another stakeholder is taking a large share of the upside. Many teams are also paid royalties on the blockbuster titles. This cost is a bit opaque to investors and seems driven higher by poaching attempts by EA or ATVI.
Summary:
Take-Two is a changed company with growing operating leverage and a secular tailwind. GTA V is one of the biggest franchises in all of entertainment. Take-Two continues to innovate, win awards and launch new franchises. The company is flush with cash and cash flow and is aggressively buying back stock. The stock is inexpensive and could easily double in 6-12 months as the market digests the shift in business prospects.
Disclosure: I own shares and call options in TTWO.
Disclosure: I am long TTWO. I wrote this article myself, and it expresses my own opinions. I am not receiving compensation for it (other than from Seeking Alpha). I have no business relationship with any company whose stock is mentioned in this article.