Lululemon (NASDAQ:LULU) remains one of my absolute favorite brands out there right now - whether the company is producing or not, it's simply a brand that continues to grow here in my Midwest city. I see it more and more each day that I'm out on the streets, mostly in the summer.
I love almost everything about them - I love the way they focus on having a yoga-based company in the midst of yoga's massive growing popularity. I love its sleek and clean look. I love its simple, modest logo. I love its store layout, and most of all I love how scores and scores of fit women meandering around my city look in its clothing. Additionally, I like how more and more, I'm see men starting to don the Lululemon logo - a major opportunity for company growth that could be coming down the pipe.
Lululemon has also been voted by me as a "Stock Whose Articles are Most Likely to be Accompanied by Pictures." I like Lululemon articles the same way I love watching Maria Bartoromo take me to school on the stock market.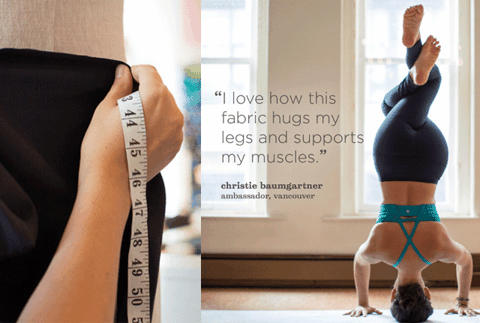 Now that I'm done being a creep, let's talk about how LULU has performed as a stock over the past year. It has been one of the few stocks over the past 12 months to severely underperform the market. In the midst of the company's Luon pants scandal, the company's market valuation was roped in for the better part of 2013, causing LULU to be - up until yesterday down roughly 15% for the year.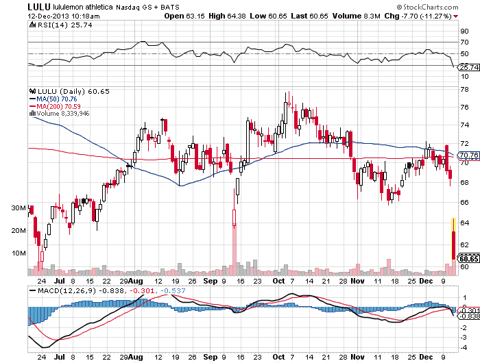 LULU is set to open Thursday morning around $62, roughly 9% off its closing price the day prior.
It reported earnings this morning, reporting significant top line growth, but guidance that failed to impress.
Profit: $66.1 million or $0.45/diluted share, up from $57.3 million or $0.39/diluted share a year ago.
Revenue: $379.9 million, up from $316.5 million a year ago.
Guidance: $0.78-$0.80/share vs. analyst estimates of $0.84/share. Sales guidance came up at $535-$540 million vs. analyst estimates of $570-$575 million.
With the company trading at a P/E of 37 before today, the street was clearly unamused with the guidance and pulled LULU's price back.
Additionally, LULU had just named a new CEO this week. Former CEO Christine Day resigned in the midst of the Luon pants issue (something I did not think she should have done), and she's been replaced by Laurent Potdevin, effective January 2014. Financial Post reported:
Mr. Potdevin comes to lululemon having most recently served as President of TOMS Shoes, a giving company founded on the mission that it would match every pair of shoes purchased with a pair of new shoes given to a child in need. While at TOMS, he built a world class management team, led global expansion, and broadened the company's strong cultural identity. Prior to TOMS, Mr. Potdevin held numerous positions at Burton Snowboards, the world's foremost snowboard company, for more than 15 years, including President and CEO from 2005-2010. The business grew significantly under his leadership, expanding across product categories and creating international scale by always focusing on providing the best consumer experience. His earlier roles at Burton included President and COO as well as Director of Operations. Mr. Potdevin began his career in 1991 at LVMH. He received his Masters Degree in Engineering from École Polytechnique Fédérale de Lausanne, Switzerland and his MBA from École Supérieure des Sciences Économiques et Commerciales, Paris, France.
I think Laurent was a great choice for this job because I've long been an advocate for the growth that LULU could take on in the men's market.
So, I'm not sure that selling after the stock has already been punished pre-market is the right way to go. After all, I'm still bullish on LULU for the long term.
I continue to believe that there is tons of room for growth for Lululemon going forward. The company may have an aggressive valuation that's been pinned back due to these earnings, but the value placed on the company by the market is something they can earn, in my opinion.
The company has retail growth potential. As I've pointed out in previous articles about LULU, it's important to note that the company's primary focus, to this point, has been targeted at women and yoga. The company has 200+ locations. Compared to a company like Gap (NYSE:GPS) with over 3,000 total locations, you can see the retail layout for growth is significant.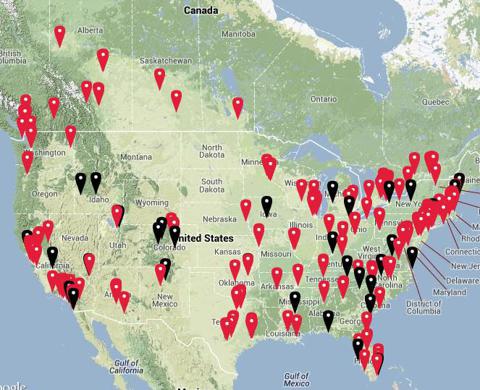 Compare LULU, above, with the Gap, below. You'll see a major difference in concentration of stores in areas like the east coast and the west coast. Lululemon has tons of room for retail growth: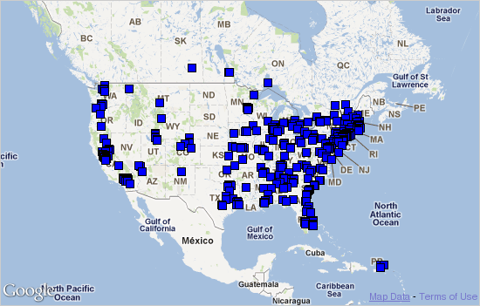 Additionally, something that I notice every once in a small while, is men wearing Lululemon. Men have Under Armor, women have Lululemon - each company is trying to market itself to the opposite gender slowly but steadily - they know these are roads for growth and success.
While I have several of their products myself, it hasn't even come close to catching on yet with men. Once this company expands and decides they want to throw money and resources into a campaign to target some of these clothes to men, they're going to find an entire avenue of success that they haven't even begun to tap into yet. I've said this in past articles, and I'm repeating it for emphasis here: this company still has large potential growth with men.
I've also commented in a previous article about branching out into casual wear:
Furthermore, in that respect, Lululemon is eventually going to start branching out into general athletic wear, not just yoga-based clothing for women. This is a very natural progression for companies that get their start making athletic wear of sorts. They will capitalize on running and tennis clothing, then other sports. Eventually, that will lead to bolstering of general activewear, which can then [like Under Armour (NYSE:UA), Adidas (OTCQX:OTCQX:ADDYY), Puma, Nike (NYSE:NKE)] move straight up into retail clothing.

If there's something that we could learn from Adidas and Puma, it's that moving the line from activewear to everyday wear is possible. Furthermore, it's possible by the way both of these companies did it:they slapped a bit of a higher price tag on their merchandise, and bolstered their image to give the appearance of it being a premium brand. Then, they engaged in serious sportswear sponsorships that got their name, image and logo everywhere.
Lululemon already has that with its price points. The sponsorship thing could be forthcoming in the future. It would be prudent to start with sponsoring gymnastics, tennis, and other female-orientedsports; then from there, move forward. Like other crossover retail/activewear companies such as Under Armour, Columbia Sportswear (NASDAQ:COLM) and North Face, Lululemon has serious potential here. The market for people wearing these brands as everyday fashion and not just for exercise purposes has never been bigger.
I remain bullish long-term on LULU, and think a buy here on the market's discomfort could lead to 15-20% gains in the coming year as Lululemon has the worst behind it.
Best of luck to all investors.
Disclosure: I have no positions in any stocks mentioned, and no plans to initiate any positions within the next 72 hours. I wrote this article myself, and it expresses my own opinions. I am not receiving compensation for it (other than from Seeking Alpha). I have no business relationship with any company whose stock is mentioned in this article.