In the world of high tech, being a visionary with business acumen comes second to being a great showman. Larry Ellison likes to pilot his own Russian MiG fighter jet, Elon Musk wants Californians to travel between San Francisco and L.A. at eight hundred miles per hour, and Steve Jobs - the patron saint of tech prophets - turned the standard, vanilla flavored product launch into near hysteria-producing kabuki theater.
Not to be outdone, Jeff Bezos made a big media splash earlier this month on 60 Minutes when he told Charlie Rose he wanted to use automated, airborne drones to deliver Amazon (NASDAQ:AMZN) orders in 30 minutes or less.
Celebrity CEOs like to dream big, but they are sometimes constrained by their own success. As many have pointed out, nimble innovation becomes more difficult the larger your corporate empire. Nuts-and-bolts innovation usually happens in small companies, which is why tech stocks like Apple (NASDAQ:AAPL) buy companies like Authen Tec, which developed the biometric fingerprint technology for the iPhone 5S.
Even if big names like Google (NASDAQ:GOOG), Amazon and Apple aren't buying smaller firms for patent rights, they still depend on them to supply the tech inputs for the ecosystem of products they create. These small firms, once they have ripened to the right size, present excellent small cap investing opportunities for the individual investor.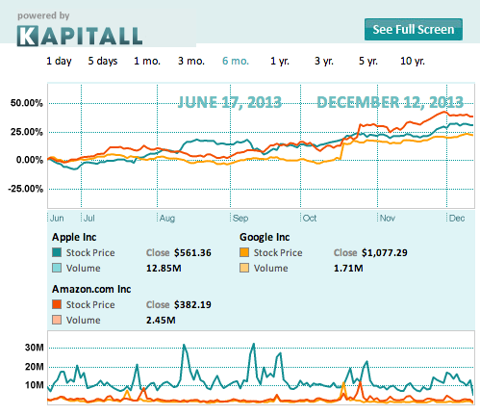 (Click for interactive version. Sourced from Zacks Investment Research.)
But out of thousands of small companies, how can an investor narrow the field to target the firms making game-changing products of tomorrow, today? You might think the small tech parts that visionaries like Jeff Bezos and Tim Cook depend on to maintain their market dominance are as diverse, complex and bewildering as their gadgets are mind-blowing. But Bezos's Jetsons fantasy proves that much of tech's next wave of innovation will depend on sensors to generate data, and software that can make sense of the data those sensors produce.
Megan Quinn, an investment partner at venture capital firm Kleiner Perkins (which made its fortune by making early investments in companies like Google and Amazon) says, "Your smartphone knows who you are better than your friends and families and because it has all of these sensors it can tailor the experience around you in the real world to match your needs and desires." Sensors that enhance customer experience are a "passport to the future."
Up to now sensor technology has been developed primarily for military applications, but Amazon and Ford (NYSE:F) are eager to adopt its many uses to consumer products as well. Retail is also getting into the sensor industry. Elizabeth Dwoskin and Greg Bensinger report in The Wall Street Journal that "in dozens of US shopping centers … small gadgets will keep tabs on shoppers' cell phones. Elsewhere trackers … will identify shoppers' movements, helping mall operators and retailers tally how long people wait in line and where they shop.
There are two basic ways to invest in the cresting sensor tsunami: hardware and software. On one hand, sensors are becoming smaller and more nimble, and manufacturers are lowering costs and ramping up production to meet surging demand. On the other hand, the data generated by sensors that serve a multitude of functions needs to be quickly and efficiently organized. Sensor makers like Methode Electronics (NYSE:MEI) and iRobot Corp. (NASDAQ:IRBT) are in the sweet spot between growth and earnings, and software maker Attunity (NASDAQ:ATTU) is on the cutting edge of real-time data integration software.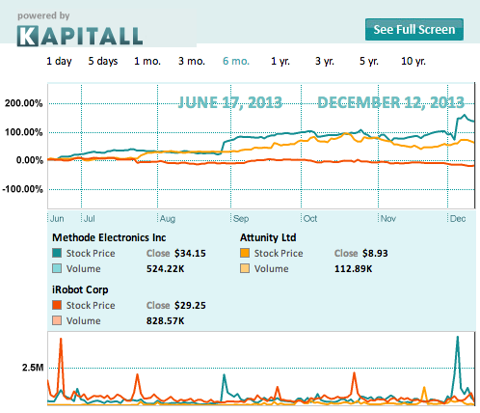 (Click for interactive version. Sourced from Zacks Investment Research.)
Methode Electronics is a leading developer of biometric identification that uses the unique characteristics of human skin structure and solid-state touch sensitive switches. Ford integrated Methode's TouchSensor field-effect technology into the 2011 Ford Edge ICS, and Kia used the same tech to design their in-car infotainment system that debuted in 2010. Automotive applications make up more than half of Method's sales, but the company is diversified with more than 300 technology and application patents and a strong emphasis on R&D.
Methode stock has already benefitted from the growth in its core business, gaining tremendously in the last year. The company's 52-week low is $8.66, and it recently closed above $34.15. But its strong share appreciation follows on the news that Methode's second-quarter fiscal 2014 net sales grew $61.1 million, or 47.1%, to $190.9 million over last year, and its net income grew nearly 250% from the year-earlier quarter to $13.8 million. In addition, the company recently raised its EPS guidance to the range of $1.40 to $1.60, a 150%-plus increase from the same period last year.
iRobot, founded by MIT roboticists and based in Bedford, MA, is most famous for the Roomba vacuum and Scooba floor scrubber. Domestic robots make up 60% of iRobot's revenue. The company also makes robots for military applications including the PackBot bomb sniffers and SUGV (Small Unmanned Ground Vehicle) tactical mobile robots that gather tactical information in dangerous environments.
IRBT has recently taken it on the chin from analysts and investors, falling from a 52-week high of $41 to $29, a nearly 30% drop in six months. The company streamlined management in 2012 in order to focus on core businesses and emerging markets. Estimated earnings for fiscal year 2014 range between $1.20 and $1.02, an average increase of 21% over 2013's earnings and 142% over 2012's earnings. So despite the fall in share price, a pattern of steady growth may be showing for a company with a proven product line that is well positioned to capitalize on current growth trends in robotics. Barring a market-wide collapse in equities, IRBT looks to be trading at a bargain.
And on the software side, Attunity is a leading provider of information availability software solutions that enable access, sharing and distribution of data, including Big Data, across different enterprise platforms, organizations, and the cloud. In November Attunity announced the expansion of their CloudBeam managed data delivery service for Amazon Web Services. The solution now includes support for Amazon Relational Database Service, and leverages Attunity's high-performance TurboStream CDC and DX technologies for moving and synchronizing data to, from and between enterprise data centers and cloud environments.
In a word, they make managing massive amounts of data through the cloud actually manageable. At the moment Attunity sits directly between its 52-week high and its 52-week low, hovering around $8.70. Analysts at Roth Capital recently rated the stock as a "buy" and set a price target for $13.50.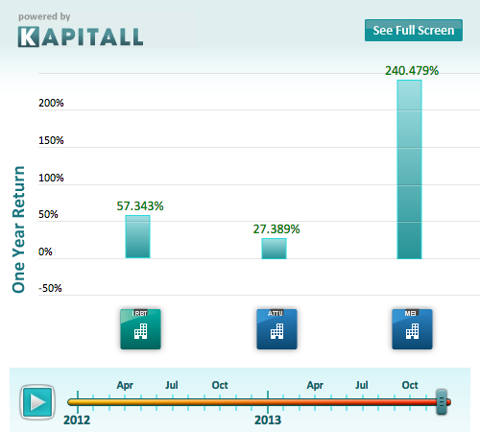 (Click for interactive version. Sourced from Zacks Investment Research.)
The value of the kind of granular knowledge sensors provide is obvious, and you can bet that very soon sensor-driven commerce will be as widespread as e-commerce and overnight delivery. While investors could approach this niche technology from the hardware or software perspective (or both), they will also want to keep an eye on potential acquisitions by the large cap stocks in this space. After all, why go through a middleman when you can simply own the source?
Disclosure: I have no positions in any stocks mentioned, and no plans to initiate any positions within the next 72 hours.
Business relationship disclosure: Kapitall is a team of analysts. This article was written by Will Kenton, one of our writers. We did not receive compensation for this article (other than from Seeking Alpha), and we have no business relationship with any company whose stock is mentioned in this article.