We were caught off guard and paid for it yesterday as one of our E&P names reported some pretty disappointing news in the Utica. We are looking at it as a one time issue at this point but will be watching future results from the company as well as other players in the southern Utica to see whether this was a driller specific issue or is representative of the geology in the area.
We took our gold short off yesterday, which caused confusion among a lot of readers. Our move was not to go long or anything of the such, we simply felt that the risk/reward no longer warranted carrying that risk in one's portfolio and felt that the capital (and risk for that matter) could be put to better use elsewhere. With natural gas and oil prices heading higher and equities hardly moving, it sure seems that the E&P sector will once again be getting more of our attention.
Chart of the Day:
Natural gas prices have risen much higher than we anticipated and the cold snap which hit the country caused much higher usage than we thought it would. The drawdowns announced today were higher than we thought and the whisper numbers we are hearing for next week are sounding very impressive. The natural gas names might just work for a bit longer, especially if this cold winter drags out.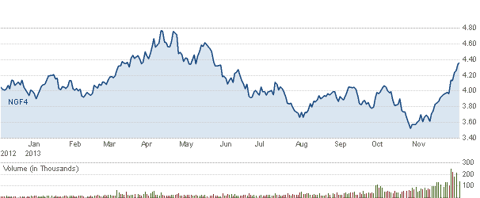 Source: CNBC
Commodity prices this morning are as follows:
Gold: $1,256.50/ounce, down by $4.60/ounce
Silver: $20.335/ounce, up by $0.02/ounce
Oil: $98.38/barrel, down by $0.13/barrel
RBOB Gas: $2.6658/gallon, down by $0.0167/gallon
Natural Gas: $4.188/MMbtu, down by $0.049/MMbtu
Copper: $3.3075/pound, up by $0.006/pound
Platinum: $1,386.80/ounce, down by $1.90/ounce
Oil and Natural Gas
Yesterday PDC Energy (NASDAQ:PDCE) saw its shares get hit hard after providing an operational update focusing on its 2014 capital budget and production guidance. Obviously investors did not like what they were told yesterday and shaved off a bit of the premium that they had afforded the company for its southern Utica acreage. When looking at the press release (which is located here) one can plainly see the issues facing the company are no longer in the Wattenberg but in the Utica.
With the recent sell-off we might look to be buyers once again, however now we want to see the shares gain some traction and find support before making a move. We do still hold shares in our retirement portfolios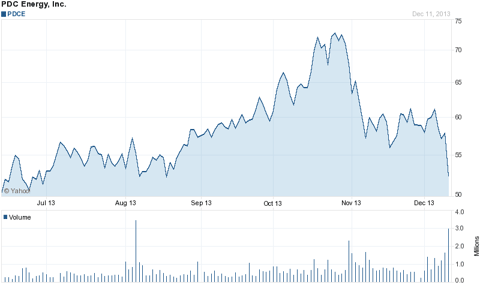 Source: Yahoo Finance
With the company's recent results many investors assumed that PDC was well on its way to proving up its southern acreage, especially with the huge wells that Antero Resources (NYSE:AR) was reporting from their acreage position in the southern parts of the Utica. Our takeaway is that PDC had one really bad well where something obviously did not take. Maybe the company dropped the ball with their drilling technique(s), had some completion issues or encountered some geology they were not expecting. Regardless, that one was disturbing. Looking forward to 2014 there will be a lot more activity in the southern Utica with both PDC Energy and Antero Resources leading the way and if results revert back to the mean PDC could see shares recover rather quickly.
Gold
We have seen the gold miners begin to tighten their belts in recent quarters and we expect this to continue as the decline in gold prices pushes many of the marginal producers to further tighten their belt as they either see profitability decline or disappear altogether. IAMGOLD (NYSE:IAG) became the latest company affected by the downturn and announced the suspension of its dividend in order to maintain the integrity of its balance sheet (press release is located here).
A tough year is only getting tougher for IAMGOLD shareholders. The stock is retreating once again after the company announced the suspension of its dividend.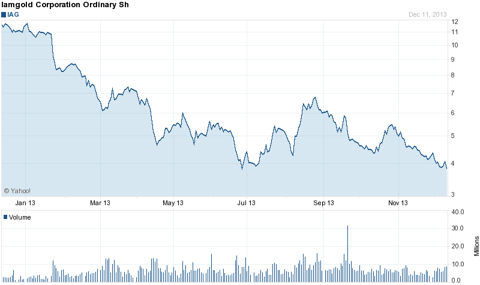 Source: Yahoo Finance
For our readers who are gold bugs, or simply like to have a portion of their portfolios allocated to the precious metals we would remind you that the low margin and leveraged names are great for bull markets as their earnings increase dramatically as the underlying physical commodity price increases. However, those same names are extremely hazardous to one's portfolio during a bear market with declining prices and profitability. If one needs to understand what this looks like, look no further than the coal industry and names such as Walter Energy (NYSE:WLT) and Cliffs Natural Resources (NYSE:CLF). Those are two perfect examples of what can happen in a downturn.
Disclosure: I am long PDCE. I wrote this article myself, and it expresses my own opinions. I am not receiving compensation for it (other than from Seeking Alpha). I have no business relationship with any company whose stock is mentioned in this article.