You might have heard about the NorthStar Realty Finance (NRF) asset management spin-off which was announced a couple of days ago, right before NRF announced it was issuing a further 50 million shares.
What is interesting about this deal, is that it emulates the Altisource Residential Corporation (NYSE:RESI)/ Altisource Asset Management Corporation (NYSEMKT:AAMC) structure. And NRF knows and says as much in a recent investor presentation.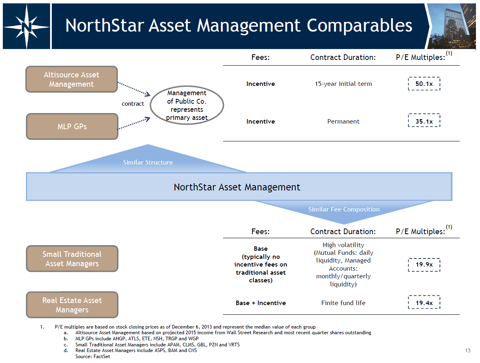 The main difference is just the incentive fee structure, which is somewhat less aggressive than what RESI supports.

Still, obviously NRF expects the parts to be worth more than the whole, and the market agreed by sending NRF up more than 20% on the day this spin-off was announced.
What is likely to happen
AAMC has been one of the equities, if not the equity, with the most massive performance in 2013, with the stock up around 1000%. This is important for this spin-off, because if the company that's spun off begins trading at a lowish valuation, it's likely to be bid up strongly. As a back of the envelope estimate, I'd expect the resulting stock to be bid up at least to 25% of NRF's market capitalization. AAMC is trading above a "best case" 50% of RESI, because of the intrinsic option it has on RESI equity issuance, and the resulting equity here will probably be valued the same way.
With NRF having a market cap near $3.4 billion after the recent equity issuance, this would put the new company at near $850 million in market cap.
On the other hand, the proper way to look at RESI, AAMC and NRF plus the new asset management spin-off is to add their market capitalizations. After all, the economic returns from RESI business are to be shared between RESI and AAMC, and the economic returns from NRF will suffer the same fate with the new company. This implies that once NRF spins-off the new company, it's likely that its stock will drop meaningfully - by around 25%, in fact, if the new company attains a $850 million market cap quickly.
As an aside
I find NRF's business highly questionable. It seems to me that having a 17% current yield on its investments means NRF is mostly in the equity position of levered real estate investments. Obviously one doesn't get 17% yields without taking on massive risk. (Source: Corporate presentation)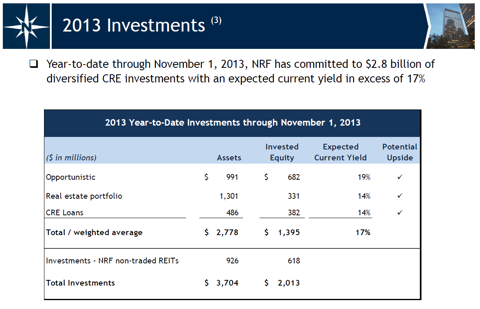 While this type of company might do incredibly well during an economic boom, I would expect it to face severe difficulty under any economic slowdown scenario. This seems akin to buying into the equity/mezzanine tranches in a CDO.
Still, this article is about the possible movements of NRF and the asset management company, so I will refrain from diving deeper into NRF, since it's a very complex company.
Conclusion
NRF is reading from the Altisource playbook. It's spinning-off an asset management company similar to AAMC, though with a different incentive fee structure. Given how well AAMC has done, it's likely that this company will be bid up massively when it comes to the market. As it stands, I'd expect the new company to be bid up at least until it's worth about 25% of NRF's present market cap, which would give the new company an $850 million market cap.
At the same time, when NRF spins-off this company, NRF stock is likely to see an impact of up to 25% of its share price, though this might be somewhat mitigated by people buying it for its dividend yield.
On a final note, given the nature of NRF's business, if we ever see an economic slowdown the stock is likely to crash massively.
Disclosure: I have no positions in any stocks mentioned, and no plans to initiate any positions within the next 72 hours. I wrote this article myself, and it expresses my own opinions. I am not receiving compensation for it (other than from Seeking Alpha). I have no business relationship with any company whose stock is mentioned in this article.
Additional disclosure: I might buy shares in the new company when issued.