Editors' Note: This article discusses micro-cap stocks. Please be aware of the risks associated with these stocks
At first glance you may wonder what these companies have in common. Gold, Education and Alcoholic Beverages would seem to have little shared interest. In a bumper year for the markets all three are sitting near 52 week lows? The obvious answer would be that they are losing money. Perhaps it is a cyclical problem with no demand forecast? Mismanagement or problems with accounting?
I could find none of these concerns. I could find no reason that any of these stocks were not commanding a higher valuation. So let us take a look at a couple of data points before we look more closely at each of them.
| | | | | | | | | | | |
| --- | --- | --- | --- | --- | --- | --- | --- | --- | --- | --- |
| Stock | Price | % above 52wk low | EPS last Quarter | EPS Next Q Est. | Rev last Quarter | Rev Est. Next Q | Rev Est. CFY | Rev Est. NFY | Gross Margin% | Mkt. Cap. |
| (NYSEMKT:ANV) | $3.58 | 18% | 0.05 | 0.05 | 76.7M | _ | 215M | 267M | 34.85% | 372.6M |
| (NASDAQ:ATAI) | $3.95 | 4% | (0.03) | 0.29 | 7.4M | 33.9M | 65.7M | 74.6M | 48.6% | 89.5M |
| (NASDAQ:THST) | $3.63 | 7% | (0.01) | 0.03 | 5.5M | 7.2M | 17.6M | 26.4M | 33.01% | 9.8M |
All of these companies have that much sought after phenomenon, growth. It is time to take a look at them individually. Greater scrutiny may explain why each is performing so poorly.
ANV
"Allied Nevada Gold Corp. is a US-based gold mining and exploration company, which operates its wholly owned Hycroft gold mine located near Winnemucca, Nevada. The Company also owns more than 100 advanced and early stage exploration properties located throughout the State of Nevada. The Company's focus is on internal growth strategies, including the development of the Hycroft mine from a run-of-mine heap leach operation to a world-class, large-scale heap leach a milling operation."

Source company website.
I will use the KISS methodology to cover this one. You will notice that there are no projections for the next quarter in the chart above. This is mainly because the analysts disagree so much that it is hard to come to a figure. This was covered by SA contributor Itinerant recently in his article. I think we have two types of analysts covering this stock, those that do homework and those who guess based on industry standards. So let's do a little homework.
As I have said in previous articles, I think the Gold miners have a chance to outperform the general market in 2014. Part of the reason for this would be the decline in oil prices. I had come to this conclusion way ahead of the announcement that Iran could add an extra four million brls a day by midsummer. This is important because the huge trucks that they use at mines get worse gas mileage than your Hummer. So in the Keep It Simple Stupid analysis, production cost should go down by a lot.
At a recent presentation in Canada we learned that, they expect to produce a minimum of 54000 Oz of Gold in Q4. They say they can do that at an adjusted cost of $794 per Oz.
(54000 X $1200 spot) - (54000 X $794cost) = $21,728,714 / 103.9M outstanding = EPS 0.20
This does not take into account, the drop in fuel prices. This does not take into account the fact that they now have an onsite processing facility that further reduces production costs.
This also does not take into account extra permitting and exploratory fees. It also does not take into account fluctuations in the gold price etc etc etc. But an unadjusted EPS 0.20 with a GPM of 34.8% should leave at least $0.07 per share which is 50% higher than current estimates. Remember that I am expecting the margin to improve due to lower fuel costs.
Anyway you look at it; this one should be a beat when they release earnings on February 24th 2014. I would be a buyer on any dollar strength. Please read the rest of the presentation as there is a lot more to be happy about. Remember this is the low end of the production forecast; high end was almost 28000 Oz higher.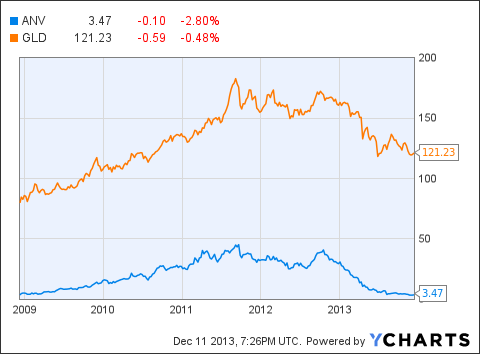 ATAI
"ATA Group, with testing and assessment services as its main business, is headquartered in Beijing and has an operation center in Shanghai and 13 local offices across the country. Its subordinate company ATA INC. is listed on NASDAQ .
Leveraging on our state-of-the-art technologies and extensive experiences in test delivery and administrations, ATA has been providing professional testing and assessment services to government agencies, academic institutions, corporate clients and tens of millions of test candidates through a delivery network of approximately more than 2,800 test centers across the country."
OK, so they had a sticky quarter last time. I wonder could it have anything to do with a recent acquisition that cost them a bundle.
From the conference call
"For this acquisition, the consideration for the acquisition was approximately $3.2 million U.S. and in terms of other related acquisition costs, it's very limited. It's only in the range of $100,000 and as far as the integration, we do not anticipate the company will incur additional expenses or additional significant expenses in the integration process." Benson Tsang - Chief Financial Officer.
Well that equates to about EPS of (0.035), so without the acquisition they would have at least broke even. The other highlight from the conference call was that;
"some operating highlights for second quarter 2014. During the period we delivered 1.7 million billable exams, up 21% from the 1.4 million exams ATA delivered in the prior year period."
They are continuing to grow and margins are continuing to expand. They are adding more testing capabilities and more customers, and for some reason they are at one of the lowest prices in the company's history. Even delivering earnings in-line should send this one substantially higher.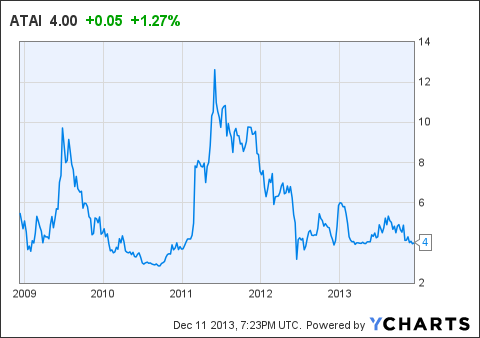 THST
"Truett-Hurst is an innovative and growing super-premium and ultra-premium wine sales, marketing and production company based in the acclaimed Dry Creek and Russian River Valleys of Sonoma County, California. The core of our business is a combination of direct to consumer sales, traditional brand sales and "retail exclusive label" partnerships with major retailers, such as Trader Joe's and Safeway (NYSE:SWY)."
Well if you lose money on the other two you can always drown your sorrows with a nice bottle of California wine. We will need to take a little longer to look at this one as it is a relatively new venture.
I will just start by saying there is no reason, that Mkt Cap should be only a little over 1 times quarterly revenues. It is ridiculous, the company directors also think so as the bought a combined total of 171K shares in June at $6 each. For them to get their money back, they need the share price to almost double from here.
Here are some stats from the wine institute
Estimated retail value of California wine sales in the U.S. is $22.0 billion.

Three of every five bottles sold in the U.S. is a California wine, 60% share of U.S. market by volume.

U.S. wine exports, 90% from California, reached record high, growing 2.6% in value from 2011. Up 160% from $549 million in 2002. California exports 47.2 million cases to 125 countries; Up 51% from 31.3 million cases in 2002. This led to a total of $1.43 billion in export revenue.
Wine consumption in the USA is increasing, and the popularity of California wines is also on the rise. This is a growing market and THST are well positioned to benefit from this. Here is a short table of the trend, details going back to 1934 are available on the institutes website.
Wine Consumption In The U.S.
| | | | |
| --- | --- | --- | --- |
| Year | Total Wine per Resident 1 | Total Wine Gallons | Total Table Wine Gallons 2 |
| 2012 | 2.73 gals | 856 million | 749 million |
| 2011 | 2.68 gals | 836 million | 724 million |
| 2010 | 2.53 gals | 784 million | 681 million |
| 2009 | 2.49 gals | 763 million | 666 million |
| 2008 | 2.45 gals | 746 million | 650 million |
1All wine types including sparkling wine, dessert wine, vermouth, other special natural and table wine. Based upon Bureau of the Census estimated resident population. Per capita consumption will be higher if based on legal drinking age population.
2Because of changes in reporting, these numbers include all still wines not over 14 percent alcohol. History revised.
Source: Wine Institute/ Gomberg, Fredrikson & Associates.
Revised on Mar 14, 2013
Everyone is drinking a little bit more, but why would THST get a share of the market?
The partnerships with Safeway and Trader Joes present a large opportunity for the company. Anytime they have a new product line, they can l launch it on a national scale immediately. This was made abundantly clear in a press release last month.
"Pleasanton, California-based Safeway Inc. will partner with Truett-Hurst Inc. in the initial release of PaperBoy nationwide"
So what is PaperBoy? Well, it is a paper wine bottle. It is made from recycled cardboard, and does not go soggy due to a special lining. This may be the next big thing for the whole wine industry. No more glass?

There are some definite advantages to using PapaerBoy.
"Packaging waste is a huge and growing problem in modern society, particularly in the wine industry. According wrap.org.uk, 17.5 billion bottles of wine are consumed annually around the globe, producing 8.75 billion tons of glass waste--more packaging waste than any other product in the food or drink sector."
But you still have to recycle all these cardboard bottles, so what is the advantage.
"Case weight for normal glass bottles with liquid is 36 lbs. versus the paper bottle at 23.6 lbs. A pallet of 56 cases prepared for shipping is reduced from 2,000 lbs. to 1,322 lbs.--a weight reduction of 34 percent and a savings of more than 7 tons per truckload of wine shipped."
That translates to a lot of cost savings in transportation. In addition an important and growing part of the THST business plan is Direct to Customer sales; mail order. It will cost less to mail the stuff out. Earlier we looked at the rise in popularity of Californian wines on the global stage; getting them there more cost effectively will only help to strengthen that trend.
According to the press release,
"PaperBoy offers a better alternative. The bottle's cardboard outer can go into mainstream recycling streams, which are used to produce other cardboard products. The cap and neck assembly pieces are also recyclable, and the plastic liner is suitable for "waste to energy" programs. In total, the overall carbon footprint of PaperBoy, from production to shipping to recycling, is significantly lower than glass. Even the 12-pack cartons are produced from recycled paper. Each PaperBoy bottle comes with instructions for how to break the bottle down for disposal. As a winemaker, Virginia Lambrix admires the economic practicality of PaperBoy. She says, "Wines that will be consumed almost immediately do not need a heavy, environmentally and economically expensive glass bottle and cork. We would rather apply the savings that PaperBoy affords toward more expensive, better-crafted wine so that both the customer and the environment win.""
Conclusions.
Each of these companies represents growth opportunities. It is my opinion that for a variety of reasons they have been ignored by the wider market. I believe that there is some real upside potential over the next twelve months provided that they deliver in their next earnings releases.
As always I would add caution due to their size and the nature of micro-cap stocks. I recommend that you should conduct proper research before initiating any position. I always recommend that speculative positions should be small portion of your overall portfolio and that you are prepared to lose whatever portion you invest entirely.
If I were to choose between them, I think that THST presents the greatest opportunity in the short term. The paper bottle is an industry changing event and they are the first to do it here in the USA. I like that there is no compromise between quality and cost. This is a much better option than the box wine revolution of the 70's and 80's
Disclosure: I have no positions in any stocks mentioned, and no plans to initiate any positions within the next 72 hours. I wrote this article myself, and it expresses my own opinions. I am not receiving compensation for it (other than from Seeking Alpha). I have no business relationship with any company whose stock is mentioned in this article.
Additional disclosure: This article may contain certain forward-looking statements. I have tried, whenever possible, to identify these forward-looking statements using words such as "anticipates," "believes," "estimates," "expects," "plans," "intends," "potential" and similar expressions. These statements reflect my current beliefs and are based on information currently available. Accordingly, such forward-looking statements involve known and unknown risks, uncertainties and other factors which could cause actual results, performance or achievements to differ materially from those expressed in or implied by such statements. I undertake no obligation to update or provide advice in the event of any change, addition or alteration to the information contained in this article including such forward-looking statements.