Once the darling of the teen retail scene, Abercrombie & Fitch (NYSE:ANF) has fallen on hard times since the start of the recession. Missteps including fashion flops and the company's refusal to mark down prices have driven U.S. consumers to lower-priced rivals American Eagle Outfitters (NYSE:AEO) and especially Aeropostale (NYSE:ARO). The company has acknowledged its past mistakes and is working to address the problems, but A&F still has a long way to go before it regains the title as king of teen retail.
In the fourth quarter of 2009, Abercrombie said total sales decreased 4.6% to $936 million, while same-store sales dropped 13%. This was the 9th consecutive quarter of same-store sales declines, and came on top of last year's Q4 which saw comparable sales plunge 25%. Net income declined 30% to $47.5 million ($0.53 diluted eps) from a year ago and was down 78% from the 4th quarter of 2007.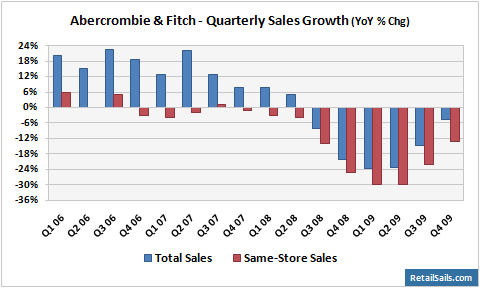 Extremely strong international growth of 86% during the quarter helped somewhat offset continuing U.S. weakness, which saw a 12% sales decline. Though the company only operates 28 stores outside the U.S. out of a total store base of 1,096, the international segment made up 15.3% of total sales in Q4. Expect that share to keep increasing, as CEO Mike Jeffries stated on the conference call "International expansion is firmly in our grasp and as I've said before it is the future of our brands."
Abercrombie completed the closure of its 29 RUEHL branded stores, which had been under-performing other segments and unprofitable since inception. The company also said there are an additional 230 domestic locations, skewed toward A&F and Kids stores, which are under review for closure in 2010.
While A&F's brand cache has lost some of its luster domestically, it has been able to maintain a premium brand status with foreign customers. This is most evident in the runaway success of the three international flagship stores, which currently have annualized volumes of around $200 million in aggregate, while the tourist-heavy Fifth Avenue flagship in New York remains the most productive store with annualized volume in excess of $100 million.
For the full fiscal year 2009, total sales declined 15.9% to $2.93 billion on top of a 7.1% drop in 2008, while same-store sales decreased 23% after a 13% fall last year. The company managed to eke out a profit of $254k ($0.00 diluted) compared to net income of $272 million in 2008 and $476 million in 2007.
The past two years in retail have been characterized by steep markdowns and heavy promotional activity, but Abercrombie was extremely late in acknowledging the consumer was unwilling to pay up for their aspirational brands. However, the company has changed its tune in recent quarters as seen in gross margin reductions.
Jeffries explains:
"While we have never and do not ever plan to be a promotionally led business, we are getting better at figuring out something that was completely alien to us 18 months ago. We believe that AURs will need to continue to go lower in the spring but we also know that how we deliver that lower AUR is very important, both in terms of its effectiveness and in terms of protecting the brands. This must be done without sacrificing quality."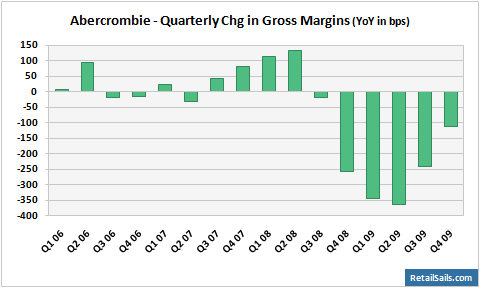 Even with a decline of 6% in the direct-to-consumer business in 2009, e-commerce sales now represent nearly 10% of total sales. The company has embraced social media and mobile commerce, and Jeffries expects these platforms to drive continued growth in the future:
"We have some exciting social media and marketing initiatives in the pipeline that I believe will help our business. We are actively seeking new ways to effectively engage our customers through these medium. Having recently launched on Facebook, Abercrombie & Fitch has already 775,000 fans, Hollister over 340,000. We recently released an iPhone application and continue to invest in our mobile commerce platform. For the future, we are investing in some new initiatives that we believe will provide a significant boost for our direct to consumer business and beyond."
Abercrombie finally broke a string of 20 consecutive months of same-store sales declines in January, though easy comparisons to the year-ago period and gift-card redemptions representing nearly 10% of total sales for the month surely played a large role.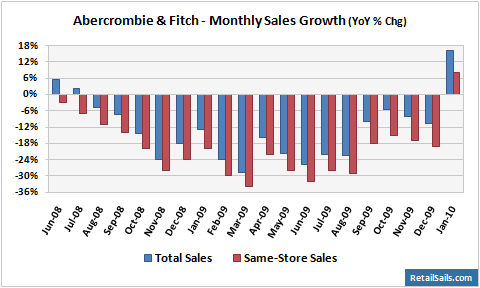 All in all, Abercrombie's performance in 2009 can only be characterized as awful. However, we are seeing much better fashion product in the stores, and considering every month in 2010 will be compared to a double-digit comp drop in 2009 results will no doubt show improvement this year. The company is taking meaningful steps to address its mistakes and we believe they are on the right track to returning to growth. But we are skeptical they are anywhere near winning the hearts and wallets of consumers, and don't expect them to regain their former glory anytime soon.
Disclosure: No Positions