By David Russell
Oracle (NYSE:ORCL) is losing momentum along with the rest of the tech sector, and now one big investor is betting that the software giant will get stuck in a rut.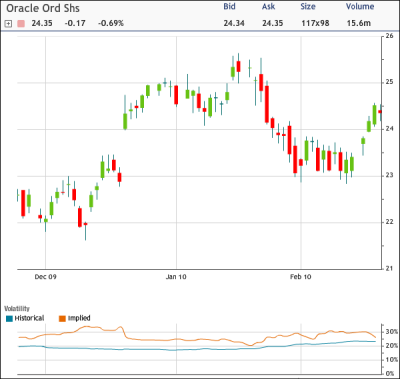 optionMONSTER's tracking programs detected the sale of about 10,000 January 25 calls for $2.12 and the sale of a matching number of January 25 puts for $3. The so-called straddle trade generated a credit of $5.12 and will make money if the stock remains between about $20 and $30 through expiration. (See our Education section)

ORCL fell 0.69 percent to $24.35 in afternoon trading and is down almost 4 percent in the last month. The shares gapped higher on Dec. 18 after strong quarterly results but have since been unable to hold their ground.

Today's range-bound trade is consistent with a broader shift of sentiment away from the tech sector.
For instance, the SPDR Technology (NYSEARCA:XLK) exchange-traded fund is up 1.11 percent in the last three sessions versus a 1.5 percent gain for the S&P 500. In contrast, materials and utilities seem to be showing greater strength in recent sessions. Last year the XLK rose 54 percent compared with a 28 percent gain for the S&P 500.