It has not been a good last 4 years for BlackBerry (BBRY), but 2013 started out quite well with the stock reaching as high as $18 a share. It is currently at the $5.65 area, at decade lows with earnings on the 20th of December. There are several reasons to be selling the stock into year end; one is to avoid the risk associated with a worse than expected earning's report, the other is to sell for tax reasons to fully write off the losses.
Long Strategy Play
So here is my long strategy play for BlackBerry, buy into this weakness right now, sure it can go lower but this is a good enough level to make sure you get into a long position. Buy 250 shares, which at $5.65 a share costs approximately $1,413 not counting commissions. The idea is to scale into this trade in 4 parts of 250 shares to acquire a 1000 share position, hopefully by year end.
Consequently, if earnings are bad and the stock falls to the low $5 range, then pick up another 250 shares. If the stock falls further due to end of the year tax selling, say to $4.78 a share, buy another 250 shares, and if the market as a whole sells off, then maybe the stock falls to the $4.50 range, where you pick up the remaining 250 shares of the position.
The investor has now acquired 1000 shares of BlackBerry for just under $5000, with an average price just under $5 a share. The goal is to acquire all 1000 shares before year end and hold through a significant pop in the shares for 2014. The investor has essentially a call option on BlackBerry with a fixed loss, and the plan is that one of several positive scenarios in 2014 makes this a profitable investment.
Portfolio & Position Sizing
I use the 1000 shares as a hypothetical investment sizing tool to teach the parameters of the trade structure. Therefore, depending upon the size of your account, you can scale the 4 segments of the trade structure accordingly. I do believe in diversification, especially for investors who are not professionals, and for a position like BlackBerry I would avoid committing more than 10% of your portfolio to the fund.
Ergo, if you have a $100,000 account, that means committing no more than $10,000 to your full BlackBerry position. The investor can work backwards to get the given share sizing increments that make the four equal segments of the trade structure. Basically this breaks down to four $2,500 segments for the 10% rule on a $100,000 trading account.
I know that markets are more correlated than ever before and many professionals are utilizing fewer positions in their overall portfolio. However, BlackBerry is a struggling company, and although I think it represents hidden value at these levels, because it is struggling the diversification rule has important merit from a risk management perspective for the non-professional investor`s portfolio.
2014 - Dogs Have Their Day in the Sun
When funds start the New Year they look around for value stocks, and with most everything today at near record highs there are not too many cheap, let alone underpriced options for investors.
BlackBerry is compelling in this sense from a value perspective. Despite their troubles they can still be acquired by a rival firm, they have valuable patents, and maybe the new CEO John Chen surprises the street with his leadership and creative turnaround plan.
Maybe earnings are better than expected and shorts are forced to cover their positions, and some hedge funds take advantage of this to squeeze the shorts, and the stock pops a couple of dollars into the $8 a share range like JCPenney (NYSE:JCP) has popped several times since the drop from diluting shares to raise more capital.
In addition, some Investment Banks and Hedge Funds could just get into BlackBerry because they think the selling is overdone, and it is worth a nice pop like happened in 2013 with several upgrades by the likes of Goldman Sachs.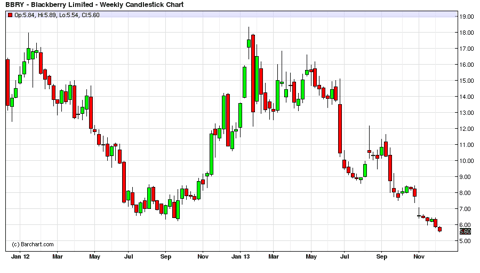 It is all about making money, and if somebody on Wall Street thinks they can make money in BlackBerry, the stock can easily rise four or five bucks in 2014 on one good news event. This causes some positive interest and some shorts to cover their positions, thus buying back the shorts to close out the bearish call on the stock. This is your goal because you are buying it when nobody wants it, and to sell it into the short covering rally.
Risk Mitigation Strategy
There is risk associated with any strategy, there are no free lunches; you are paying to play the game. But the fact that the Canadian government stands behind their companies from a nationalistic perspective, its patents have tangible value, and the military relies upon the security of the BlackBerry network, there is some hidden value in this company.
Moreover, at roughly $5 a share, the investor essentially has a call option on many scenarios which could propel this company`s stock higher in 2014. Furthermore, unlike with actual options, where your call options can expire worthless within a couple of months with nothing to show for your invested capital, owning the stock outright here avoids time decay risk.
There is risk as the company could burn through cash at such an alarming rate that they need to file for bankruptcy protection, but I don't foresee that scenario for 2014.
But like I mentioned before, every strategy has some form of risk involved. This can be mitigated by investors somewhat via putting a stop loss on the position say $3.50 cents, which essentially would leave the investor with $3500 in their account, and a loss not including brokerage commissions of around $1500.
The individual investor can decide for themselves where their risk tolerance levels are and put their protective stop at a level they feel comfortable with when utilizing this risk mitigation stop loss strategy.
Final Thoughts
Let`s hope John Chen can offer some solid leadership to this once great company in 2014, or at the very least find a way to maximize value on BlackBerry`s existing assets via some kind of exit plan.
But when fund managers are returning money back to investors because they cannot find any stocks to invest in from a valuation standpoint, BlackBerry may be one such hidden gem, and worthy of a second look by value investors in 2014.
Disclosure: I have no positions in any stocks mentioned, but may initiate a long position in BBRY over the next 72 hours. I wrote this article myself, and it expresses my own opinions. I am not receiving compensation for it (other than from Seeking Alpha). I have no business relationship with any company whose stock is mentioned in this article.