The Federal Reserve's surprise move in raising the discount rate 25 bps to 0.75% should not be seen as a signal for short-term tighter monetary conditions, and today's CPI report should further strengthen that notion. However, most market forecasts see a likely rate move near the end of this year.
Credit Suisse is out with a research report on equity strategy for playing the initial Fed rate hike. Interestingly, the report says markets typically correct by 9% for 3 months around the first phase of monetary tightening. The typical correction is 15% of the previous rally.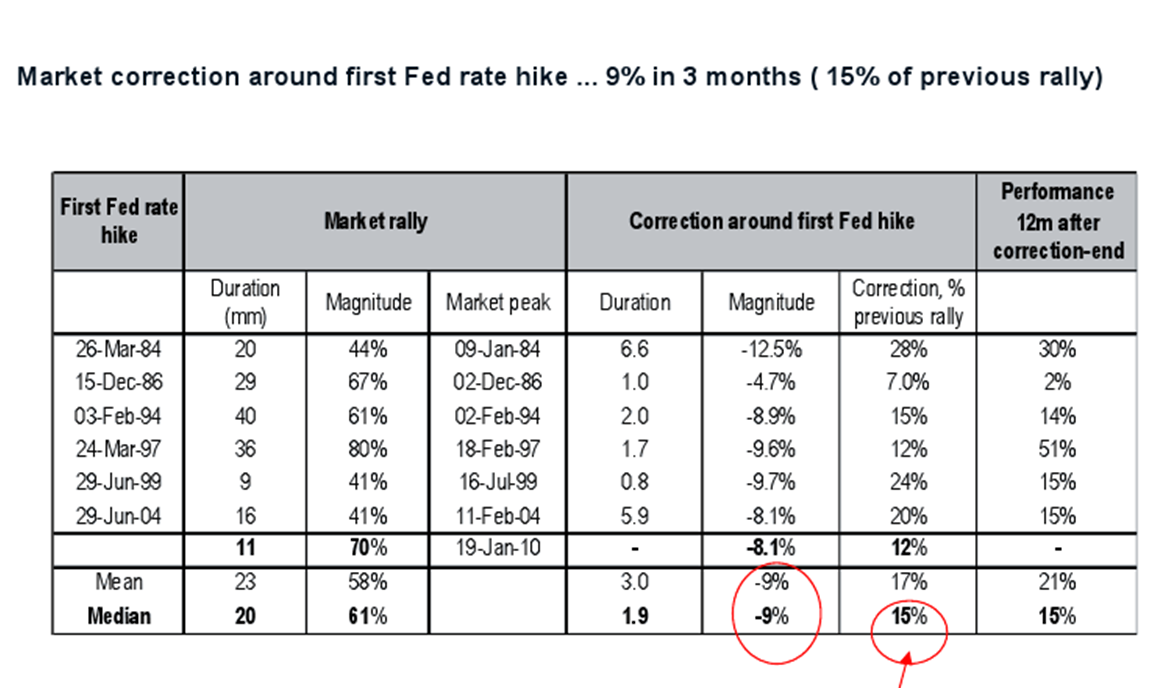 Source: Credit Suisse

Credit Suisse analysts also note that retail, technology and media tend to outperform after the first Fed rate hike, while energy and industrial goods tend to outperform in the period before the first rate hike.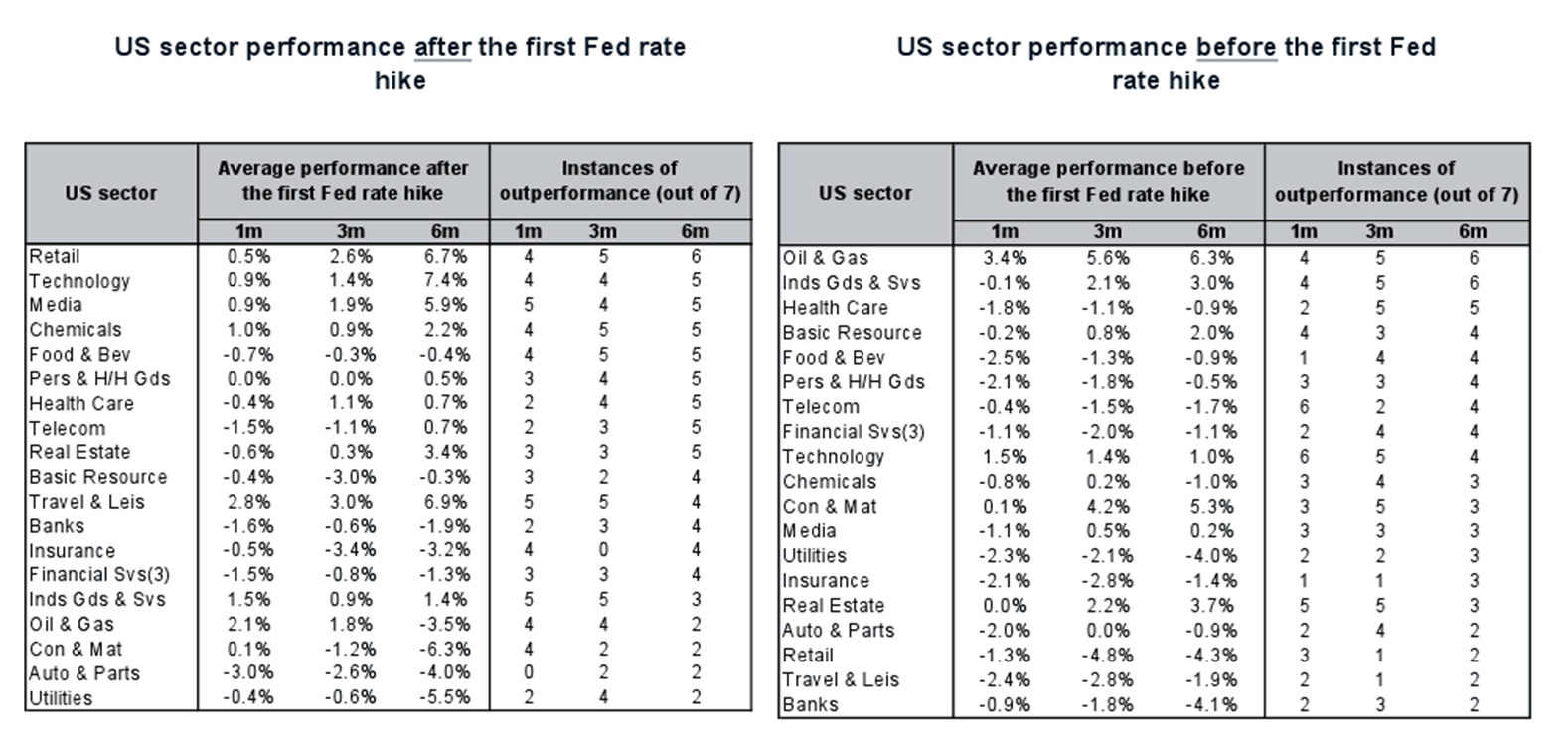 Source: Credit Suisse

If you believe past trends will persist this time around, it may be a good play to go long the SPDR Energy (NYSEARCA:XLE) and SPDR Industrial (NYSEARCA:XLI) ETFs, then rotate into SPDR S&P Retail (NYSEARCA:XRT), iShares DJ U.S. Technology (NYSEARCA:IYW) and PowerShares Dynamic Media Portfolio (NYSEARCA:PBS) ETFs after the first rate hike expected later this year.
Credit Suisse also provides a handy table to identify sectors that provide hedges against rising rates. They chose sectors with high correlations with the 2-year Treasury bond, high free cash flow yield and low net debt.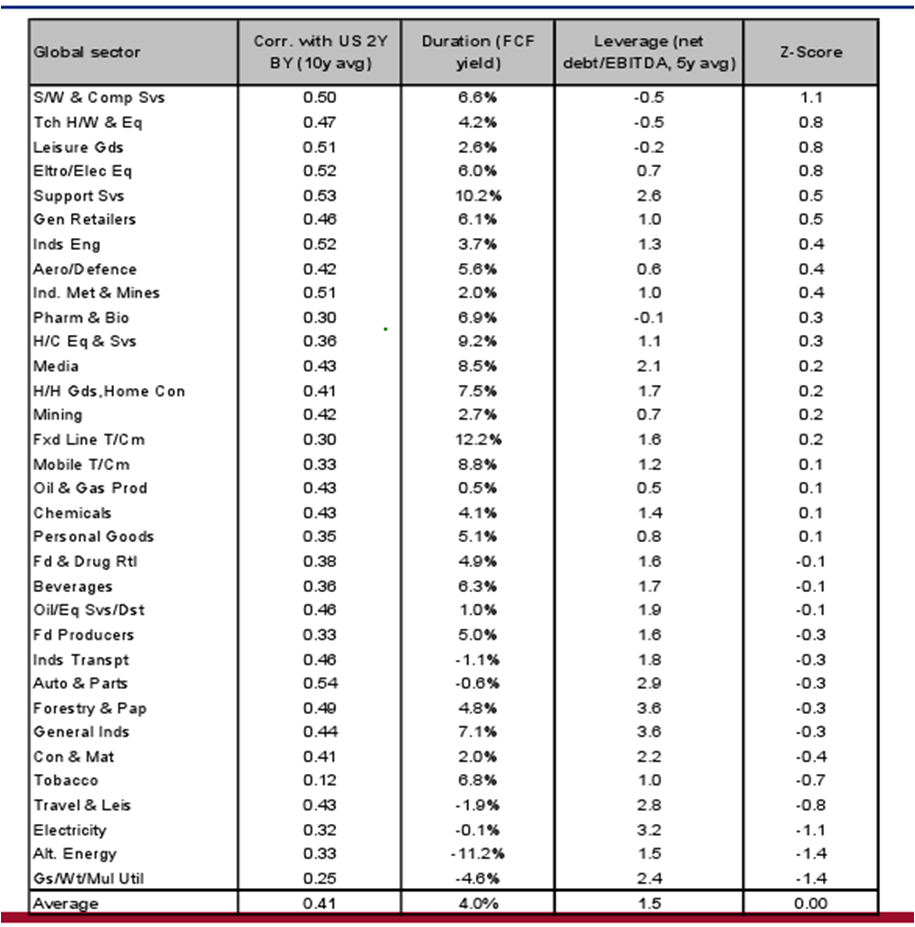 Source: Credit Suisse

If you believe Credit Suisse's line of reasoning, strong hedges against rising rates will include iShares Goldman Sachs Software Index (NYSEARCA:IGV), iShares Goldman Sachs Networking Index (NYSEARCA:IGN) and PowerShares Dynamic Leisure and Entertainment Portfolio (NYSEARCA:PEJ) ETFs.
Disclosure: No Positions